If you plan to upgrade from Windows 10 to Windows 11, you have come to the right place. After a year of preparation, Microsoft finally began distributing the Windows 11 2022 Update. In this post, we will share how you can Download, Install and Upgrade to Windows 11 2022 Update (Version 22H2)
Note: It is always best to wait until Windows Update alerts you that your PC is ready for an upgrade. Before installing, check your device's minimum system requirements for Windows 11 with the PC Health Check app. Then, review the Windows release information status for any known issues that might impact your device.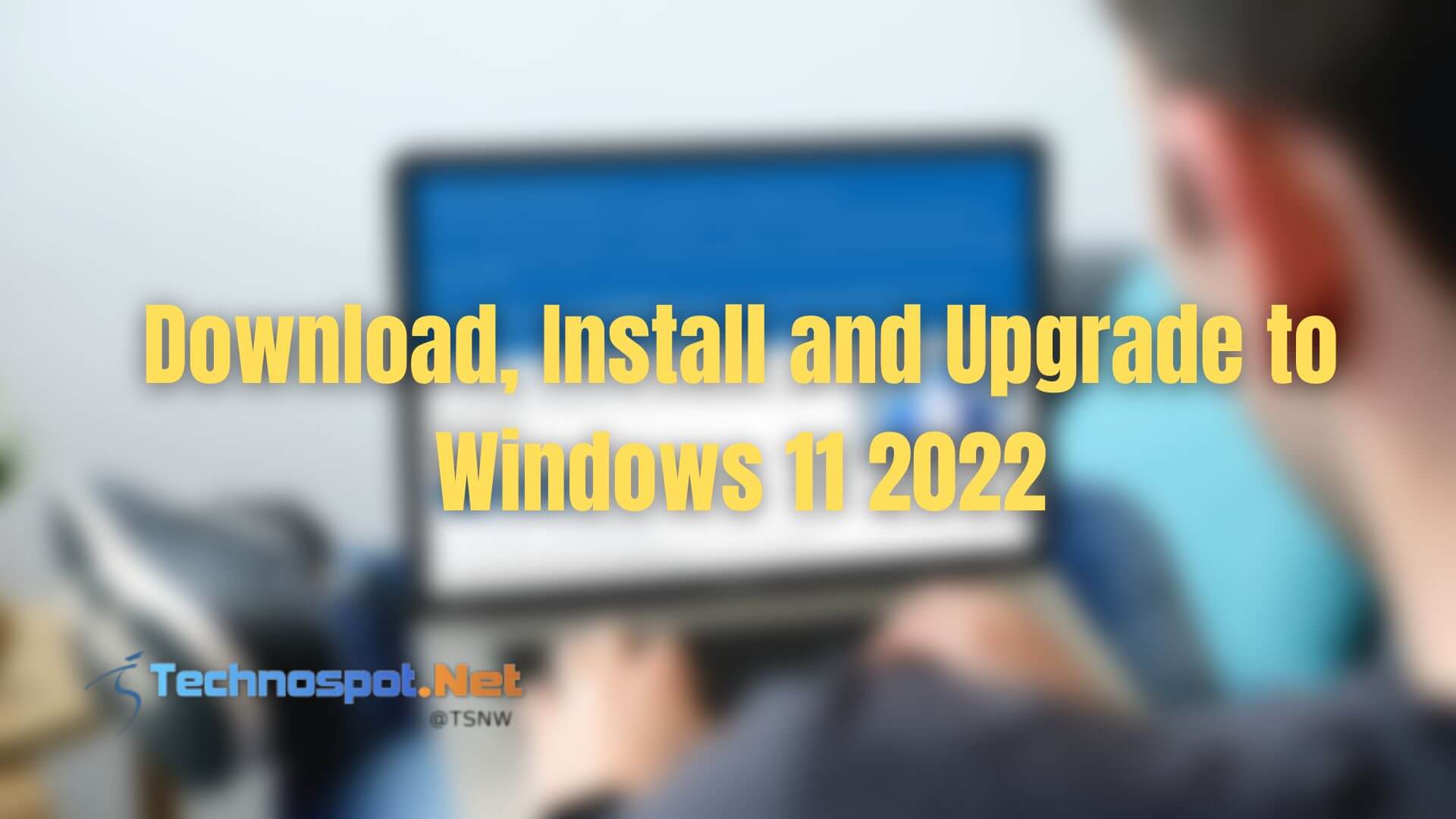 How to Download, Install and Upgrade to Windows 11 2022 Update | Version 22H2
You can follow any of these methods depending on how you want to upgrade or install Windows 11.
How to get the Windows 11 2022 Update
Install Windows Windows 11 2022 Update with Windows Update Assistant
Upgrade to Windows 11 2022 Update using Media Creation Tool
Download Windows 11 2022 ISO
You will need an admin account to get any of these done.
1] How to get the Windows 11 2022 Update
Go to Settings (Win + I) on your PC.
Click Update & Security or Windows Update, and then choose Windows Update.
Click on Check for Update, and wait for the results.
On the Windows Update page, if you see the update with the label 2022-09 Cumulative Update for Windows 11, then your PC can upgrade.
Click on it and press Install.
After that, you will be given the option to restart your device immediately. Click Restart Now when you are ready.
After your computer restarts, click Check for Updates to ensure the procedure was successful and there is no pending update.
2] Install Windows 11 2022 Update with Windows Update Assistant
Windows 11 Installation Assistant is the best choice for installing the new update on your device. Check whether the following circumstances apply to your PC before you start.
An active Windows license for your PC is a must.
To use Installation Assistant, your computer must have installed Windows 10, version 2004 or higher.
You must ensure that your PC fulfills the Windows 11 device requirements for feature support and upgrade requirements. Additionally, it is advised to check the website of the PC's producer for details on updated drivers and hardware compatibility.
To download Windows 11, you need at least 9 GB of free storage space on your computer.
Click here to download Installation Assistant.

Once the Installation Assistant has been downloaded, click Run. Remember to run this tool; you must be an administrator.
You will be provided with the license terms once the tool has determined that your device's hardware is compatible. Select Install and Accept.
Next, click the Restart Now button when the tool is ready to finish the installation process on your computer.
Note that the installation process could take some time, and your computer might need to restart a few times.
Make sure that you do not shut down your computer completely.
3] Upgrade to Windows 11 2022 Update using Media Creation Tool
Before beginning:
Verify that you have a stable internet connection.
There should be enough storage space available on the PC, USB, or external drive you use to download the tool.
A Blank USB Drive
Any data on your external drive will be erased during the installation process, so using a blank USB is recommended.
Download the Media Creation Tool to create a bootable USB or DVD if you wish to install Windows 11 again or for the first time on a new or used computer.

Making installation media with the Media Creation Tool
Run the Media Creation Tool once it has been downloaded. For this tool to function, you must be an administrator.
Select Accept if you accept the license conditions.
Choose Create installation media for another PC from the What do you want to do? Tab, then click Next.
Choose Windows 11 language, edition, and architecture (64-bit).
Choose the media that you want to use:

USB flash drive: Connect a USB flash drive with at least 8GB of free space that is empty, as the flash drive's contents will be removed.
ISO data: Save an ISO file to your computer. You may use this to make a bootable DVD. After downloading the file, you can either go to the folder where it was saved or choose Open DVD burner and follow the on-screen directions to burn the file to a DVD.
It is a good idea to save any work and make a backup of your computer before installing Windows 11. Remember to burn the Windows 11 ISO file you downloaded with the Media Creation Tool to a DVD.
Once the installation media has been generated, follow the instructions below.
On the computer where you wish to install Windows 11, connect the USB flash drive or put in the installation DVD.
Reboot your computer.
You might need to access a boot menu or modify the boot sequence in your PC's BIOS or UEFI settings if it does not immediately boot to the USB or DVD media.
You will often need to press a key (such as F2, F12, Delete, or Esc) immediately after turning on your PC to access a boot menu or modify the boot sequence.
Visit the manufacturer's website for information on how to reach the boot menu or modify the sequence in which your PC boots.
Contact the PC maker for information on temporarily disabling Secure Boot in your BIOS settings if the USB or DVD media device is not listed among the boot options.
If altering the boot menu or order is unsuccessful and your PC instantly boots into the OS you wish to replace, likely, the computer was not completely shut down.
Select Shut down from the Start menu or the power button on the sign-in screen to ensure the PC shuts down completely.
Choose your preferred language, time zone, and keyboard on the Install Windows page and click Next.
Choose Install Windows.
4] Download Windows 11 2022 ISO
Users who want to install Windows 11 on a virtual machine or bootable installation media (USB flash drive, DVD) can use this option. This download is a multi-edition ISO, and your product key will be required to access the appropriate edition. Click here to download Windows 11 (multi-edition ISO).
You can use the Verify your download option to check the file's integrity after the download is finished.
Mounting the ISO file will allow you to install Windows 11 directly from it without using a DVD or USB flash device. By doing this, your current operating system will be upgraded to Windows 11. Follow the steps to mount and install Windows using the ISO file
Visit the site where the ISO file was downloaded. Right-click the ISO file and choose Properties after that.
Next, on the General tab, click Change next to Opens With; Select Windows Explorer for the program you want to use to open ISO files, and click Apply.
Then click Next, right-click on the ISO file and choose Mount.
This will produce a bootable virtual disc. Click it twice to open the files inside. Click Setup.exe to launch Windows 11 installer.
Conclusion
2022 Update is the greatest method to keep your Windows device secure and productive. We all need the newest technology to keep up with working, learning, networking and playing. Additionally, this makes it possible for your device to get the ongoing innovation delivered throughout the upcoming year with the 2022 Update. So, as discussed above, these are the quick ways to download, install and upgrade to Windows 11 2022 update.
How To Roll Back & Uninstall Windows 11 2022 Update?
You can revert to the earlier version of Windows 11 if you experience problems after installing the Windows 2022 Update or if you wish to stick with the older version for a little longer. You can roll back the Windows 11 2022 Update installation and remove it by following the instructions below.
Go to Settings on Windows 11, and choose System > Recovery. Next, click Go back and describe why you want to revert to the earlier version. After selecting Next, wait for the rollback to finish.
How To Fix Windows 11 2022 Update Not Installing?
 You can try the following helpful solutions to resolve the installation or download issues:
First, allow Windows Update to run unattended for a few hours. If Windows Update appears to be stuck, it may just be that the process is taking longer than usual. Users have occasionally successfully installed the Windows 11 2022 Update after allowing it to run for a few hours.
Next, you can run the Windows troubleshooter and let Windows fix the problem. Once done, you can also choose to delete the SoftwareDistribution folder and other files to restart Windows Update.