If you are one of those movie fanatics who love to watch movies even in foreign language but always get stuck because or watch it half understood because, the language is "Foreign" to you, worry not. Today we are introducing our readers to an amazing software which will resolve this problem with a simple drag and drop.
SubiT is a free Windows and Linux application which can find subtitles or the captions for any movie you can drag and drop on it. Then later when you watch the movie using any standard media player like VLC or Windows Media Player, you can have the captions running in no time.
The application basically pull in the meta data from the movie file and search database of popular online service like torec, subtitle, subscenter, open subtitles etc to find the caption. The result can be ranked according to resolution and audio properties.
How to use it ?
There are really two ways of using. One is drag and drop the file on the application or just right click on any of the movie files, and it will start querying the services for the caption or the subtitle files. Once it finds, all the options from different sites are give to you. Select one which is correct and download it.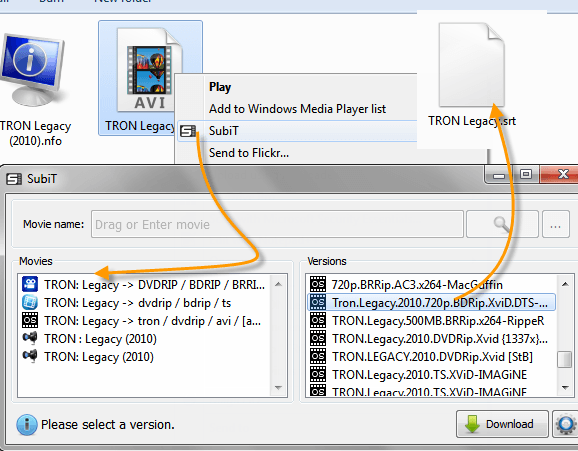 Settings :
You can choose between English, Hebrew, Norweign and Russian.
Select File Association.
Choose to close program once the file download is complete
My Experience using it :
The application works but you might have to a bit of hard work finding the right subtitle for the movie because you have more than one option and not every file is correct for you. Since most of the time users do not have the original movie, this is going to be a common problem. Also, make sure you have selected the correct language as the default is Hebrew and you will have funny language showing up.
Lastly make sure you have the correct metadata set for your move (Try these movie apps) and caption enabled in the video player.
Download
You can download it from here