Windows partner program UK has released 3 set of PDF document containing Windows 7 Tips and Trick. These tricks mostly talk about how you can make use of shortcuts and other features available in Windows 7 and home use.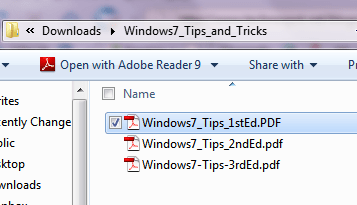 I found the Grouped Window Switching best out of it:
Windows 7 has loads of keyboard and mouse combination to solve every day problem. In here similar applications are grouped into taskbar. Now imagine if you have 10 to 15 same kind of application how painful it would be to to first preview them by hovering your mouse and then sliding down all the previews.
Instead windows 7 provides you to switch between windows grouped together on super bar by using combination of CTRL Key and mouse.
Download the PDF from here