New Windows Home Server version Vail has been released as public beta to everyone and can be downloaded from here. All you need is the Windows Live ID. In brief Windows Home Server gives you a server like environment at Home to control and manage all your Windows PC /laptop at home.
Personally I havent used it before but recently I saw how Windows Server 2008 R2 sure R2 looks like and I am pretty sure the home server edition will have a lot of changes and improvements. Here is the list of new features :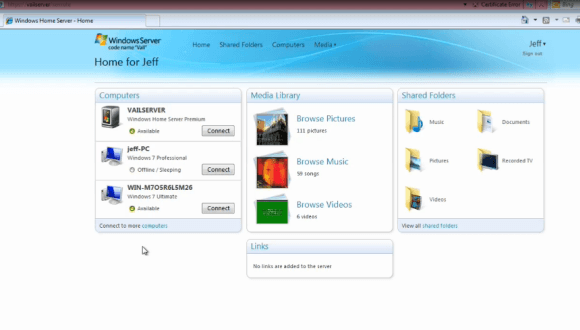 Remote Access is based on Silverlight with Remote Streaming of formats like MPEG-4, 3GP, H.264, ADTS, AVI, MPEG-2, AAC, MP3, LPCM, MPEG-1. AC3 should be supported in RTM. MPEG2 and AC3 support are not available in this version, but are planned to be supported in the released version.
Personalized Remote Access Page.
Home Group Support.
Create a backup of the client PC backup database.
Archiving feature when replacing old computer with new.
Drive Extender, A storage technology that enables you to use internal and/or external hard drives of varying sizes for extra storage on your home server. Drive Extender has been enhanced with many improvements.
New Control panel.
System Requirement for Windows Home Server Vail :
Windows Home Server Code Name "Vail" is a 64-bit only operating system
You can install the server software either manually or unattended, although in the vast majority of cases it will come pre-installed on OEM hardware
System requirements:

1.4 GHz x64 processor
1 GB RAM
At least one 160 GB (or larger) hard drive

NTFS is the only supported file system
Supported networking configuration:
a)      Your server computer must be connected to a router via a network cable
b)      The router works best with a UPnP ™ certified device, but it is not required
c)       The router works best in the 192.168.x.x subnet, but it is not required