Dropbox has finally released Windows 8 Native App which Windows RT users will praise a lot more than the Windows Pro users. Now being a Pro user, I had lots of options with Windows 8 App, and I am lot disappointed and feel like a joke was played on me.
Learning Curve :
There is a big time learning curve with the app because things don't happen when you select a file or folder. Absolutely nothing.  Thing is Dropbox App uses charm menu for everything i.e. Sharing etc but then there is menu expected top pop up when a selection is made i.e. Standard ways. It took me almost 5 minutes to find out if the app was just a viewer or my Windows 8 was different.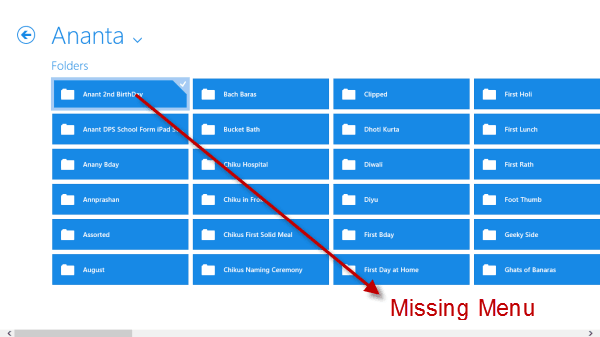 Sharing :
So if, you want to share a file or folder, you need follow the steps :
Select a file or folder.
Open the charms menu
Select Share.
Choose Mail, One Note or People.
Now here is the surprise, People means Facebook or Twitter so don't expect it to pull up the contact book because you need to use the Mail App for that.

Download & Upload :
The basic essence of Dropbox is completely missing. There is no option to upload files from your desktop, and I don't see any option which allows me to save it on my computer.  Now when you select a file like Notepad or Word, it will launch in the default app, but there is no option to select and save it to on my hard drive.
Search :
If you are an experienced Windows 8 users, you would expect that as soon as you start pressing some keys on Dropbox App, it will open up the search box and starts finding stuff for you. Well it doesn't. I mean yeah it can find files, but when you manually open the charms menu, select search and select Dropbox.
Open With :
This feature is actually advertised on the Dropbox App listing on the store but seems to be missing. So may be, just may be, its a bug and they need an update. I don't see anything happening when selecting individual file in the app.
I love the desktop version because it has lot of features that makes sure that I don't have to visit the website to get it done. So either Dropbox gets this app done properly in next update or the ratings are going too low for them.