When you set up a new Windows 10 PC, one of the toughest jobs is to reinstall everything from scratch. While you can always use a Windows 10 Image, and use it anywhere, but if you already have set up Windows on another PC, you need something that can do all the heavy lifting. In his post, we are reviewing EaseUS Todo PCTrans for Windows.
EaseUS Todo PCTrans Review for Windows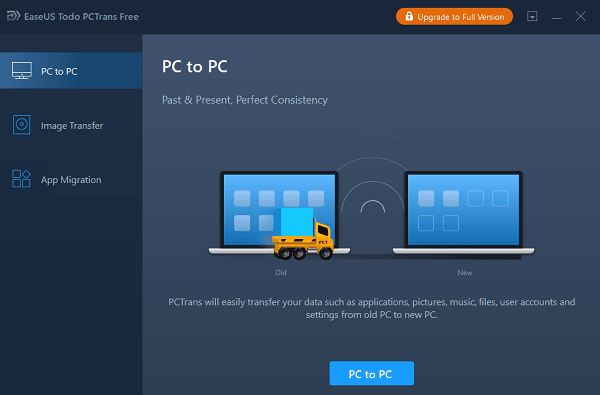 EaseUS Todo PCTrans is a free PC transfer software. It can move data, applications, and account from one computer to another in Windows 10/8.1/8/7.  The free version offers the following features:
Transfer applications from one PC to another
If you want to have the same set of application on both the computers, it can copy apps and data including Office, Email Apps to the new OS. The transfer is possible either via network or using an image file. Once transferred you will have to go through some initial setup to verify the authenticity.
Transfer apps between local disks
If you are running out of space on your primary partition, i.e. where Windows is installed, then you can use this app to transfer apps between local disk. You can use an external drive as well, but make sure not to format it.
Transfer or back up data from one PC to another
It only makes sense that software like this also includes an option to transfer data such as pictures, videos, music, and documents from one PC to another. It can be done in two ways. You can either transfer over a network or use an image file to transfer the data.
If you are moving a large chunk of data, I would highly recommend using an image over the network. It is a lot easier, and reliable compared to network transfers(in case the network fails or the router reboots).
How EaseUS Todo PCTrans works?
1] PC to PC Transfer
Make sure the PCs are on the same network, and they both the identical copy of Run EaseUS Todo PCTrans
Select PC to PC on the computer from where you want to transfer data.
It should discover all the computers running the software. In this case, you should see the other computer to which you want to transfer data. Select the computer you want to connect.
Post this; you will have the option to transfer both ways, i.e. you can copy data/apps from new computer to old computer as well.
Once the direction is set, the next screen offers you to select specific applications, files or accounts. You can edit each of the section, and select each of them.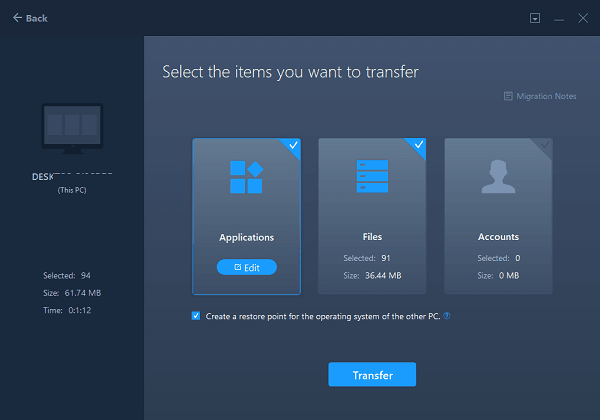 Once done, click on the Transfer button to initiate the process.
2] Image transfer method
The method works similarly, except that it creates an image of applications. Once you select Image transfer,  you have two options. One lets you create an image. The second enables you to recover from an image. Choose to create an option on the primary PC, then select apps, files, and account.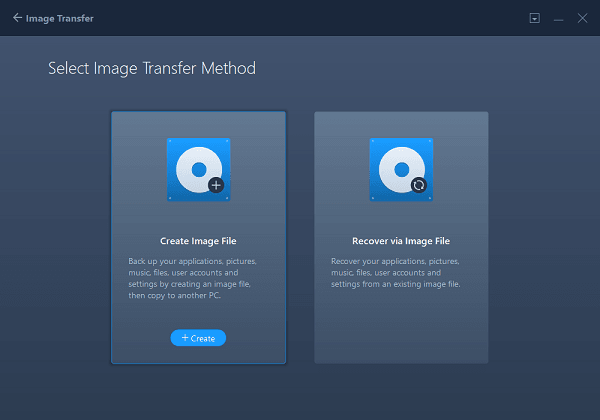 Next copy the image you created on the primary PC, and copy it to the PC where you want to transfer everything.  Using the same software, this time you should choose to Recover via an image file. Once the process is complete, all apps, account, and data will be restored at the exact place as they were on the old computer.
3] App Migration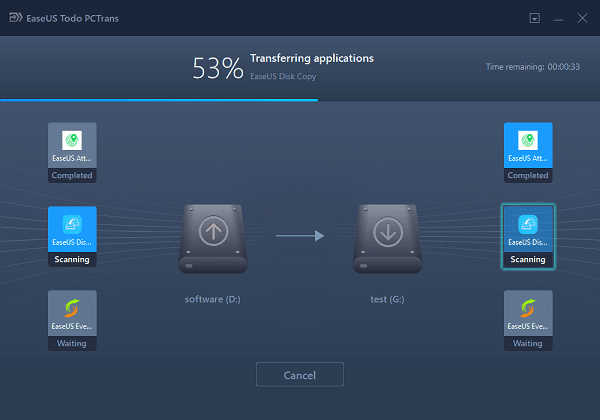 One of the best features of EaseUS Todo PCTrans tool is that it can BULK move applications from one drive to another drive. While windows offer a similar situation, they cannot do the mass transfer. If you are running out of space on the primary drive or need to install an enormous application, this application can help.
EaseUS Todo PCTrans Try before buy
EaseUS offers two versions of the software which you can try to convince yourself. There is a free version, and then there is a trial version
The free version allows you to transfer a maximum of two programs and unlimited files and folders of 500 MB tops.
The trial version offers what free version does and lets you view which programs, data, and the user account can be transferred, but it is not allowed to do a real.
You can purchase the software for which EaseUS offers 30-day money-back guarantee. When you are buying the software, all the limitations are lifted, and you can transfer any number and number of files.