The best thing about reading a PDF document is that you can easily navigate between sections, titles and also use thumbnails to do that. That makes user experience pretty good and now we have the same thing in Microsoft Office 2010 Word  which also includes a search feature which is very handy. Go to View Menu > Check on navigation.
Navigation takes advantage of  tags like title, h1 etc, which defines, parts of any book and is also used to create TOC of the book.  If your document has such arrangement, you will see navigation point displaying them in the left hand side.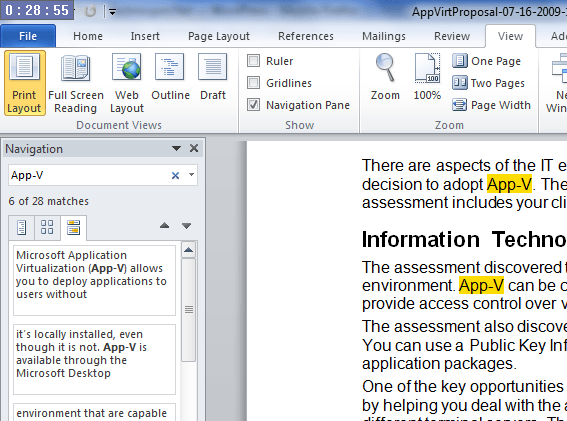 Like you can see, it also allows you to search, and the way the search results are displayed is impressive. Now when you find something you don't have to look around for 10 minutes to see where the word is highlighted, instead you will see a small snippet as search result with the search term as bold which will help you to spot where it is present in the word document easily.
Video Demo