What if you can edit the page seamlessly before you go for printing? What if you can crop out some parts and keep what you want it? What if you can make that page free of advertisement and then print it? If this is what you need, check out the Print Friendly service, which can edit and optimize a web page before printing.
We all know printing a web page has always been a tricky business because of the layouts or sometimes because of the advertisement and more. By default, people would search for a print button, but that is also missing many times.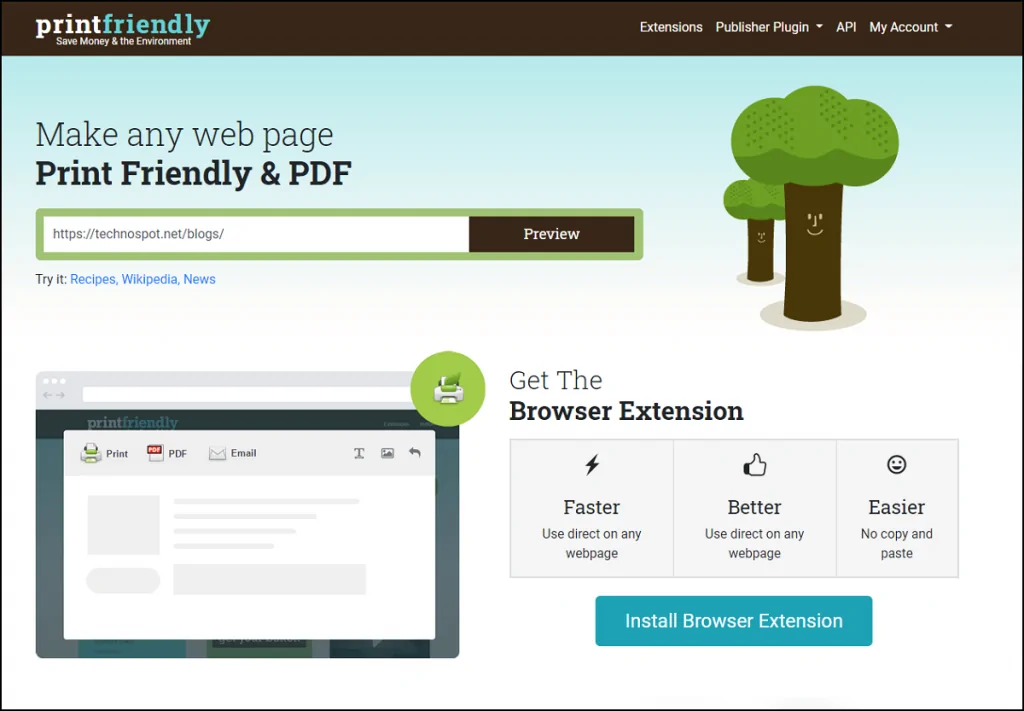 Edit and optimize a web page before printing with Print Friendly
Print Friendly & PDF is a free online service that allows you to edit any web page on the fly and let you modify it to an extreme extent to make it more user-friendly before you print it. It generates a readable format of the webpage, which can be further limited to print to save as a PDF file.
Features
Select any section on the page and delete it.
Remove one or all the images.
Change text size and image size.
Make printed web pages more readable by removing ads, widgets, and other distractions.
Fix broken pages that don't print correctly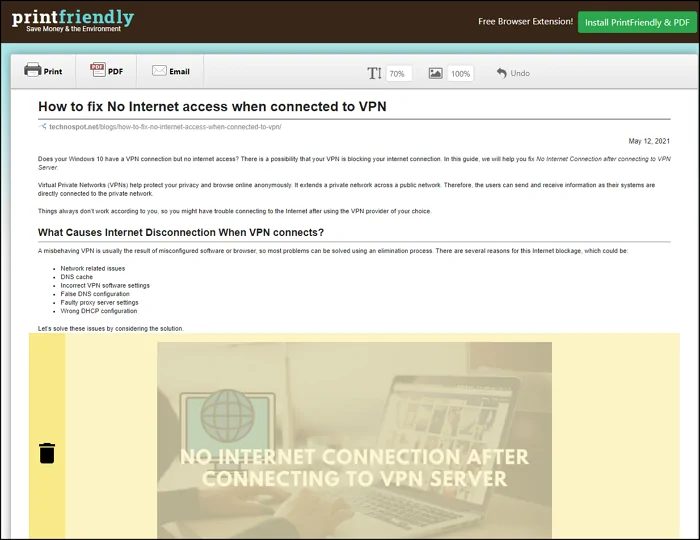 Steps to Edit and optimize web page before printing
Step 1: Open the website, paste the webpage URL into the box, and press the Enter key.
Step 2: You can hover the mouse over the image or the text in the preview and delete it.
Step 3: Once done, you can change the text size, image size. Finally, choose to print, save as PDF or email the webpage to anyone.
It is advantageous if you only want to print or share only an essential part of the webpage.
I hope the post was helpful, and you were able to edit and optimize the web page before printing.
How Do I View Websites Without Ads?
You can view websites using several adblocker tools like Adblock Google Chrome extension, Adblock apps, and software. Please note that some websites may detect the presence of an adblocker and might block you from accessing the specific feature on the website or the website as a whole. However, it is best not to use them because, without advertisement, the internet and the businesses will not run.
How Do I Edit The Content Of A Website?
You cannot edit the content of the website without having admin access on real grounds. But if you want to make it look like you edited it, you can do so by using the developer tools option in the Google Chrome browser. With the console option, you can edit the website's code, but these changes will only be related to your system and won't affect the actual functioning of the website.
How Do I Optimize My Blog/Website For Printing?
One of the best ways to do so is to provide separate print-friendly versions for each piece of content on your website. It can be done by posting the content with images in a downloadable file optimized for printing. For WordPress users, there are several plugins you can install to make your website printer friendly, like WP-print, Print-O-Matic, Print Post And Page, and many more. Please note that providing optimized versions of your site can decrease your revenues in some cases.