MP3s are one of the most widely used audio formats across the globe. And it has been edited, modified, and cut for a long time. Previously, when you needed to make a parody of multiple MP3s or edit some part of the file, you had to go to a music technician. But then came MP3 editing software, which could be installed on your computer and could be effortlessly used to cut, merge and edit MP3s. However, you can now easily use countless websites to edit cut compress MP3 files.
MP3 editing softwares still exist to date and are widely used for its advanced features, but basic editing, cutting, and compressing of MP3s, an online tool, is a much more feasible option. In this article, we will talk about several online MP3 edit, cut, and compress tools, so make sure you stay tuned until the end of this article.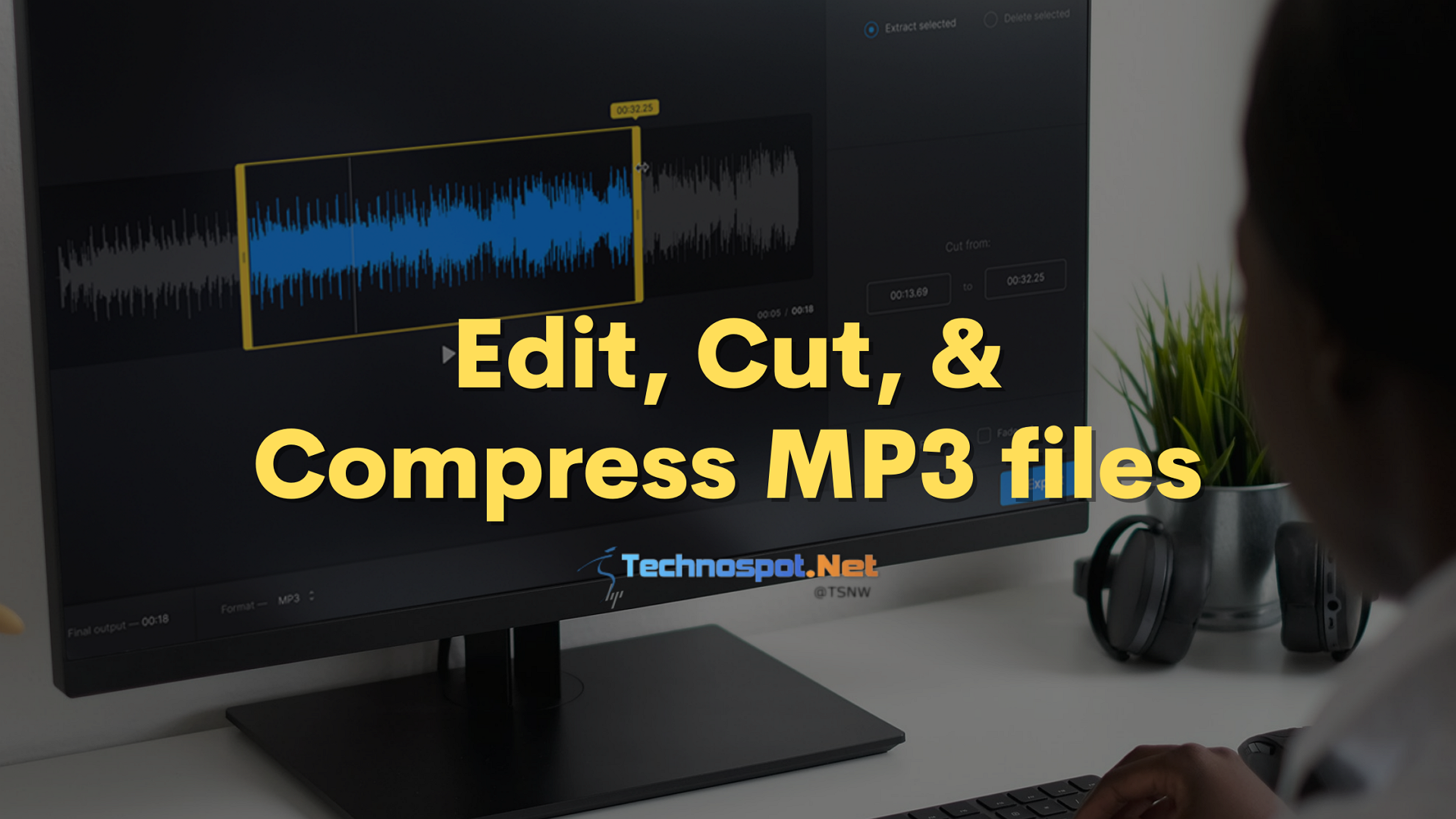 Best MP3 Edit, Cut, and Compress Websites
We talk about the best MP3 edit, cut, and compress websites. Each of the tolls has its pros and cons. So ensure to understand each of them and how it may impact your audio files. We'll talk about MP3 compress websites in the latter part of this article.
Top MP3 Editor Websites
Top MP3 Compress Websites
Using these tools, you can directly cut MP3 files, add MP 3 Lame, fade-out, fade-in, etc.
Top MP3 Editor Websites
Here are some of the best MP3 editor websites:
Clideo
MP3Cut.net
Kapwing
TwistedWave
Audiotrimmer.com
Let's have a closer look at the features of these websites.
1] Clideo
Clideo is arguably the best MP3 editor website out there, and the reason for this is the vast array of other tools the website has to offer on top of a highly efficient MP3 cutter and merger tool. With Clideo, you can upload an MP3 to cut and merge it as per your liking. You can even add fade-in and fade-out effects to your MP3s. Clideo supports a wide range of other audio formats too. Clideo also promises the security of your files and does not use your MP3s for marketing and other purposes.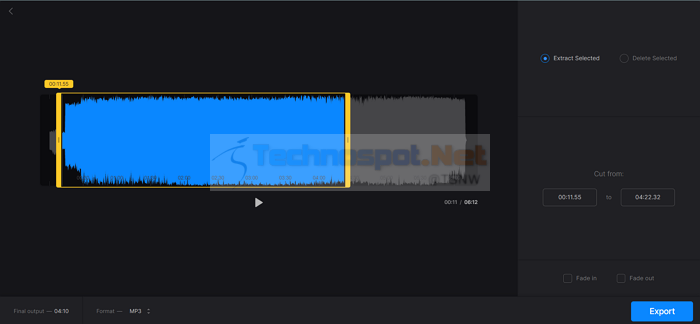 2] MP3Cut.net
MP3Cut.net is a straightforward MP3 editor website. Unlike Clideo, MP3Cut.net has more things to do with audio files. In addition to cutting and merging MP3 files, this website can also change the volume, speed, and pitch of the MP3 file. You can reverse the audio and use the equalizer too. MP3cut.net also features an audio converter allowing you to convert your MP3s into any popular audio format. The website does not talk much about the safety of your audio files, so do refrain from editing sensitive or private audio on the website.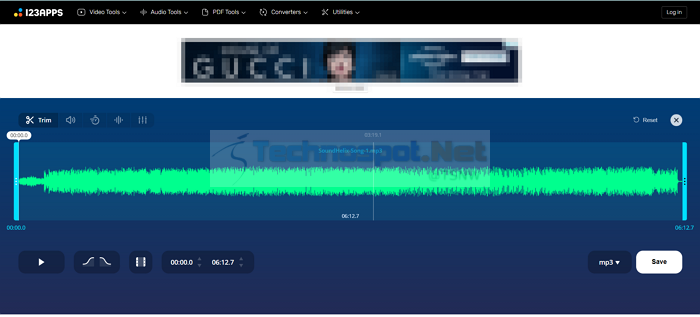 3] Kapwing
Kapwing is one of the most feature-packed MP3 edit websites on the list. Kapwing goes a step further than other websites on the list and also lets you add cool sound effects to your MP3s. Kapwing is an entirely free website offering tons of different tools like a video editor, converter, meme generator, etc. You can also extract audio from a video in MP3 format with Kapwing. It ensures complete privacy and security of your files as they don't analyze your audio or share them with advertisers.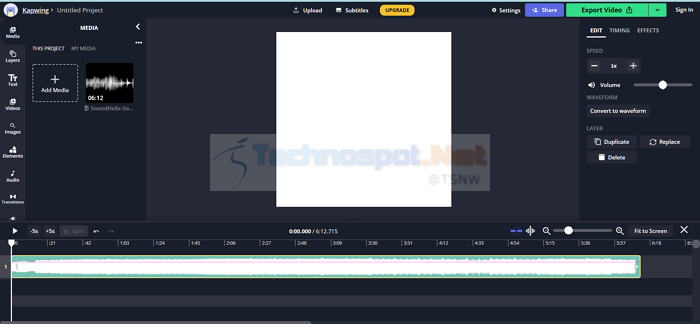 4] TwistedWave
If you want to make some advanced edits to your MP3, Twistedwave is the best fit. The website offers you greater control over your MP3 files. You can control pitch, convert sample rates, amplify, normalize, add fade-ins and outs, and do many other customizations. The only drawback of using TwistedWave is that you cannot edit audio files larger than 5 minutes in length.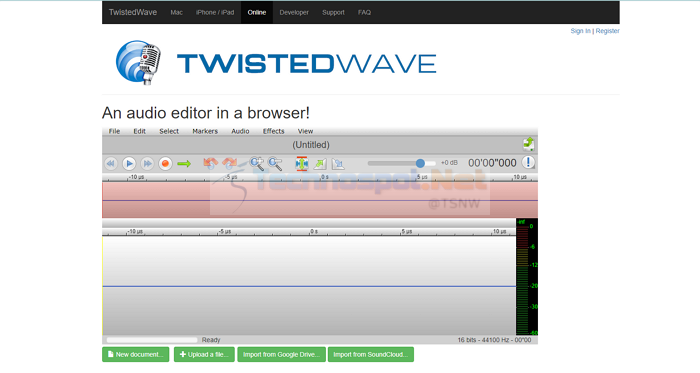 5] Audiotrimmer.com
Audiotrimmer.com is just like other online MP3 editors. What makes it distinctive is the ability to use royalty-free music. Audio trimmer.com also has other tools in-store like an MP3 convertor, tempo changer, audio booster, and audio reverser.
Now that you have looked at the best options for MP3 Edit and cut websites let's look at some of the MP3 compress websites to optimize your large MP3 files.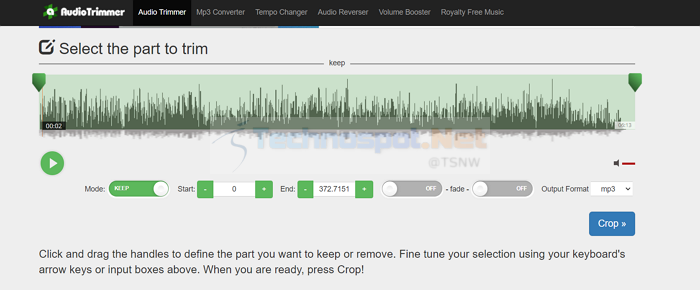 Top MP3 Compress Websites
Below are the top 3 MP3 compress websites, these websites compress your audio files without taking a toll on the audio quality.
Onlineconverter.com
Zamzar
Media.io
Let's have a more detailed view of the features of these websites.
1] Onlineconverter.com
Onlineconverter.com is a simple yet effective website. With its simple interface and limited features, you can compress your MP3s pretty well. While most MP3 compressor websites have only one compression profile, you can choose how much you wish to compress your MP3 file on Onlineconverter.com, which gives it an edge over others.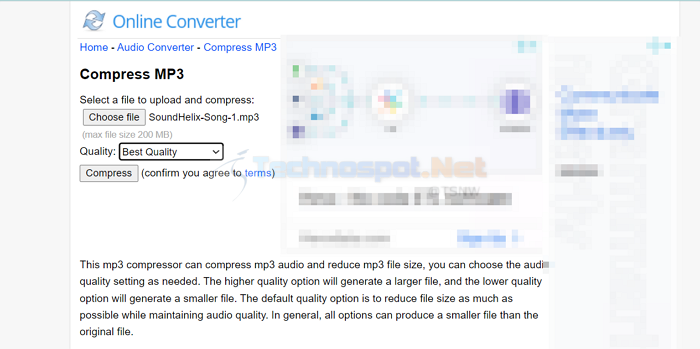 2] Zamzar
Zamzar is yet another MP3 compress website. The site is simple, sleek, and fast. You can upload your MP3 file and get it compressed in seconds. If you don't want to navigate through an array of complicated options, this is the one you should try out.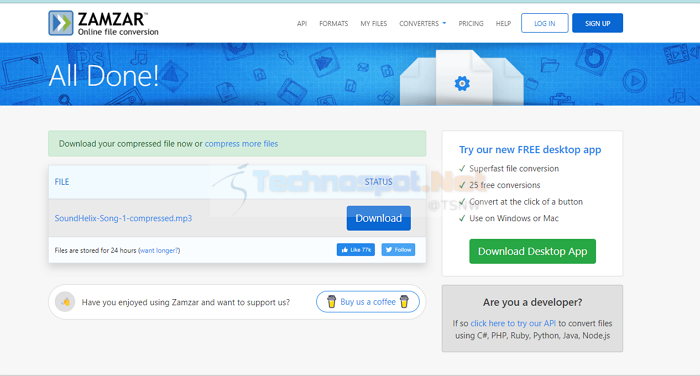 3] Media.io
Media.io is the most efficient and feature-packed MP3 compress website. Wondershare, a widely trusted developer, offers the site so that you can trust them with the privacy and safety of your audio files. You can select the file bitrate and the file format for compression, adding to the overall experience.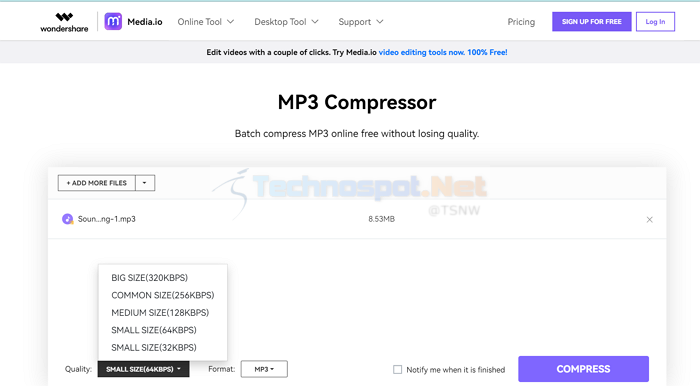 Well, this was all for our article on How to edit, cut, and compress MP3 files. If you are editing sensitive MP3 files, it is still recommended not to use online tools since they can constantly be subjected to data leak risks. For editing more sensitive audios, it is better to use audio editing software that works completely offline so that your files stay on your and only your computer. We hope you liked the article. Please make sure you share this with everyone.
Is It Safe To Use Online MP3 Edit Tools for Sensitive or Private Audio Files?
While most sites claim to ensure the complete safety of your files, it is still not a good idea for you to edit sensitive or private audio files on websites. Online tools are always subject to data leaks and your sensitive info can be at risk.
Can I Edit MP3s in High-Quality Online?
Yes, you can edit MP3s in high quality online. There are many tools available on the web. Some of them are Clideo, Kapwing, and Twistedwave. These tools allow you to cut and merge MP3s and download them in high quality.