Sometimes when we click photos, the cameras produce muted colors and low contrast. In such situations, photo editing helps to enhance the photo or image and correct such issues bringing out the true beauty of the picture. We are looking at some of the best online tools to edit photos and images in this post.
Why Do You Need An Online Photo Editor?
Fine photo editing brings out the vividness of colors and makes the lighting just perfect. Using a good photo editor, you can even remove unwanted objects, add text to your photos, or can create digital art effects, an old or vintage look, and much more effects. There are endless possibilities when it comes to photo editing using photo editor tools!
A photo editor is used to organize, edit and optimize digital photographs. These photo editors are simplified tools for everyday users. Anyone can easily create high-quality amazing professional photos and images with just a single click with photo editors. It all involves a simple process with incredibly sophisticated results.
If you are looking to enhance your photographs and images but are unsure about the online photo editing tools, we are here to assist you in choosing the perfect editor for you. Let us now take a look at some best online photo editing tools.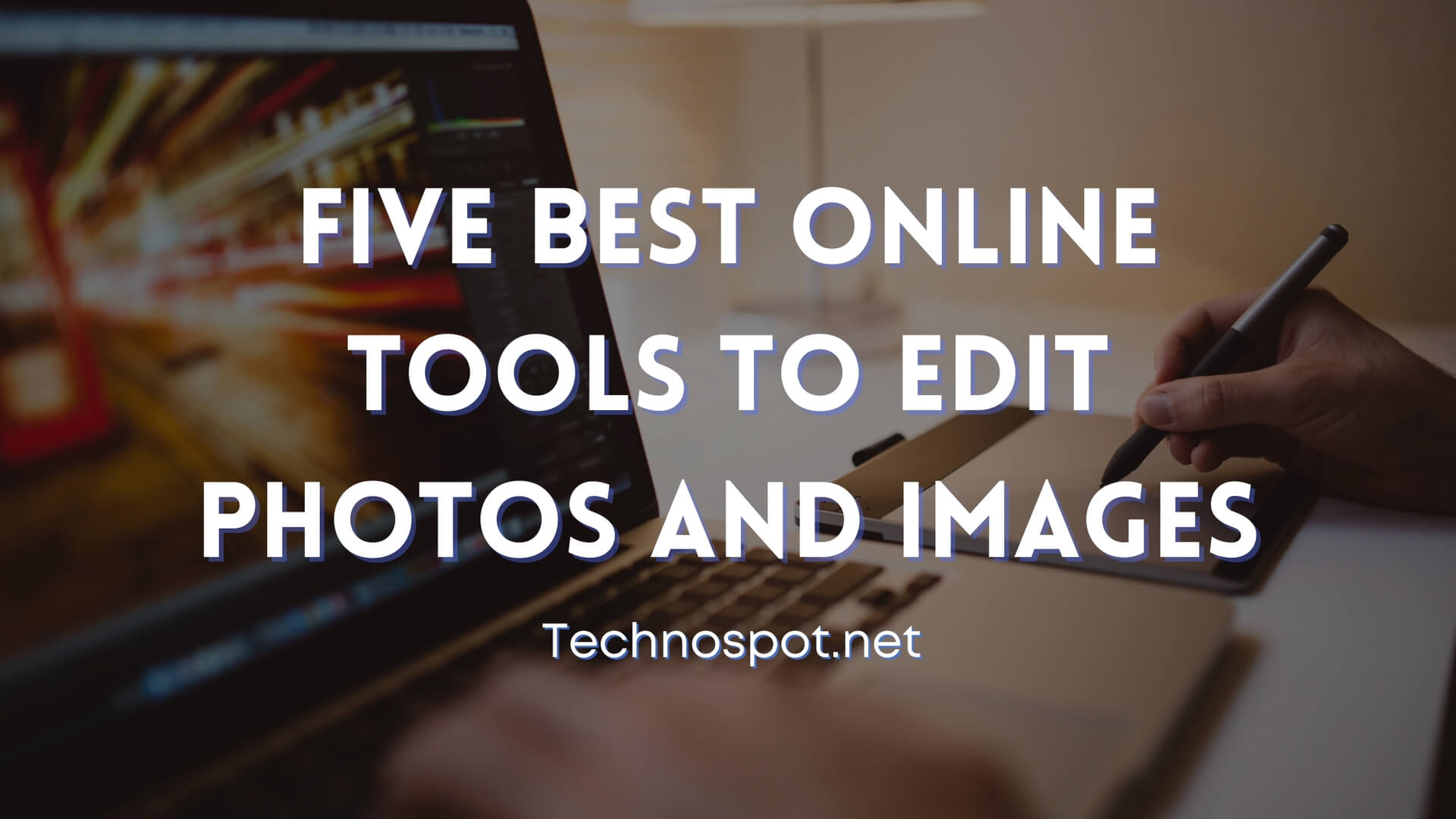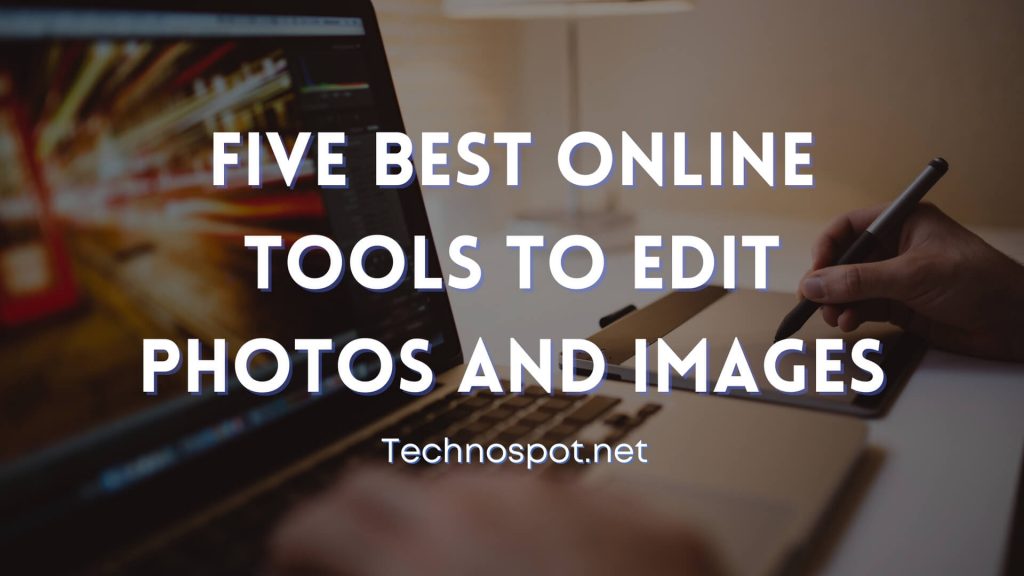 Best Online Photo Editors
There are many high-quality online photo editors available to choose from. Here we have listed some of the best photo editors to pick for your image editing needs.
BeFunky
Canva
Pixlr
piZap
Photopea
Make sure to check the features and then choose which works for you.
1] BeFunky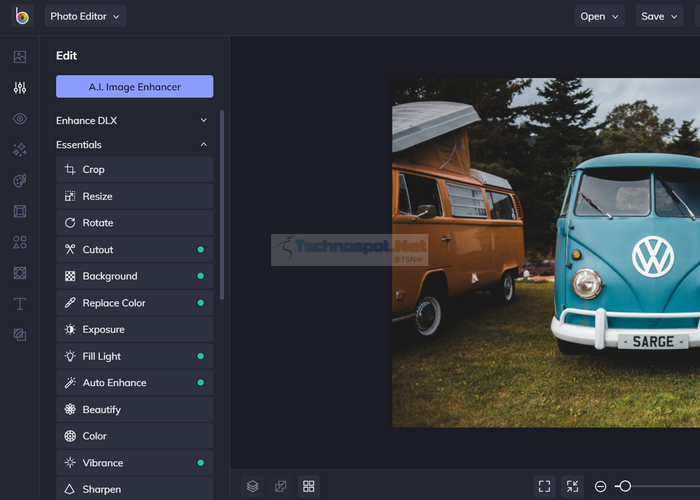 BeFunky is a browser-based, simple to use free online photo editor that offers lots of amazing photo effects. It is ideal for photo editing projects. BeFunky offers a variety of amazing features to boost photo and image quality. The renowned standout feature of BeFunky is a 'Cartoonizer' which can convert any photograph into a cartoon.
BeFunky is the ideal tool to create marketing materials like brochures or flyers. It is best for bloggers and social media lovers as it assists in creating social media posts. The paid subscription of BeFunky, at $4.99 per month, offers many more advanced tools.
Features:
It offers all basic features like crop, resizes, and background removal.
Cartoonizer can convert any picture into a cartoon.
You can add any texture to the background or can even make it transparent.
Come with numerous photo effects and filters.
Ideal for social networking posts and printable assets
2] Canva
Canva is a free simple online design and publishing solution to create graphics and brochures. Canva is a complete graphic designing platform, and anyone with or without having any prior graphic design experience can easily use this straightforward tool.
It offers about 250,000 free customizable templates along with 5 GB of cloud storage. The $99 annual subscription of Canva allows easy scheduling of social media posts and create brand kits, along with 100 GB of cloud storage. You can easily download the Canva app for Android, iOS, or desktop.
Features:
Beginners can easily use it.
Apply textures and filters to images.
Add animated text and photo frames to images.
Offers best templates for social media platforms.
Ideal for creating graphics and brochures
3] Pixlr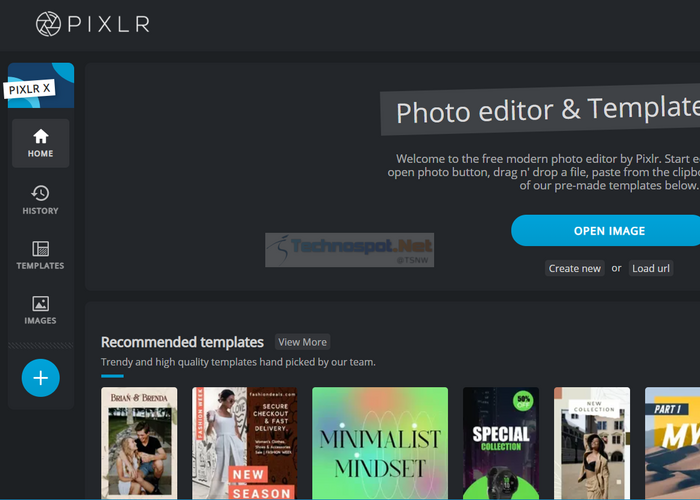 Pixlr is one of the best browser-based free online photo editing tools. You can use this browser on a Smartphone's browsers also. Pixlr uses AI to spot the principal main article in the photograph and removes the rest from the photo.
Then photos can be downloaded as a PNG file, along with transparent background, and can be pasted elsewhere. Pixlr is ideal for beginners and simple photo or image processing projects. To take advantage of other advanced editing features of Pixlr, you need to go Pro subscription.
Features:
Allows background removal with an AI-powered tool.
Includes brush tool, sponge tool, red-eye correction.
Offers complex edits with advanced tools.
Offers customized templates for social media platforms.
Include text, stickers, and borders.
4] piZap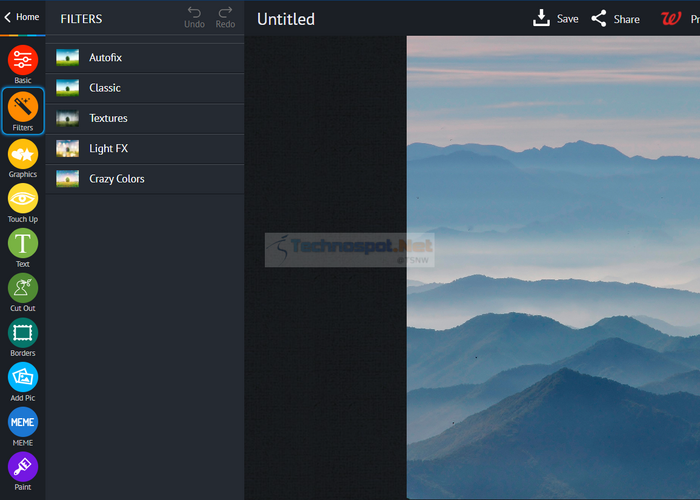 piZap is a browser-based easy to use free online photo and image editor for novice users. It comes with 4 quick start icons and lets you edit, crop, and apply various artistic effects to your photos and images. It assists in creating slideshows and collages. piZap offers free to use only for 7 days. Its paid version costs only $2.99 per month.
Features: 
Renowned for its Cut-out tool to remove photo background.
Offers predesigned templates suited for social media platforms.
Works well on iPad and smartphones also.
Offers meme editor along with a huge choice of templates.
5] Photopea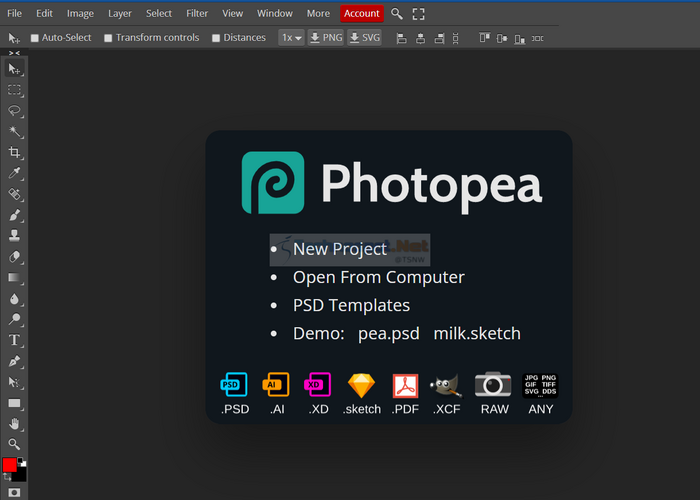 Photopea is a free online professional photo editor. This photoshop style tool can run without any plugins. It works with PSD, PDF files, provides a complete set of tools in the browser,, and there is no need to download the software. It allows you to work and save the work done in the file formats of this photo software. By subscribing to the paid version of Photopea, you can get freedom from ads.
Features:
Offers advanced features such as clone stamp healing.
Work with layers and masks.
Provides facility to edit PSD files.
Ideal for professional photo editors.
Available on all web browsers and all devices.
Perfect for vector and raster graphics
How Do You Edit Raw Photos?
You can edit RAW photos using a photo editor. A photo editor allows many modifications like adding clarity, saturation, sharpening, luminance, and vibrance to the photos.
How Can I Edit A Picture That Is Too Dark?
You can easily edit a dark picture by lightening up and sharpening the brightness, highlights, shadows, and contrast till the picture looks perfect.
How Do I Edit An Overexposed Photo?
You can easily fix an overexposed photo by following these steps in Photoshop:
Build on a levels adjustment layer
Turn its blend mode
Lower the opaqueness of the adjustment layer
What Is The Best Way To Edit A Photo On Your Smartphone?
You can completely rely on some of the best photo editing mobile apps to edit your photographs. Many free and paid photo-editing apps provide creative endless opportunities to edit your photographs. Some of the photo editing apps are Snapseed,  Lightroom, Adobe Photoshop Express, Prisma.
A photo or image editing job requires time, patience as well as technical chops. You can easily turn a photo into a perfect photo without any pricey software. Many online free photo editors provide everything you need to edit and create ideal photos. These powerful yet simple tools can be used conveniently by anyone, all with just a single click. I hope the post was useful and now you know which online tools to use to edit Photos and Images.