Winamp is one of most powerful music players which can not only play music and videos of most of the types but also has some in built features which will make you productive when it comes to managing your play list, duplicate music files, find how many songs you have, sharing a HTML Playlist with your friends and so on.
Using the Remove Feature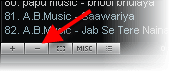 Winamp comes with some excellent in built features which allows you to manage your duplicate music files. Look for a MINUS sign at the end of your play list. When you click on it , it shows some excellent menus like :
Removing Missing Files : Removes files which has been moved or deleted
Physically Removing Files : You can actually remove the files permanently from here, instead of finding the name in folder every time.
Remove Duplicate Entries : If you have added many folders and they show duplicates , just hit this!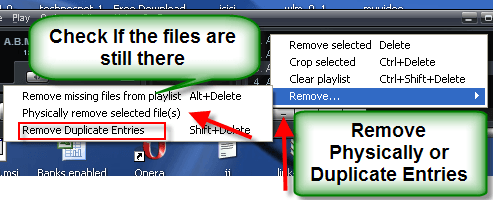 Generating Play List as HTML
This is the best way if you want to share which music you have with your friends. Instead of scratching your head and telling him one by one just generate the play list in html and send the file to him. You can also find about how much time the play list will take and how many songs are there in it.

Inbuilt Format Converter
Want to convert your music files to formats like FLAC, LC-ACC, MP4, WAV. ? Winamp has an inbuilt music file converter which can select to these formats in just one click.!!. Look for a start button. ( I hate Winamp for these sometimes. Buttons are too small when you apply themes ). You can even provide with artist or album name.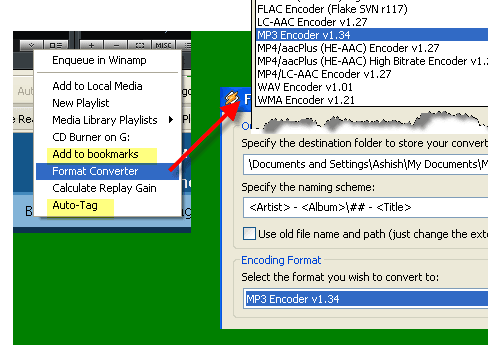 Scrolling Play list
You have a huge play list and you need to scroll them and see what you have . All you do is scrolling one by one right!!! Now what if you want to scroll your play list by 3 ( Because you have a windows enough ) ? Winamp by default set the scrolling one by one if you want to change, Just go to preferences ( Ctrl + P ) and then to General to Playlist. You will find the option to increase it.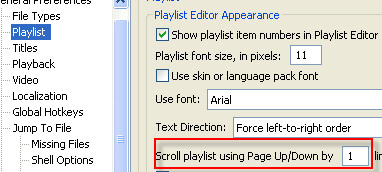 Finding Missing Files
One way of doing it I told you in first point , but What if you want to find which files are missing ? Here is one option which will highlight all your missing files when you load your play list. Just go to preferences ( Ctrl + P ) and then to Jump to File and check the highlight background of missing files.

Browsing The web
This is simply fun and applies to people who are big freak for Winamp!!! Now if you don't want to leave Winamp at any cost and still want to browse !!! Winamp comes with an inbuilt browser!!! Open up your media library and you will see the browser tab. This browser can also be used to download music files.