There are different kinds of in-built apps on Windows PCs. But, they need more advanced features and size compared to the functionality. To avoid it, choose third-party apps on your Windows 11/10 PC to overcome the issues.
Hence, we have covered you with lightweight alternatives to essential Windows applications. These have advanced features and affordable subscription plans; some are free, making them suitable for use.
Top Lightweight Alternatives to Essential Windows Applications
There are several lightweight alternatives to essential Windows apps. After trying the various tools available, we have reviewed and mentioned the best ones category-wise!
Audio Players
Video Players
PDF Readers
Office Suite
Antivirus Software
Messenger
Download Managers
Dictionaries and Thesaurus
File Sharing
Imaging Tool
Now, let's review each one of them in detail!
1] Audio Players
Windows Media Player is quite good however is more in size and needs to meet the increased demand and advanced features. Besides, it often gives the error of "cannot play the file." Hence, an alternative to the audio player will help!
PotPlayer
PotPlayer is a preferred Audio Player for Windows. It can be your ideal lightweight application for Windows. The hardware acceleration of this application prevents any toll on your system's resources.
The application has a simple user interface where you can easily navigate your music library and choose your preferred clip. Also, it gives you all the necessary audio-related features in one place, reducing your time to check different menus.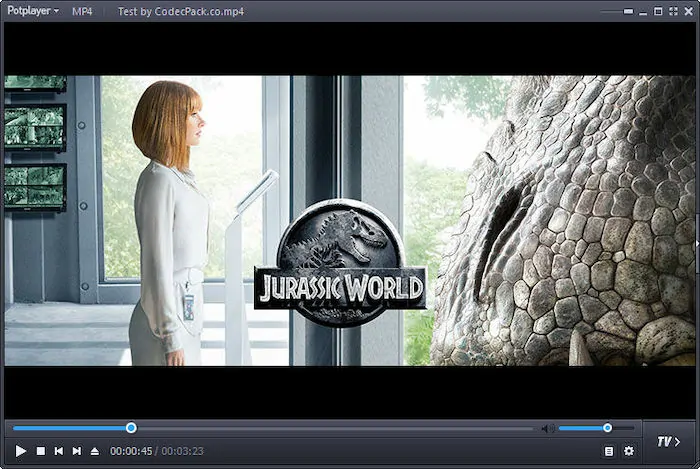 Features
Simple Design- It has a simple and user-friendly interface design
Advanced Features- The app is filled with advanced features, including the option to switch between sound cards, noise reduction, and support for Winamp DSP plugins
Music Library- There is a massive music library, and you can play your favorite songs and audio.
Pros
Improved home screen
Free for Windows
Minimalist styling
Powerful media player
Cons
Confusing settings
Low loading screen speed
Check out the tool here
2] Video Players
PCs have a common purpose for watching movies and videos. Thus, Windows offers its built-in Windows Media Player, an audio and video player. But, it has limited ability to stream videos.
Moreover, it does not correctly sync with specific portable devices. Hence, an alternative video player like VLC Media Player or Kodi is a practical option.
VLC Media Player
VLC Media Player is a free and open-source cross-platform multimedia player. It plays all your multimedia files and various streaming protocols to offer a great viewing experience.  It is a simple yet powerful video player that is the ideal alternative to a Windows media player.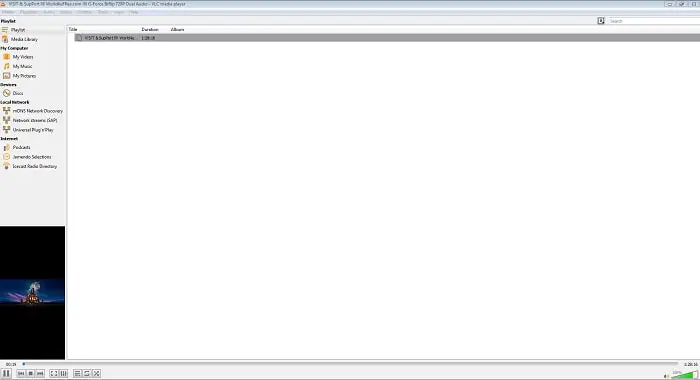 Features
Plays Everything- It plays various files from discs, webcams, devices, and streams.
Runs Across Platforms- This video player runs across all platforms like Windows, Linux, Mac OS X, Unix, iOS, and Android.
In-built Equalizer- The tool has an inbuilt equalizer that promotes no distortion sound.
Keyboard Shortcut Support- You can also control the video player using keyboard shortcuts.
Read: Fix Video Lag in VLC Media Player on Windows
Pros
Ad-free
No Spyware
No user tracking
Supports extensions
Free
Cons
Playing songs is often difficult
To play content, you have to open it from the folder directly, and no easy view
Check out the tool here
Kodi
Kodi is a renowned open-source home theatre software for your Windows PC. An important USP is that you can include different add-ons to enhance your watching experience.
Apart from that, it has an incredible interface that makes it easy to use for beginners.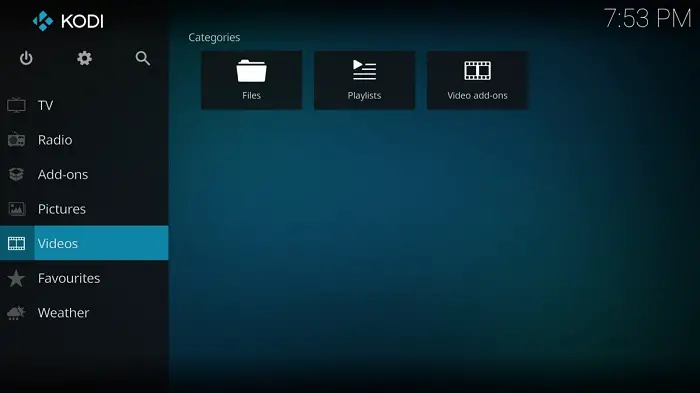 Features
Wide Range of Content- Kodi has a comprehensive inbuilt collection of music, movies, and TV shows.
Slideshow- To view your photos, Kodi offers a unique sideshow option
Live TV- Kodi allows you to watch live TV and record live TV shows through its easy interface
Big Pack of games- Kodi has an extensive collection of fun and various emulators for game lovers.
Customizable- You can customize it with about 900 add-ons available for it.
Pros
Compatible with a wide range of devices
Options to include add-ons
Cons
It does not automatically fetch metadata of your media
Check out the tool here
3] PDF Readers
Windows devices are commonly used to open, read and share documents pdf. For this purpose, Windows has Adobe Acrobat for its users.
However, many of its features are kept behind a paid window which is often expensive. Therefore, we have covered the best alternatives!
Foxit
Foxit is a reliable pdf reader application and secure software. You can make, edit and read your pdf documents in this single application. Also, it offers easy integration with other apps, increasing its potential and use.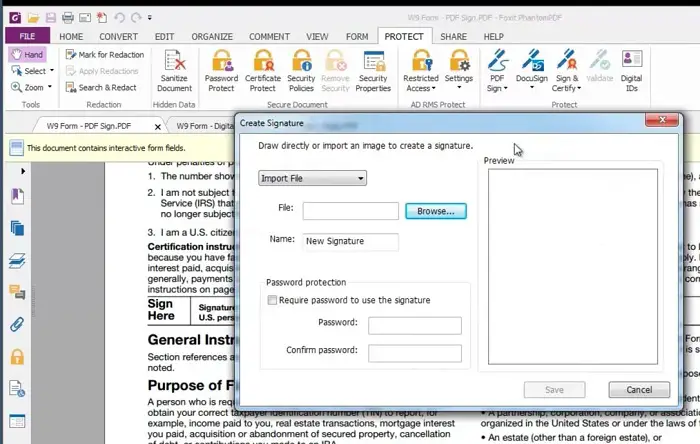 Features
Improved Document Efficiency- Foxit offers an efficient system to organize and manage all your documents in the application.
PDF Editor- Foxit has an in-built editor that helps you edit your pdf documents.
AI Integration- Foxit has integration with ChatGPT for increased productivity.
Pros
Offers Pdf to word conversion
Option to merge pdf
Help to compress pdf
Cons
Limited trial version
Performance suffers on complex documents
Check out the tool here
SmallPDF
SmallPdf helps you to quickly start, manage, and work on your digital documents. There are 21 tools in the app to convert, compress, and edit pdf for free. Also, you can directly work on your documents and further enhance your files.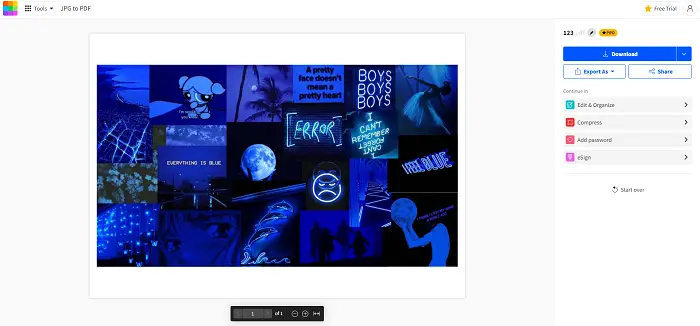 Features
Make the Perfect Size Documents- If your file is too big, there are several tools to compress, convert, merge, and split files to make it the ideal size.
Manage All Files in One Place- You don't need multiple apps to manage your pdfs. SmallPdf is a single platform to store, manage and share files.
Digital Signature- SmallPdf helps you fill details in documents and sign e-contracts in one place.
Pros
Robust pdf compressor
Enhanced security
Cross-platform support
Cons
Check out the tool here
4] Office Suite
PCs have become a one-stop destination for completing all your work. So, Office Suites, including spreadsheets, word processors, and slideshow applications, help increase productivity. They are functional, easy to use, and visually appealing in looks. Windows uses the Microsoft suite.
But, an alternative suite offers advanced features in paid plans which can be expensive.
Google Workspace
Google Workspace is one of the best cloud productivity and collaboration suites. It includes tools like Gmail, Calendar, Drive, Docs, Sheets, and Slides. Google Workspace is suitable for businesses and even educational purposes.
Features
Real-time Collaboration- Multiple people can work on a single document with different access controls in Google Workspace. Thus, it offers easy collaboration.
Easy Sharing- The files and documents prepared in Google Workspace can be easily shared in different formats.
Confidential Mode- There is a confidential mode in Gmail to protect your confidential and sensitive files. Plus, there are security-enabled features to keep your files secure.
Offline Mode- An essential feature of Google Workspace is that you can create and access your documents anywhere without the Internet.
Named Revisions- To help you differentiate between the different files where you have made changes, there are named revision features to help you identify them.
Pros
Multiple integrations
Several data storage locations
Allows for interface branding
Supports large file sharing
Cons
Limited formatting features as compared to MS Office
Check out the tool here
5] Antivirus Software
To ensure the safety of your Windows PC, it is crucial to protect yourself from viruses. So, there is an in-built Windows security tool to deal with viruses and malware.
However, it could be more effective. Hence, lightweight and more effective alternatives come into the picture.
Kaspersky
Kaspersky is an ideal anti-virus software. It is a single tool that protects you against various information security threats, network and phishing attacks, and spam.
It detects malicious software in real time and notifies you to protect your device.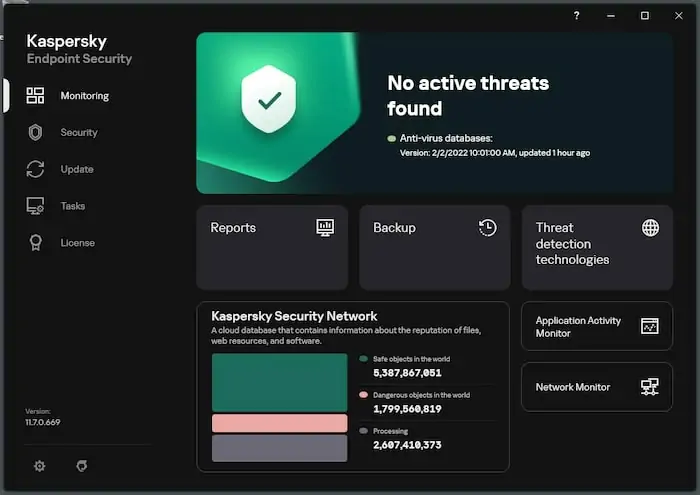 Features
Unlimited Plans- If you have multiple devices at home or office, you can choose from different kinds of plans by Kaspersky to protect all of them.
Data Encryption- It keeps all your data encrypted, and no third party can access it.
Data Backup- To ensure that you don't lose any critical data, it gives you options for data backup to help you restore it anytime.
Simple interface- The software has an easy-to-use interface suitable for beginners.
Pros
Virus scans
Malware protection
Protects from remote attacks
Multilayer malware protection
App lock
Cons
Challenging to get in touch with customer service
Built-in VPN offers limited traffic bandwidth
Check out the tool here
6] Messenger
Windows offers an in-built messenger app to chat and communicate with others. It is specifically made for use on big screens for free chatting.
Moreover, it provides a high-quality video call and chat experience on your Windows desktop. However, we have that, too if you are looking for a lightweight alternative.
WhatsApp
Whatsapp is a free and cross-platform instant messaging app for Windows and other OS use. You can use it for sending text and voice messages to your contacts.
Also, you can share images, documents, videos, user locations, etc, using it. Moreover, there is a different Whatsapp business for entrepreneurs as well.
Features
Disappearing Messages- Enabling this feature helps automatically delete messages over 7 days old to keep your chat history tidy.
Real-time Location Sharing- To help your family or friends find your location. It lets you send real-time locations, making them find the right way.
Starred Messages- You can start your essential messages in conversations to prevent any chance of deleting them by mistake.
Whatsapp Groups- There is a Whatsapp group feature to connect and converse with multiple people simultaneously. Here you can include numerous participants and have conversations.
Pros
Free
Easy to use
Encrypted messages
Cons
File size limitations
Phone number mandatory for registering
Privacy concerns
Check out the tool here
Skype
Skype is a division of Microsoft having video calls, video conferencing, and voice calls online. Also, it is an instant messaging and file transfer application. It has an intuitive interface that is suitable for beginners.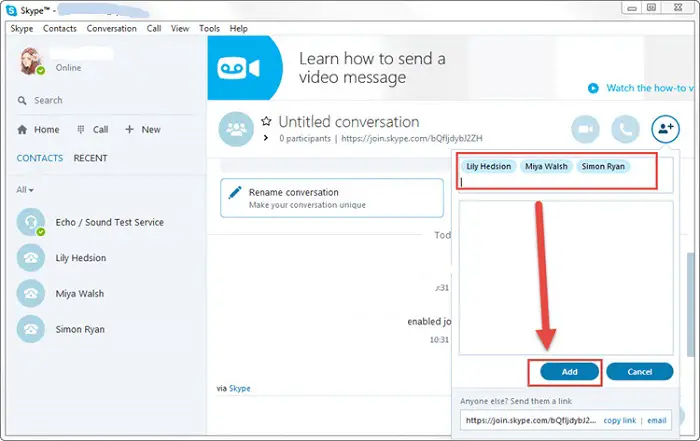 Features
Customise Themes- You can get creative and choose your preferred color as the theme of your Skype interface.
Skype Translator- Skype has integrated AI that translates your words using voice in real-time.
Adding Contacts using QR- Instead of manually searching and adding contacts, you can use its QR feature to add contacts instantly.
Manage Caller ID Settings- You can choose who can see your call ID (name and phone number).
Pros
Has screen sharing option
Easy to install
Secure calling experience
Cons
Requires paid subscription to access premium features
Check out the tool here
7] Download Managers
Download Managers help download preferred files from the internet and view them. Also, it manages file transfer work. But, inbuilt download Managers of Windows offer limited features.
Here's where other third-party applications like Free Download Manager and Download Accelerator Plus can be a good choice.
Free Download Manager
Free Download Manager supports downloading different kinds of files from the internet, like files, videos, and torrents. It is an innovative and fast internet download Manager for Windows PC.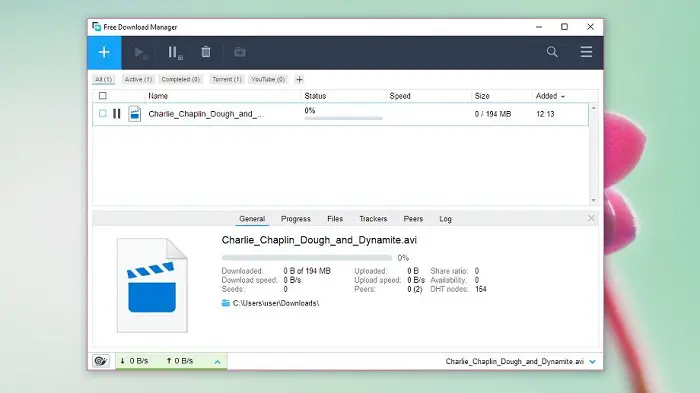 Features
Resume broken downloads- If your connection is broken during downloading, the tool lets you resume it.
Intelligent file management- You can easily organize different categories and formats of files downloaded online.
Remote control- Supports downloading on a remote PC using your Android phone.
Multi-language support- It supports translation into 24 different languages.
Pros
BitTorrent support
Modern interface
Download acceleration
Enhanced audio/video files support
Cons
Torrent inclusion does bring in malware
Check out the tool here
Download Accelerator Plus
Download Accelerator Plus is a good choice if you want an alternative that offers quick downloads. It has a faster download speed and fast speed video conversions. Download Accelerator Plus makes it easy to manage all your downloaded files.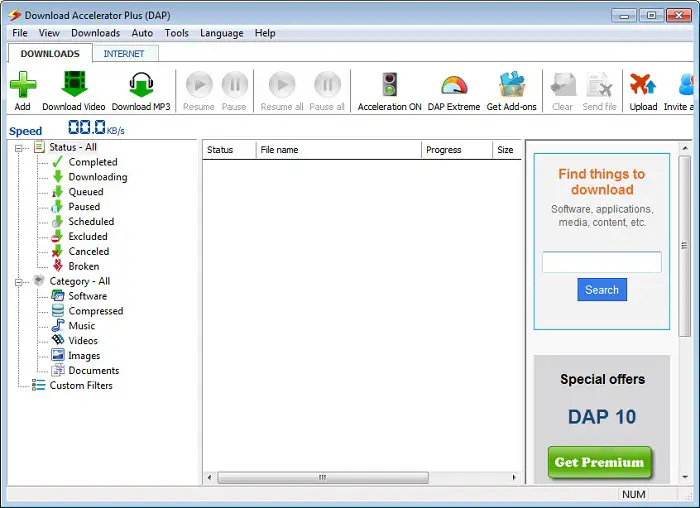 Features
Supports Quick Video Download- You can quickly download videos from YouTube and other sites. Also, you can convert them into MP3 or MP4.
Trace Cleaner- There is a trace cleaner feature to remove the traces from file downloads for better privacy.
Internet Browser- You can access and browse the internet directly through this application and make downloads.
Video Preview- it does a real-time preview of the audio or video after a few seconds of beginning the download.
Download History- It gives a detailed file history to keep track of your downloads.
Pros
Inbuilt file shredder
Offers Multi antivirus security
Cons
Check out the tool here
8] Dictionaries and Thesaurus
Dictionaries and Thesaurus help you better understand the meaning of certain difficult words that you come across on the internet and find their synonyms.
There is no in-built dictionary or Thesaurus on Windows. So, we have listed down three third-party apps that can be useful.
Word Web
Word Web is an international English Dictionary. In one click, it helps you get access to words, definitions, examples, synonyms, etc. It is based on a Wordnet database.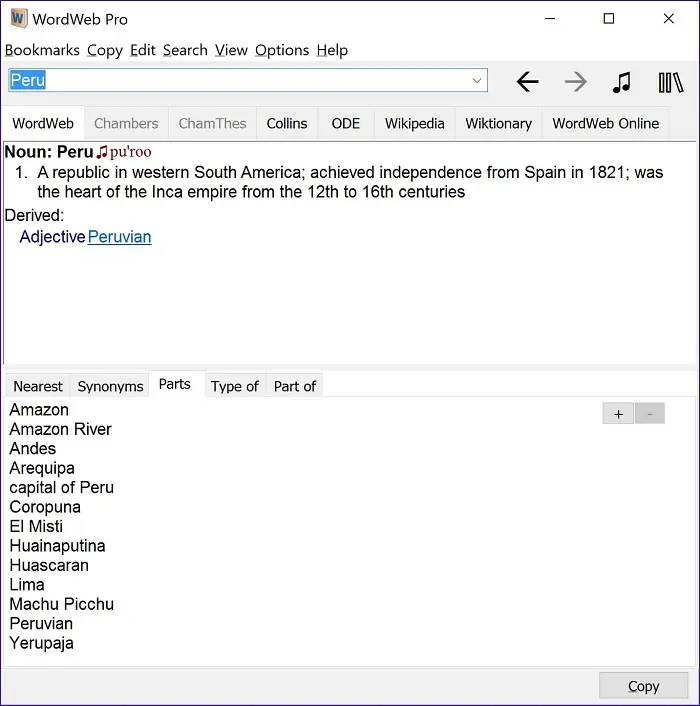 Features
Phrase Guessing- It helps you guess phrases in a single click.
Words from Pictures- You can right-click a word within an image and ask this tool to guess its meaning.
Student-friendly- WordWeb is a student-friendly application that is easy to use. It helps international students to find meanings and improve their vocabulary.
Pros
Easy to use
Simple Interface
Cons
Audio presentations are sometimes inaccurate
Check out the tool here
TheSage English Dictionary
As the name suggests, TheSage English Dictionary is a complete and multifaceted Thesaurus. It is a one-click dictionary that is easy to install and free to use. The best part is that it does not require an internet connection.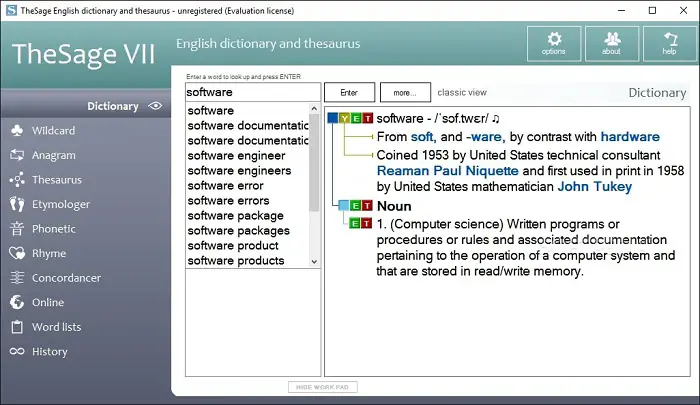 Features
Anagrams- It has unscrambled words and phrases
Encyclopedia- The tool has an extensive Encyclopedia for finding facts and information.
Etymology- You can track the origins and evolutions of your search words.
Definitions- It helps you find the relevant definitions of your favorite words.
Pros
Spelling assistant
Simple Interface
Cons
Check out the tool here
Thesaurus
Thesaurus is the world's largest and most trusted Thesaurus.  It has a dictionary giving you the meanings of the words you search for and provides their synonyms in English. The application has a simple interface that is suitable for beginners.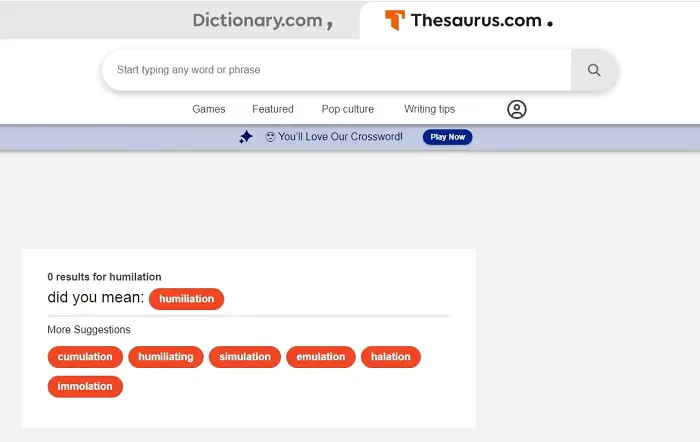 Features
Word Games- The Thesaurus has different word games, like Crossword, Word Puzzle, and Word Finder.
Featured- Under their featured section, you will find the word of the day, a synonym of the day, new words, and language stories to help you understand the language.
Writing Tips- It offers writing tips to help you improve your writing skills.
Pros
Free to use
Interactive visuals
Cons
Check out the tool here
9] File Sharing
Using file-sharing apps, you would share downloaded files, multimedia, documents, and ebooks from your PC. Windows offers different media for sharing files like Nearby Share, File Explorer, OneDrive, or Shared Folders.
But we have some excellent options if you are looking for an ideal third-party application.
Dropbox
Dropbox is a popular application for storing and sharing files on your PC. You can collaborate on projects with your team and save all your files in one place. Moreover, it lets you access your files from anywhere and back up them online.

Features
Automatic Backups- The app automatically backs up your files to help to prevent losing them.
Capture Screen Recordings- You can capture and share them using the app.
Digital Signatures enable you to fill in details and digitally sign your documents.
Pros
Suitable for use on every operating system
Multiple collaborative tools
Effective integration
Cons
Less a storage limit for free use
Check out the tool here
Read: Guide to get started with Dropbox
Box
Box.net is a safe cloud storage and file-sharing app. It is a single platform to create, access, store, manage and share all your files. The tool offers unlimited storage and custom branding for users.
Moreover, it gives you good administrative controls for file sharing, collaboration, and more.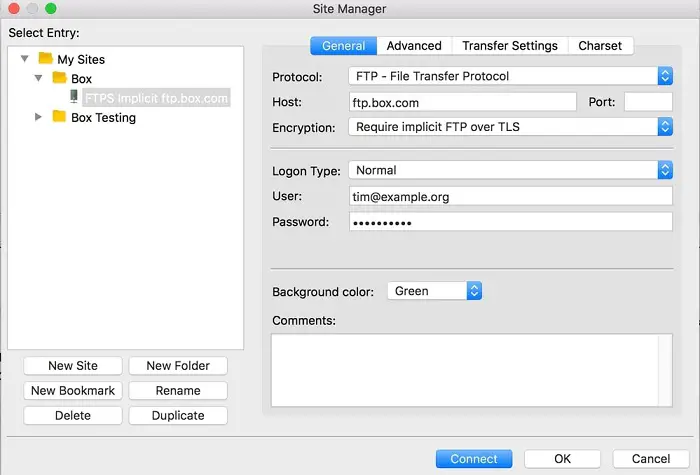 Features
Two-factor Authentication- There is a 2FA option for added security of your files.
Efficient Project Management is a suitable app for efficient project management functions.
Collaborative Options- Several collaboration options make it ideal for team use.
Pros
Easy to use
Real-time sharing
Minimalist interface
Cons
Upgrades are expensive compared to other tools
Check out the tool here
Read: Ultimate Guide to Box File Sharing Service
10] Imaging Tool
You would have several images on your Windows device. So, you will need an imaging tool to create, manage, edit, and manipulate images on your device.
Windows offers you an inbuilt backup and restore application. It's Windows ICD for this purpose that has limited features. If you want a feature-filled Imaging Tool, we have some great alternatives.
Irfan View
Irfan View is a one-stop to view, edit, organize, and convert images on your Windows PC. Also, It helps you to play audio and video files. Moreover, IrfanView has image creation and painting options.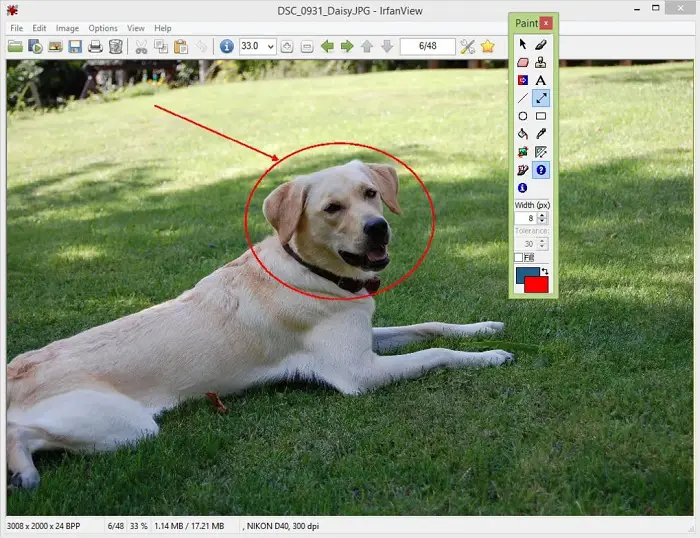 Features
Scan and Print Images- You can use IrfanView to scan and print images.
Slideshow- To create presentations with images or continuously view them, IrfanView offers a slideshow feature.
Image Editing offers several options like crop, resize, rotate, etc.
Pros
Free for personal use
Beginner-friendly
Cons
Check out the tool here
Read: Best Image Editing Tools
PicPick
PicPick tool is an all-in-one editing and design tool. After scrolling down your PC, it helps you edit images and capture full-size screenshots. Moreover, you can add text, arrows, shapes, etc., with its built-in editor.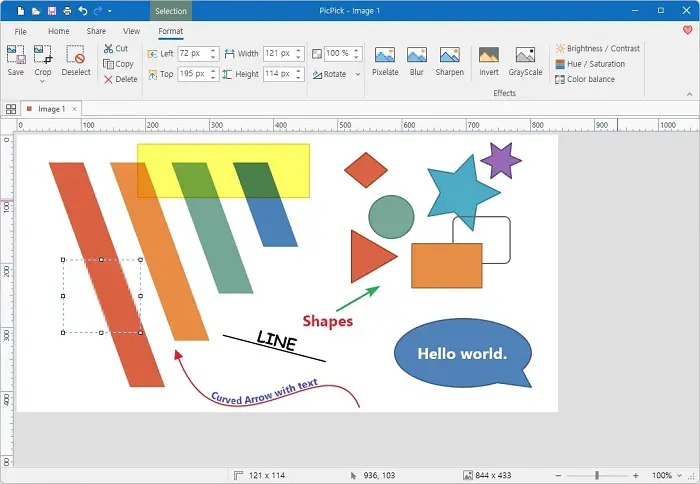 Features
Add Effects- To enhance your images, you can add different effects like drop shadows, frames, watermarks, mosaics, motion blur, brightness control, etc.
Quick Share- PicPick tool offers different sharing options through the Web, email, Dropbox, Google Drive, OneDrive, Facebook, Twitter, etc.
Graphic Design Tools- PicPick tool offers different graphic design tools like a color picker, color palette, magnifier, whiteboard, etc.
Image Resizer- It has an image resize tool, which is quite effective yet does not diminish image quality.
Pros
Customise settings
Easy interface
Cons
Hotkeys are challenging to understand
Check out the tool here
Conclusion
Using heavy third-party apps for advanced features can decrease the speed of your Windows Device. However,  you can use their relevant lightweight alternatives from above that will offer advanced features without consuming much space.
So, whether you are looking for a tool to manage documents properly or trying to improve your work, this list of apps can be all you need on your Windows PC. It will help you ace your personal and professional work together.