If you're a macOS user, you might have noticed that the battery icon in the menu bar doesn't display the percentage of MacBook's battery available when plugged in. It was a part of the significant change in the UI that came with macOS Big Sur. Fortunately, there is a way to display the battery percentage in MacBook once more.
Why Is the Missing Battery Percentage Disappointing?
The missing feature is disappointing because there is no way to check how much battery life is left at a glance. While the battery icon changes as the battery drops, it doesn't offer an exact percentage that is more satisfactory.
Even more confusingly, the Battery settings option in System Preferences doesn't have an option to enable it. So, follow these two methods to bring back the percentage icon on your MacBook.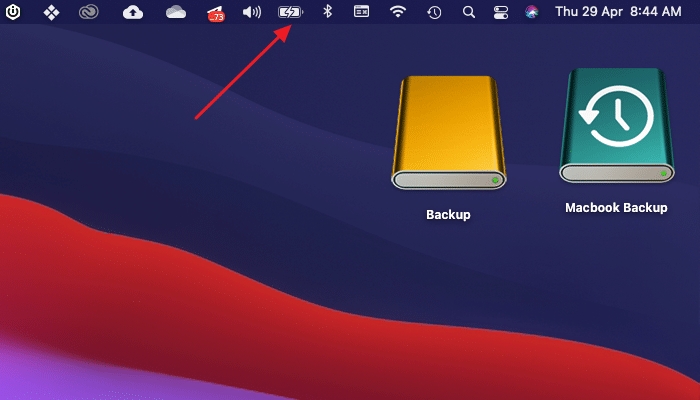 Enable Battery Percentage in the Menu Bar in macOS
There are two ways to achieve this.
Using Spotlight Search
System Preferences
Enable Battery Percentage in the Menu Bar Using Spotlight Search
Press the spacebar and Command keys to bring up Spotlight Search.
Type "Dock and Menu bar" into the search box to bring up the results. Note that the same app appears with System Preferences next to it. Click on it to open.
When you open it up, you can either type "Battery" into the search box or scroll through it until you find the Battery section. Click to open it once you see it.
There is an option—Show battery status in the menu bar—all you need to do is check the box. As soon as you do that, the percentage will appear on the menu bar next to the battery icon on your MacBook.
Quickly Enable Battery Percentage from System Preferences
Those who have the System Preferences app on the dock can access this setting very quickly.
Move the mouse to the bottom of the screen, and the dock will appear. Click to open it.
Locate and open the Dock and Menu Bar
On the left-hand side menu, scroll down to the Battery section.
Check the box next to Show Percentage under the Battery option.
With the battery icon already on the screen, the percentage icon will appear right next to it.
Although this works well since you know where the battery icon is at all times, the percentage could have been displayed inside the battery icon. Seeing the battery icon doesn't help any.
Conclusion
Did the change surprise you? Do you think battery percentage would look better if placed inside the battery icon instead of next to it? Let us know in the comments section down below!