Ever thought of using the mouse gestures to control or navigate while working on your Firefox browser. If yes, here is a Firefox add-on, named as Foxy Gestures. It allows you to draw gestures using your mouse, and then perform actions like back, forward, reload, and so on. Here is how to enable mouse gesture navigation in Firefox.
Note: If you have heard or used about FireGestures, then this add-on is heavily inspired by it. FireGestures is not available anymore.
Enable Mouse Gesture navigation in Firefox
Install the Foxy Gestures like any other add-on, later navigate to the 'Add-ons' section from the menu (type about: addons in an empty address bar and hit enter). Locate the addon, and click on the three-dot menu on the top left and select preferences.
Here you have general settings, built-in commands, other gestures, user scripts, more preferences,  and Backup/Restore.
1] General Settings
Select the gesture button (right, middle or left)
Disable ALT and Shift keys for gesture
Gesture direction which could be up, down, left, right, or 30 degrees or 60 degrees.
2] Built-in Commands
It lists down gestures for different action. For example, gesture for back, forward, next page, etc. is already setup. The gestures follow a definite direction, i.e. L, R, U, and D, mean Left, Right, Up, and Down. For example, 'DRU' indicates drawing a gesture, first towards Down, then right and finally to towards up. You can draw it in any angle it will not matter unless you have chosen otherwise in general settings.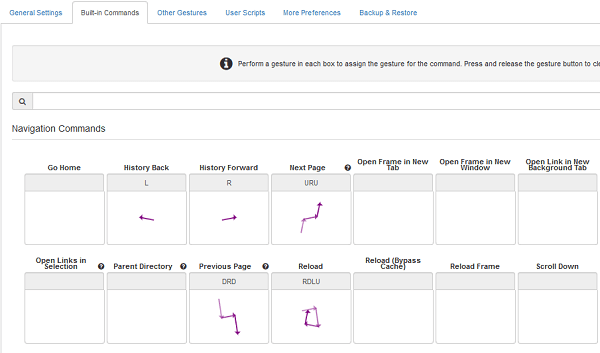 Some of the gesture boxes are kept blank. You can manually add a gesture in each box by using a mouse. Hold down the left key and draw. Press and release the gesture button to clear the gesture.
Here is a small animation which shows the working of FireGestures/Foxy Gesture. Have a look: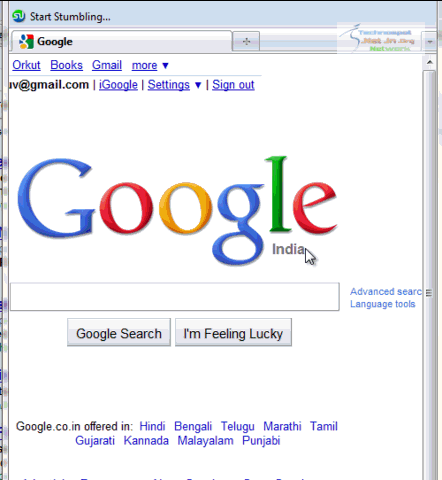 Here you can get to know about the scripts, i.e., the mouse gestures which are ready to use after installing this add-on.
Supported Gestures
Mouse gestures using the left, middle, or right button.
Wheel gestures using gesture button + wheel.
Chord gestures with configurable chords.
Configurable gesture mapping with many built-in commands.
Implement new commands with user-provided scripts.
Configurable gesture timeout and gesture trails.
Status text during gestures with customizable styles.
Diagonal gesture support if enabled in options.
The options available in this add-on is exhaustive. Additional preferences offer you to choose what happens when you close a tab, default URL for new Tabs, new Window. Lastly, you can backup and restore settings if you ever need it.
Lastly, the addon supports User Scripts as well, but they are not safe. So best is to keep it as is.
The developer notes that the extension is not as powerful as FireGestures because of limited or absent web extension APIs. It doesn't integrate with about:newtab, about:home, view-source, etc.
Nevertheless, we still have an extension which supports gesture, and that's a good thing. So, go ahead and use this add-on, this is pretty cool for anyone who likes doing things in style.