Data is important. It would be best if you always kept it safe. Encryption is one of the most popular and straightforward methods to secure the storage and the data inside it. This post will share some of the best software to encrypt and secure USB, SSD, hard drives, and any storage device.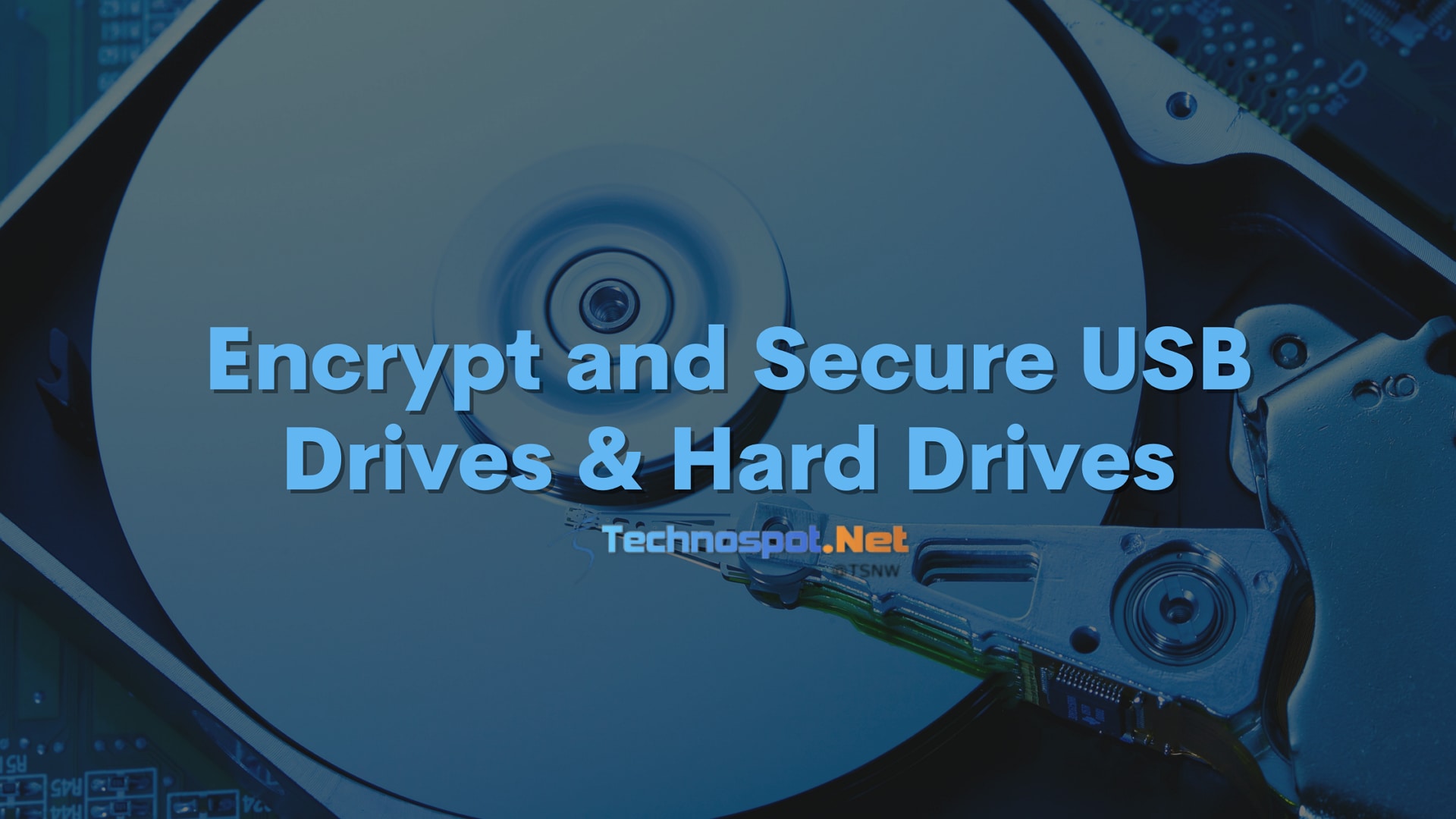 Why Should You Encrypt Backup Drive?
Disk Encryption has quite a lot of significance if you look at the amount of safety it provides. It secures drives in such a way that no one else without a key will not be able to access it. Even if someone takes the USB or SSD, or HDD to another PC, they will not be able to access it unless the correct passkey is available. It protects the files and folders stored on the disk from getting leaked.
6 Best Software to Encrypt and Secure USB, SSD, and Hard Drives
This section will look at some USB drives and hard drives encryption softwares that will help you secure your storage drives with minimal effort. These tools are entirely free to use, and although some of them may have a paid premium version, their free version gets the job done.
BitLocker
DiskCryptor
USB Safeguard
VeraCrypt
KakaSoft USB Security
Rohos Mini Drive
Let's look at this fantastic softwares in more detail.
1] BitLocker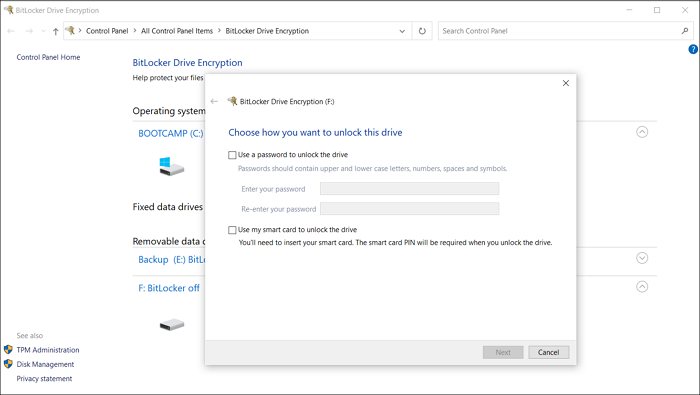 BitLocker is a built-in tool of Windows that allows encrypting any storage device using a custom password or a smart card. It later connects it to your Microsoft account so you can access it on the go without needing your access key.
If you have TPM 1.2 and above, you can easily encrypt your storage device. Read our complete guide on how to set up Bitlocker with any storage device in Windows.
2] DiskCryptor
DiskCryptor is our first freeware on this list. As the name suggests, this software is used globally by many people to encrypt their hard drives to secure them. Among the many things making DiskCryptor a great utility, the one that you'll find most surprising is its size.
The file size of DiskCryptor is roughly around 600 KB, which is unreal, especially when we consider the amount of functionality and features it offers. You can use DiskCryptor to encrypt almost anything of your choice. You can use it to encrypt partitions of the disk, and yes, it includes system partitions.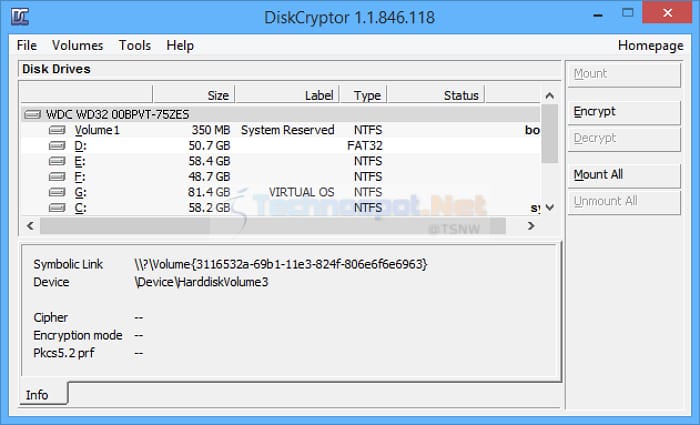 It offers a plethora of features like transparent encryption, hardware AES acceleration, increased compatibility, support for dynamic discs, support for encryption of external USB storage, etc., DiskCryptor is undoubtedly one of the best softwares designed for encryption. It is lightweight, free to use, quick, easy to learn, and effectively encrypts our hard drives.
2] USB Safeguard
USB Safeguard is yet another fantastic tool you can choose to be your partner for encrypting USB drives and hard drives for security purposes. You can use this tool for creating hidden partitions as well. USB Safeguard comes with many features that include a hassle-free encryption process, password locks, creating a backup of the partition password, 2GB encryption space, etc.
With AES 256 bit encryption used to safe keep valuable data on external drives such as a USB drive or a memory card, USB Safeguard ensures that your disk stays safe from all sorts of threats. What makes this tool unique is that you don't even need to install it. It can function directly from the drive it has been stored on. With the file size of a mere 540 KB, it is pretty lightweight too.
3] VeraCrypt
The VeraCrypt freeware for encryption is an excellent choice for those looking for encryption software that comes with many quality features and does the job of encrypting our storage drives flawlessly.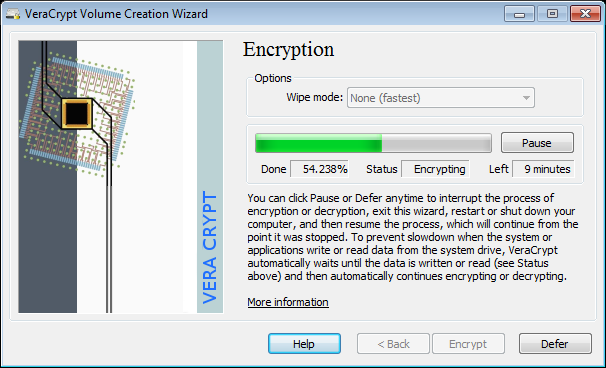 VeraCrypt has been around for some time now and is reputed for being one of the most highly functional drive encryption softwares, even among the paid ones. The significant features of VeraCrypt include creating password-locked disc volumes, protecting them with key files, and allowance of access when the correctly authenticated password is provided.
4] Kakasoft USB Security
Kakasoft USB Security is easily one of the best softwares you can find across the internet to encrypt USB drives. What makes it best is the secure encryptions it provides for absolutely no cost whatsoever. Yes, that's right. Kakasoft USB Security is free to use. You also don't need to install the Kakasoft USB Security.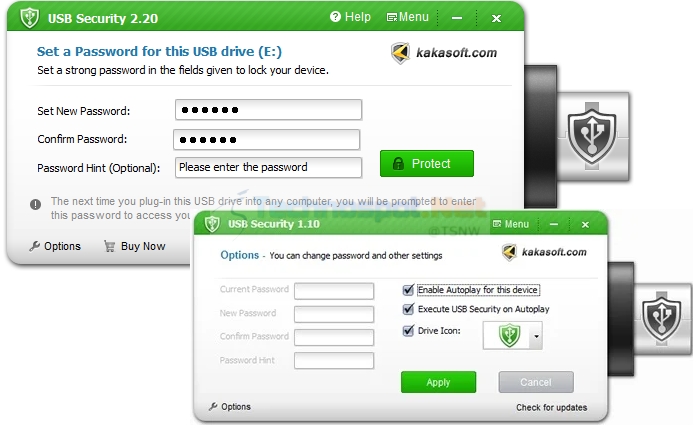 It is a tool that can run directly while being stored in the USB flash drive. You can also use the Kakasoft USB security utility to encrypt memory cards and external drives. It is compatible with Windows Vista, XP, 7, 8, and 10. We recommend this tool because it is lightweight, easy to use, and highly functional, and the encryption process is quite helpful and effective.
5] Rohos Mini Drive
Rohos Mini Drive is a competent USB drive encryption tool that is one of its kind. Rohos Mini Drive is unique because it takes minimal effort and steps to get over the USB drive encryption process.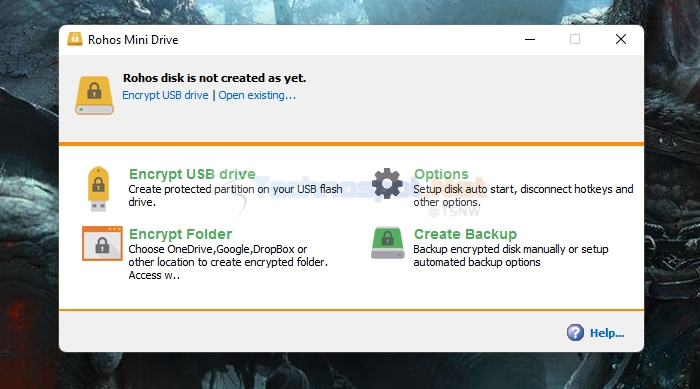 This tool automatically detects an external USB drive as soon as it is plugged in and proceeds to set up the properties for the encrypted partition. It is highly secure and can only be accessed with the correct, authentic data. Moreover, you can also use Rohan Mini Drive freeware with partitions already encrypted.
Encrypting our USB flash drives, hard drives, and memory cards isn't something many of us practice. Encrypting your drives ensures their safety from many common threats that lead to the loss of precious data. '
Encryption is crucial to avoid data theft or data loss, and hence we shortlisted some of the best encryption applications. These applications are highly secure, offer features of various kinds, and are entirely free to use. With that being said, we'll wrap this article up with the hopes that it was of help to you.
What Happens If I Encrypt My Drive With A Third-Party Software And I Forget The Password?
If you forget the password after encrypting the drive with third-party software, then it's a big problem. There will be hardly any way for you to directly get hands-on data as most such software doesn't provide you with a recovery method, unlike Windows Bitlocker. The best way to get your data out of this is by contacting a data recovery company.
Can I Recover Password On Bitlocker Encrypted Drives?
Yes, you can recover the password on Bitlocker encrypted drives. Bitlocker provides you an option to save the password on your Microsoft account, where you can store your Bitlocker password if you forget it.