If you are an Android Mobile or Tablet users, you must have already read trillions of articles on rooting Android devices to the latest, beta or any released version, but today I am going to introduce our readers the ultimate Nexus Rooting Toolkit which even a Noob can use to unlock their phone and fix their devices.
I came across this tool, Nexus Root Toolkit, when searching to fix my broken boot loader, of Nexus S, which was neither allowing me to install any system update nor I was able to install any custom ROM using the phone. The only option left was using ADB from my computer but my phone was not getting detected by fast-boot.
Why its bit difficult to Root any Android device ?
But first lets take a quick look at why its bit difficult to root any device.
First there are tons of guides of which most of them talk about rooting one device.
Second getting ADB working on your computer, specially the driver part is real pain for a non geeky user.  Not only it requires skills to install right stuff from right place but also ability to troubleshoot when it does not work, even though it worked for the first time.
How this tool makes a difference ?
Nexus Root Toolkit is an ultimate application which has automated every process. In fact it all needs you to have click buttons like Ok Cancel and know your device type. Apart from Rooting, this application also
Its has its own script done which is fired depending on what options you choose and which device you select. All these can changed on demand i.e. works with multiple device.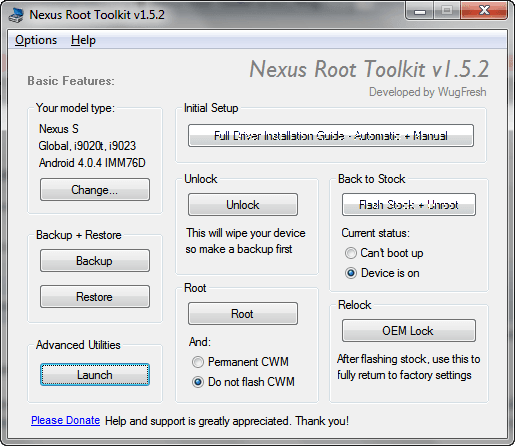 Full Driver Installation ( Automatic + Manual )
It nails the first problem right into its heart. The application can start an automated process where it can download the drivers and software but also gives you a clear idea kn what you need to remove from your computer before you begin. So if you figure out type of your Nexus Device, you can grab a cup of tea or your favorite cold drink and click next, next next. Automation is only for Windows 7 Users.
Back to Stock :
If everything fails, this tool can bring back what your phone came with of the stock android released by Google Itself and can even fix if your Nexus  is not booting up.
Backup & Restore :
The inbuilt script will take backup of your current state of the nexus. This is important and much easier than using any other tool.
Rooting & Unlocking.
Dedicated Buttons which run automated script with option to flash CWM
Advance Utilities
Now if you are bit of Geeky, there is something for you also. The advance screen has tons of features you will love to use without going into command prompt and firing all those commands.
ADB : List Devices, Reboot, Reboot Boot-loader.
Set Check File Permissions
Boot / Flash Image :  You can either use one image or individual ones i.e. Bootloader, Radio / Basband, Recover, System, Userdata.
Option to Push/ Put  files and folders
Flash Zip files which can be ROM or Theme files.
Flash Stock Recovery
Install APK files.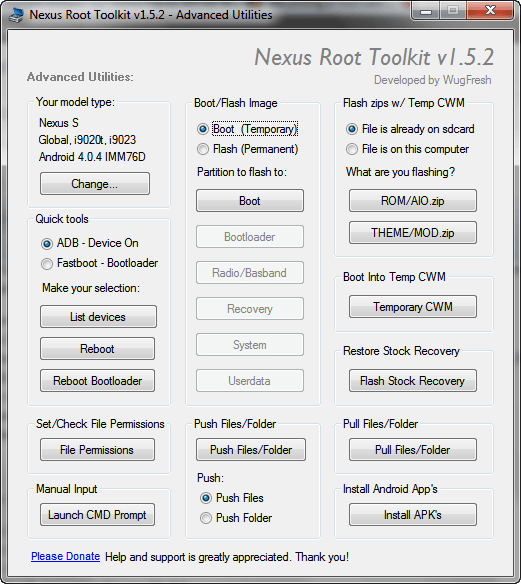 Supported Nexus Devices :
Galaxy Nexus: GSM Models (both yakju and non-yakju builds)
Galaxy Nexus: CDMA/LTE Verizon Models
Galaxy Nexus: CDMA/LTE Sprint Models
Nexus S: Worldwide, i9020t and i9023 Models
Nexus S: 850MHz, i9020a Models
Nexus S: Korea, m200 Models
Nexus S 4G: d720 Models
Nexus 7: Asus Tablet
Summary :
So overall, this tool has simplified Rooting, Unlocking etc to very basic level which any user who understand the fundamentals of these terminology  can make do it. Honestly that's how software should be done or even better than this. Download Nexus Root Toolkit,