In Windows, indexing files and folders result in huge index size because not only the file names get indexed but also the content inside it. It is useful when you are searching within the document, but it also slows down the search. Everything is small indexer application which limits itself by indexing only File names and folders. It results in faster files search and faster indexing. It took less than a minute to index my 200Gb of data.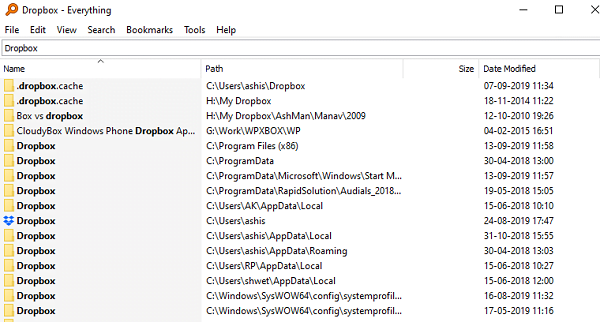 Everything can search files faster with the fastest indexing on Windows 10
Since many of us do search only to find file names or folder, this software can be preferred on top of any indexing service. Apart from this, Everything goes one step ahead and can help you find data on your network drive.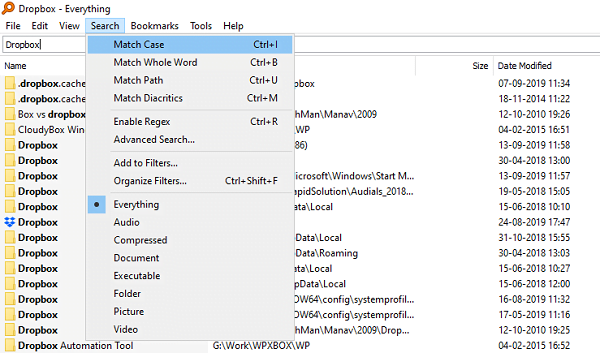 When searching, you can use Filters and organize the predefined filters. It is useful for those who need to repeat the same kind of searches every day. For casual users, you have a direct option to filter according to Audio, compressed, document, executable, picture, and video. During a search, you can go precise by using options like match case, match path, regex, and more.
More Features
Configure which drives needs to be indexed.
Exclude hidden files and folders.
Configure ETP / FTP / HTTP server to run on any port number you choose to.
HTTP / ETP / FTP server can be secured by using a password.
Disable file download if required from HTTP / ETP or FTP server
You can configure it with your Firewall Host.
If you are looking for faster file search in Windows, this software is your best bet.
Works with ETP/FTP/ HTTP server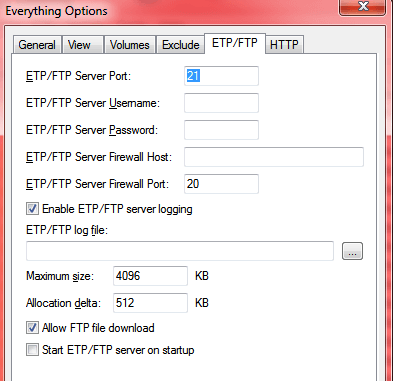 If you want to search on ETP/FTP/ HTTP server, you can open a new instance, and use this software to search there. Once you connect, it can make searches pretty fast. It makes this application suitable for a network environment where files are kept in a centralized environment, i.e. Office or Collaboration.
We would suggest you read more about it from the Official FAQ and Download it from here. When you install, it will ask you admin permission to scan files. I will suggest you install this software as a service for best performance. Let us know if you were able to perform faster files search in Windows 10.