Using Excel, remembering tons of formulas in Excel, navigating through the ribbon, and then moving over to the function is a big hassle! Alternatively, if you use several applications, then it becomes difficult to remember. Besides, if you have plenty of data, then using the menus to work on them is not good. Understanding the same, Microsoft has made several shortcuts available to help you with it. Further, you can even create customized shortcuts according to your prerequisites. So, we have covered you all if you are looking for some of the basic Excel keyboard shortcuts.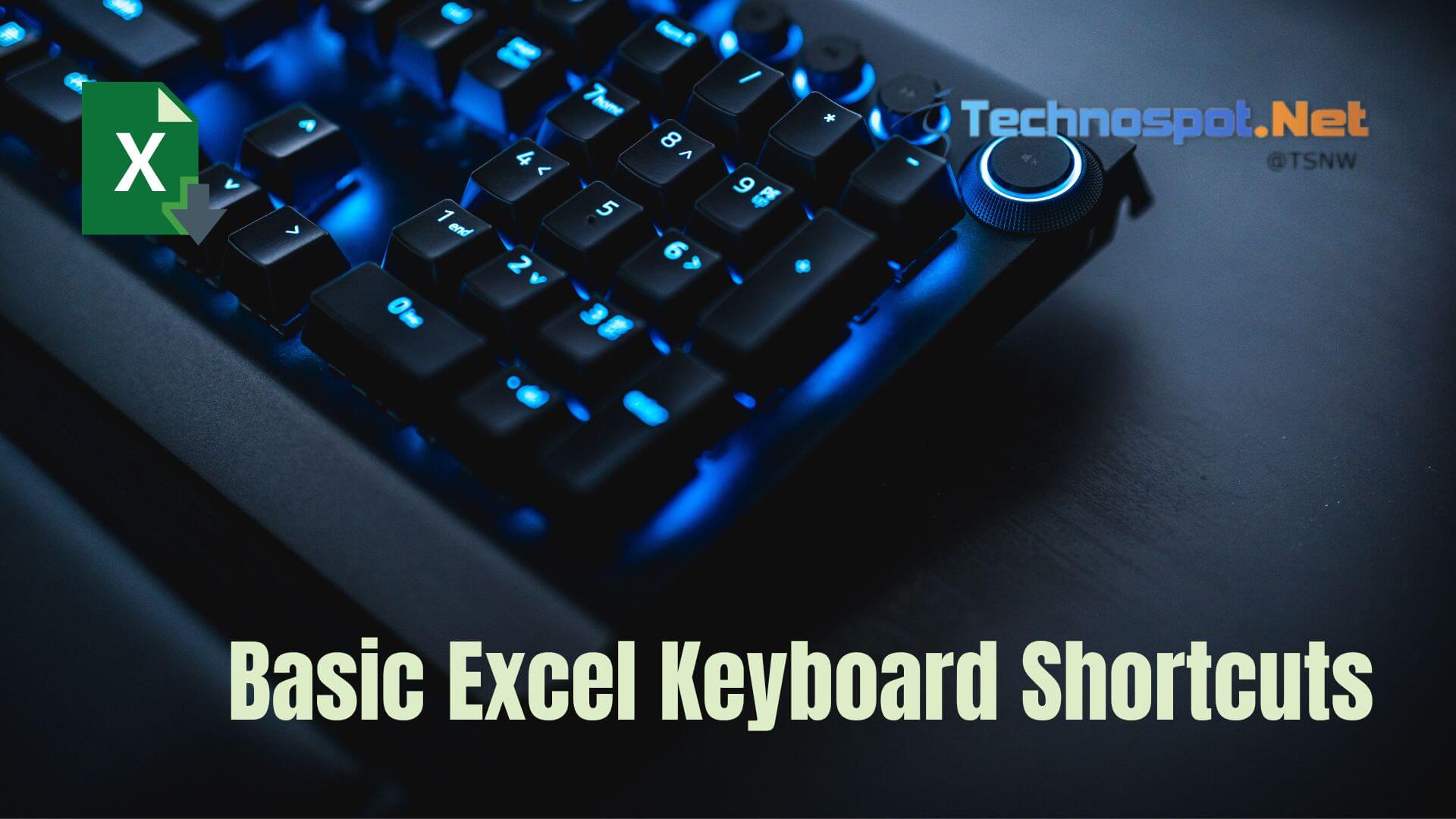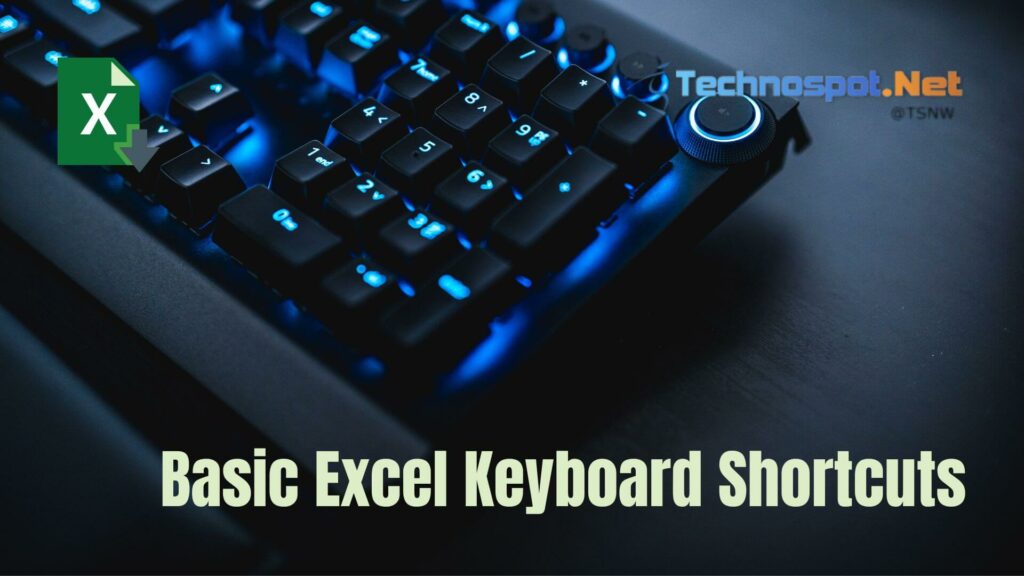 15 Basic Excel Keyboard Shortcuts You Should Know
There are several Excel Shortcuts. However, some Shortcuts make your work easier and save time. We have selected some of the necessary and most used Excel Shortcuts with their function. The following is a list of some of the basic Excel keyboard shortcuts:
1] Ctrl + N
Heading to the File tab and opening a new workbook requires some clicks. However, you can open Excel and create a new workbook using only two buttons.
When creating a new workbook, press the Ctrl+N keys simultaneously from the keyboard. A new workbook pops up, and you can now start working. Yes, it's that seamless.
2] Ctrl + O
Creating a new workbook every time is not required. Most of the time, you open previously created workbooks, update, check and prepare stats. You can add new entries, delete some older ones, and edit. Opening an existing workbook on Microsoft Excel is a hassle in such a scenario. One option is to open Excel, head over to the File tab, and then you can go to an existing workbook. Another option is to go to its File location and then open a workbook.
The Ctrl+O keyboard Shortcut is genuinely a rescue. To open an existing one, combine Ctrl and O keys simultaneously.
3] Ctrl + S
Saving changes in your current spreadsheet or saving a newly created sheet requires different functions and some clicks. However, the Ctrl+S keyboard shortcut is genuinely a boon. When you want to save a workbook, press the Ctrl+S keys simultaneously. It will keep all the changes that you made. Besides, if it's a new one and you have not saved that anytime before, then the Save As dialog box automatically pops up.
4] Ctrl + W
When you want to exit an existing workbook, press the Cross-shaped icon to close it. Instead of doing so, you can press the Ctrl+W keys simultaneously. However, if you are editing in a cell and then using the shortcut, then nothing will happen to it. In simpler words, it closes an Excel spreadsheet.
5] Ctrl + F4
When you have multiple spreadsheets in a workbook, the Ctrl+F4 keys close the entire Workbook. To simplify it, you can assume that Ctrl+F4 closes Excel. When you give the command, it loads the Save dialog box and closes. So, you do not have to save them separately; instead, use them. They will do the work for you.
6] F2
While editing a cell, you navigate to it, click on it, and start editing it. However, there's an easy-peasy way to do it also! Move to the cell you want to edit, press the F2 key, and it will open the editor for you to edit cell contents. Also, if you have turned off editing, the cursor will move in the formula bar for you to use a function.
7] Ctrl + C, Ctrl + V
Selecting a cell(s) and using the drop-down menu to copy cells at the instant without removing the selection is often challenging. Instead, you can select cells and press the Ctrl+C keys simultaneously, which will copy the contents to your clipboard. Now, move the cursor to the area where you want to paste it and press the Ctrl+V keys to paste it. It's implemented, and you do not have to juggle selecting, launching the drop-down menu, and then to give the command.
8] Ctrl + I, Ctrl + B
Selecting a text and then using the menu to make it bold or italic often consumes time. Alternatively, you would select the text or cells and then go to the Home tab to format it. In both situations, Ctrl+I and Ctrl+B work like magic. Select the given text, press the Ctrl+I keys, and it will italicize the text. Similarly, use the Ctrl+B keys to make it bold. You can also select and use both Shortcuts consecutively if you want to add both formattings.
9] Alt + H + A + C
When you want to align your cell's contents in the center, select the cells, tap the other alignment icon, and choose the center to align. Instead, you can select the cell(s) and press the Alt+H+A+C buttons.
10] Alt + H + H
You would want to fill color in specific cells to highlight them. In such a scenario, you can press the Alt+H+H keys simultaneously, and the fill color menu appears, and you can select one that you desire.
11] Shift + F2
You add a comment when you want to add a note to any cell to mark something wrong or add a special message. Instead of following a full-fledged procedure, you can use the Shift+F2 keys, and then the Add comment pop-up opens.
12] Shift + F10 + D
You can head over to delete the comment if you want to add an appropriate comment or remove an old one. Again doing it requires several clicks and a technically sound mind. Here, the Shift+F10+D shortcut helps you. Head over to the cell whose comment you want to delete; press the shortcut keys, and the comment will be deleted automatically.
13] Ctrl + H
Going to the Home tab, navigate to Find and Search, and then opening a Find and Replace dialog box requires a lot of clicks and is time-consuming. So instead, you can open the workbook and then press the Ctrl+H keys. Then, you will see the Find and Replace dialog box.
14] Ctrl + Shift + L, Alt + Down Arrow
When you want to see only specific data in a workbook to figure out something, you choose to filter it. Similarly, when you press the Ctrl+Shift+L or Alt+downwards arrow, it activates the filter you created.
15] Ctrl + ;
When you want to add the date, you can quickly go to the location and press the Ctrl+; keys, and Excel will insert the current day's date whenever you want.
If you want to create a shortcut to simplify things and save time, you can make one. The following method will help you with it!
Conclusion
These would be some good ones if you were searching for Basic Excel Keyboard Shortcuts. Those mentioned above are the top 15 shortcuts that make your work easier. On the other hand, we recommend you create a shortcut for the operation you use frequently and do not have a shortcut using Macros.
How to Create and Record a Macro in Excel?
When you want to create a shortcut, then the Macros function helps. For example, you can create a shortcut to record keystrokes by performing its function and saving it for your use.
Here's how you can create and record a macro in MS Excel
Open Excel and navigate to the View tab
Click on Macros and select the Macros command
Tap on Record Macro
Give a name to the Macro, add a shortcut key and enter where it should be accessible (location) in the dialog box that appears.
You should also specify the working of this Macro and then press the OK button.
The Macros will now record the function you perform.
Follow the steps below to stop recording Macro:
Head over to the View section
Go to Macros and hit the Macros command
Now, press on Stop Recording
Thus, you have successfully created and recorded a Macro. When you want to implement it, use the shortcut keys, which will run. Further, ensure that you can use the Macros only in your location. If you had specified its location as a workbook, then the Macros will only be available in that workbook.
What Are the Seven Basic Excel Formulas?
Sum, Average, Count, Subtotal, Modulus, Power, and Ceiling are the seven basic Excel formulas. They should pop up once you type the equal sign in a cell.