Ever wondered how many planets are already discovered beyond our solar system ?  The recent find of Planet named HAT p 27 b the count is 519. Pretty surprising right!. I found this app for iPad called as ExoPlanet which can get you all these details in few taps. This application consolidates details of all the planets which are outside our solar system from websites like exoplanet.eu, exoplants.org and so on.
This application is very useful for people who study stars on daily basis but even if you don't, this an excellent way to teach your kids about Planets. They can understand how the planets revolve around the sun, how space looks like and so on.
Features :
Get instant update when a new planet is found.
It has an Interactive 3D design which shows where all planets  are in Milky Way. You can zoom, change orientation into any known planetary system.
Database of all the planets are just one tap away. Clicking on any of the planet in the list gives you details of

Sun it is circling around, how much time it takes for the transit.
A comparison with the planets of our solar system
And a Sky Map of the plant. If you are into astronomy you will understand this fast.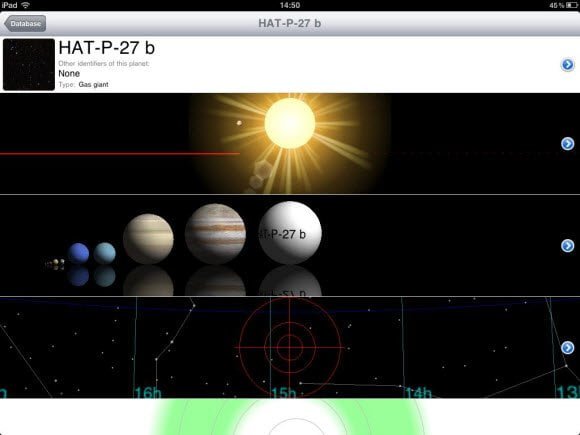 The list of planets can be easily filtered according to Name, Axis, Orbital, Mass Radius and so on.
Direct links to over 50.000 scientific publications.
Video Demonstration : ( Direct Link ) | Download it from iTunes for free