Google Reader is retiring from 1st July 2013. A product which is being used by millions will be lost because Google could not make it profitable. As a matter of fact retiring AdSense for Feeds is the primary reason.
So coming back to the topic, How do you export feeds from Google Reader ? The process was simpler before because Google allowed to export as OPML file which was easy to import anywhere else. Now its a bit different process. When you export your feeds, it is now done through Google Takeout.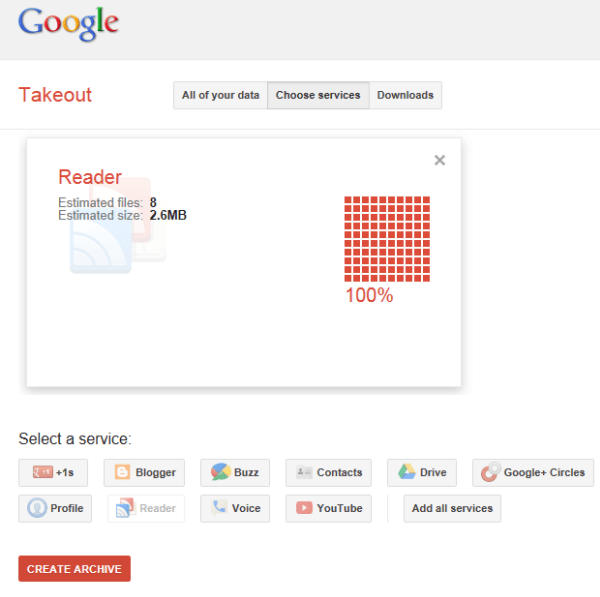 Once you see 100%, you can click on Create Archive button to initiate the process.
Download the file on your computer. Once download is complete, extract it into a separate folder.

Done that, open the extracted folder and look for a folder named as "Reader". This will have lot of JSON files and one XML file.
This XML file(subscriptions.xml) has all your feeds you have subscribed till date.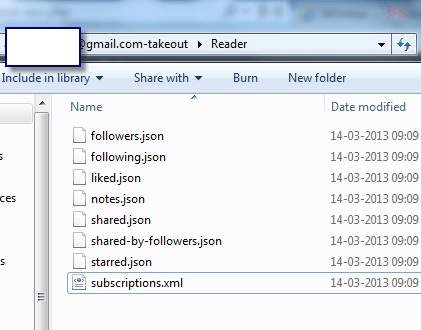 The export has the following items from your feeds:
List of people that you follow
List of people that follow you
Items you have starred
Items you have liked
Items you have shared
Items shared by people you follow
Notes you have created
Items with comments
Video Demo
How to import this file into another reader?
There are tons of Google reader alternative. We are still making a list but when you plan to import, you will need the subscriptions.xml. Most of the feed readers has option to import where they allow to import these kind of files. Try that and you should have all your feeds back.
Editors Note: 
I am really sad that this service is going to be dead. Something I had used from a very early stage and has been the best productive tool to catch up with news. In fact if it Google reader would not have been there, Technospot.Net could have never recovered from the data lost we had in 2008.
I am surely going to miss this service and I know you will too.!!  Time to move on!!