An application to convert the audio file formats to other, or an application to extract the Audio file from a video, or trimming the audio and video files to get your favorite part of music as an ring tone or for any other purpose is something we all need at some point of time, here is a nice application built especially for serving such needs.
This application named as Any Audio Converter allows you to make such conversions easily. Once downloaded and installed, conversion of audios files to other formats and extracting audio files can be done easily. Using this Application you can convert and extract audio files to formats like MP3, Windows Media Audio (wma), AAC Audio (aac), OOG Vorbis Audio (oog) etc.
Every conversion and Extraction is a 3 step process with Any Audio Converter.
Step 1 : Select audio files
Choose and queue-up the files Audio files (to convert them to other audio formats or to trim) and Video Files (to extract the full file in Audio or to get trimmed Audio file).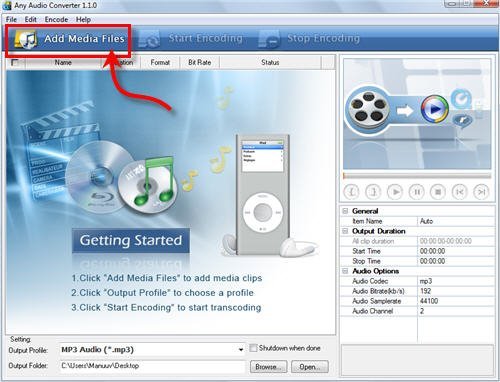 Step 2 : Encoding
This step is to start the encoding; the best part of this step is it has options which can be used to achieve desired quality in the output file. Here you can choose the Bitrate (what is Bitrate?), Samplerate (What is Samplerate?), and Number of Audio Channel.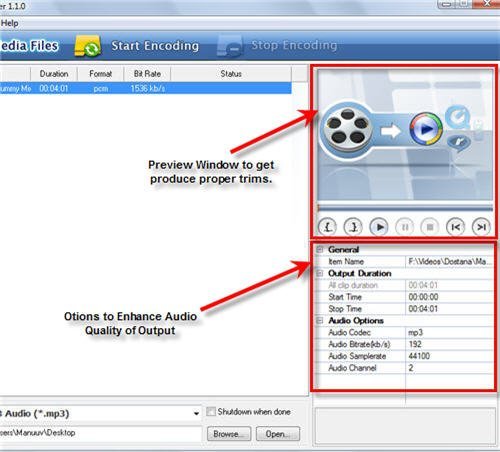 Here we also have the preview window to set the proper trims.
Step 3 : Output Folder
Finally decide the Output Folder and start the conversion by clicking the recently activated button 'Start Encoding', you can also schedule a shutdown if you have queued up many files for conversions.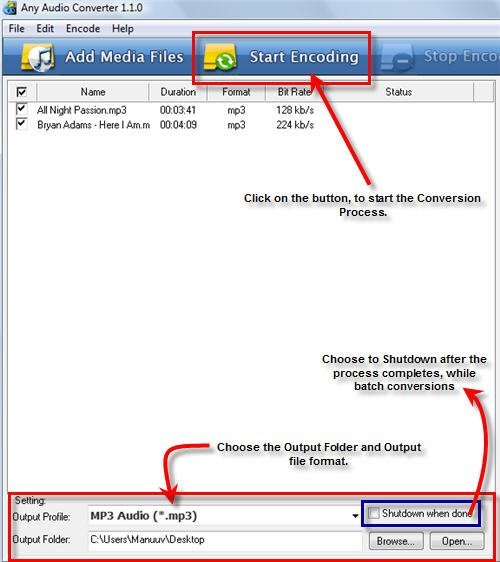 Now, another very simple solution for conversion is Jet Audio, which allows you to make such conversions even while using its basic version, but the encoding options in this software are more than those available in Jet Audio.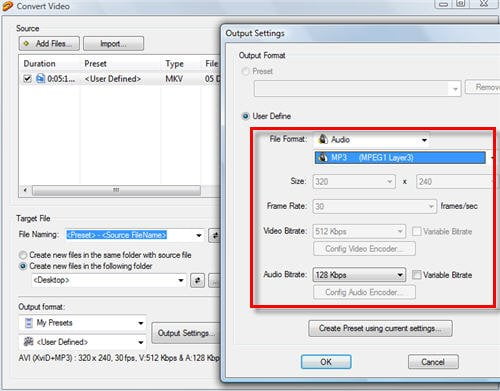 Here you can see, while trying to extract Audio File from a Video (MKV format), the only available encoding Option is Bitrate.
Any Audio Converter definitely is a nice choice for conversions, works fine, is fast and simple enough. Give it a try and tell us if you know about any other options for such conversion. Download Any Video Converter (first download link on the page)