Windows users who deal with archive files on day to day basis must have always though for a tool that can automate this job and extract all archive i.e. ZIP, Rar etc files in one go. This will not only save some time for them but also increase their productivity compare to extracting individual archive files one by one.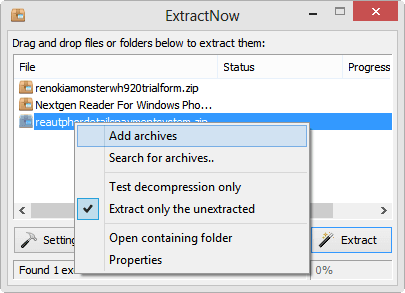 ExtractNow is a well built tool for such work which can decompress multiple popular archives one after the other using its drag and drop user interface. The important thing here is that the tool is not only simple but it does its job perfectly. Below is the list of features :
Can run multiple instance of Extract Now for those who need the tool to work on Red Bull.
Maintains History of all the extraction work done. This includes source, location and size.
Users can set predefined location for extraction. It can include file name and folder name in the final destination.
Option to Overwrite files.
Extract Archives within Archives
Extracted Archive files can be automated to be copied into another destination. This is useful for users who want to maintain a dedicated section for all their archive files. You can also choose to delete.
It can add the extract now features with the context menu. This comes handy when you select multiple archive files and execute them with extract now.
Supports extraction of password protected archive files. However, you will need to provide a text file with all the password listed. If all your archive files are locked with same password, you have an option for that too.
Taking automation once step ahead, you can monitor a folder for archive files. This way if you have file where archives are downloaded, the process of extraction can be initiated instantly.
If you want to use a different extraction processor which has its rule inbuilt, you can add that to extract now.
Supports command line parameters. This is useful if you want to use it with one of your custom programs.
You can download the program from here.