Facebook Messenger is a popular messaging platform millions worldwide use to connect with friends, family, and colleagues. While Facebook Messenger is primarily designed for mobile devices, there are ways to use it on Windows computers. In this article, we will explore the various methods to download and use Facebook Messenger on Windows. It is available for Windows 10 and above.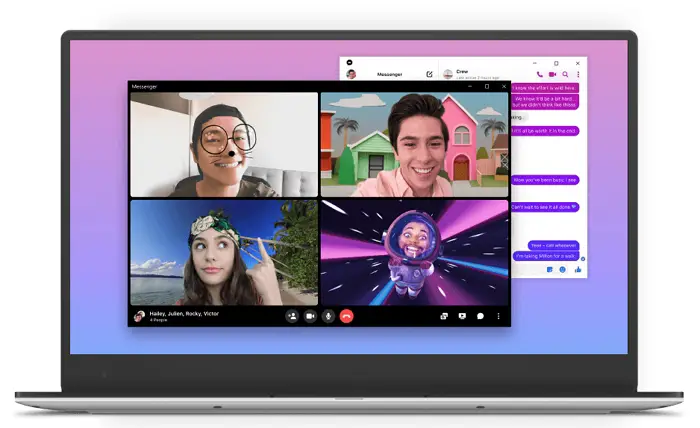 Download Facebook Messenger for Windows
There are two ways to access Facebook Messenger on Windows PC. You can download the desktop app or use the browser for the same experience.
1] Messenger app for Windows PC
Copy the provided URL: https://www.messenger.com/desktop/.
Open a web browser on your Windows computer.
Paste the copied URL into the web browser's address bar and press Enter.
It will instantly download the executable file on your PC.
Click on the file to initiate the download process.
Follow any on-screen instructions or prompts to complete the download and installation of the Facebook Messenger Desktop App on your Windows computer.
2] Using a Web Browser
Open any web browser on your Windows computer.
Go to the Facebook website (www.facebook.com) and log in to your account.
Once you're logged in, you'll see the Messenger icon at the top right corner of the Facebook page. Click on it to open Facebook Messenger in a separate browser window.
Features of Facebook Messenger App for PC
The Facebook Messenger Desktop App offers several features that enhance the messaging experience on your Windows computer. Some of the key features include:
Native Desktop Experience: The app provides a dedicated desktop interface, allowing you to access Facebook Messenger without a web browser. This provides a more streamlined and focused experience.
Chat Notifications: The app provides real-time notifications for incoming messages, ensuring you never miss a meaningful conversation. Notifications can be customized to your preferences, allowing you to stay updated even when the app is minimized or running in the background.
Multitasking Support: With the desktop app, you can conveniently multitask and have multiple conversations simultaneously. You can open and switch between different chat windows or conversations with ease.
Voice and Video Calls: The desktop app supports voice and video calls, allowing you to have high-quality audio and video conversations with your contacts. This feature is handy for personal or business communications when you prefer a larger screen and a more comfortable setup.
File Sharing: You can easily share files, documents, photos, and videos directly from your computer using the desktop app. This eliminates switching between applications or devices to share media with your contacts.
Dark Mode: The app offers a dark mode option, which provides a darker color scheme that reduces eye strain, especially in low-light environments. It can enhance your overall messaging experience and make it more visually appealing.
Synced Conversations: The app synchronizes your conversations with the mobile version of Facebook Messenger, ensuring your messages are accessible across devices. This allows you to seamlessly transition between your Windows computer and mobile devices without losing message history.
Privacy and Security: The app offers privacy and security features similar to the mobile version, such as end-to-end encryption for one-on-one conversations and blocking or reporting users for unwanted or inappropriate behavior.
These are some of the notable features of the Facebook Messenger Desktop App. Facebook periodically updates the app, so checking the official Facebook Messenger website or the app itself for the latest features and functionalities is worth checking.