Recently Facebook rolled out a new app called as Facebook Messenger which just deals with the messages which you have it on Facebook. Now what is interesting about this app is it also lets you send across SMS in case your friends are not available on chat but have shared their number with you.
However its is not replacing your native SMS App.
The basic problem is it cannot match the contact on your android phone with the number shared with Facebook Contact, at least for now.
Now though it allows you to send SMS to contacts on Facebook but when they reply back via SMS, the SMS is not displayed in Facebook Messenger because of the above problem.
On the same lines, If somebody on your Facebook Contact sends you an SMS using native app, It cannot read it into the Facebook Messenger App.
So at the end you cannot switch between SMS and Facebook Chat in case your friend went off the data network and came back to Facebook Messenger.
Group chat when you have Facebook Contact an SMS contact was mixed, did not work. I got an error message "#542 Facebook doesn't currently support sending sms to this phone number"
Base line, It cannot act as a universal SMS Inbox, if you like to call it that way.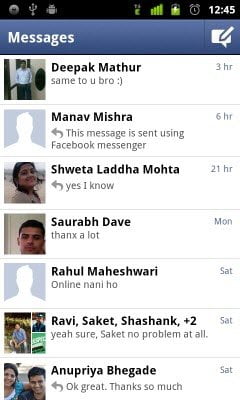 Below is a Video review followed by what it can do.
What Facebook Messenger does :
Chat with your friends ( Group Chat )
Location Awareness if turned on lets you see where the particular user was for every SMS. Useful when you are on a tour, deadly when you are sitting in "Wrong Place". It can be turned off though.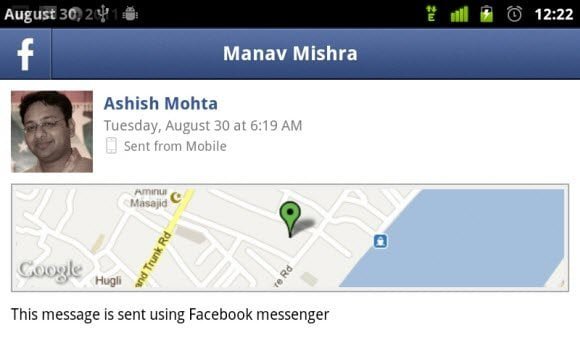 This is more like an Email Inbox so you cannot see list of people who are online here. So sending message and never getting a reply will keep you confused because you never know if the person is online.
You got option to either turn of notifications for all the contact or for a particular contact alone. I personally love this feature.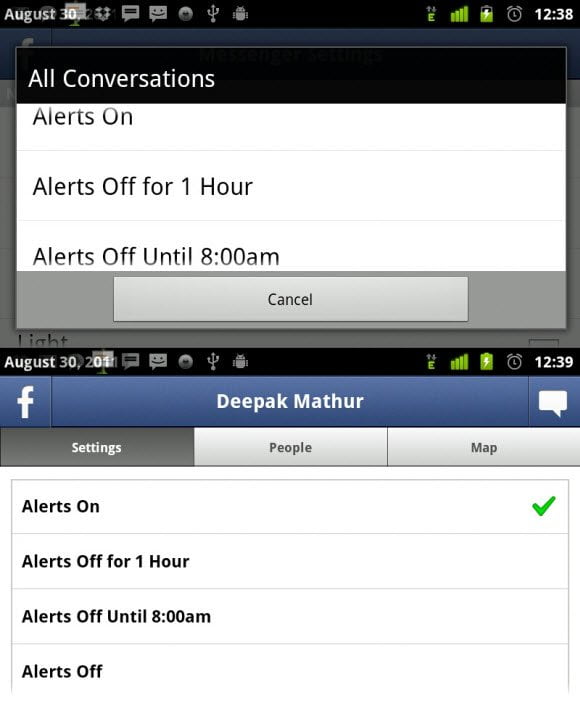 You can share images either by taking it right there or choose from gallery. I also see Image Search integration ( powered by Bing ), Not sure if it is going to be that useful.
Creating Group Conversation from existing Group Conversation is quick if you want to add few more people but not if you only want selected friends of yours.
Overall Facebook Messenger for Android needs improvement and to turn into a real SMS inbox which lets you chat with both Friends who are on Facebook and just on SMS is going to be real challenge.