Good news for all the trolls out there and the meme makers…Facebook now allows you to upload pictures to the comments section of any facebook post you or your friend is making, thus tempting the whole world to participate in comments anywhere and with any image.
In case you cannot see the image upload option yet, right next where you make comment, you would see a Camera Icon at the right corner. Click on that and you can choose a picture to upload.
While the picture can be viewed in full screen mode, when you click on any of the picture, it turns into a picture gallery of all the photo comments on that post keeping the idea in central place. Like Facebook Comments, You can edit the comment and remove the picture if you want but you will not be able to replace the picture with something else.
All these images appear in your timeline just like comments but seems like they do not appear in your Photo Gallery anywhere.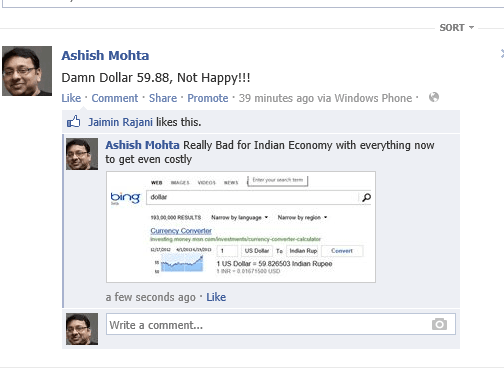 That said, this is the second back to back feature rolled out by Facebook. Few days ago they introduced hash tag support which makes sure you can find out what is actually trending across a country or all over Facebook. Both hash tag and picture been one of the major reason for success of twitter and now its time to see if this could really work on Facebook as well.