While uploading pictures of my recent trip to Adamans on Facebook, I noticed something different. Facebook asked me if I want to share the album with users I tagged and let them upload pictures also.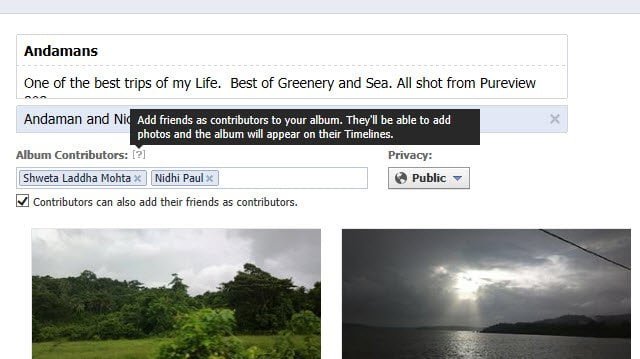 This makes a lot of sense actually. Imagine everyone has a smartphone in their hands with at least an average camera and they keep clicking pictures. After a trip each of us start asking to send photos but with this, everybody can upload the picture to one single album, doesn't matter what your location is. They will be able to add, view and edit photos but not delete it.
Make any Album as Shared:
Good news is that you can do it for your existing albums too. Just open any album in edit mode and you will see a new Album Contributors section which allows you to add friends as contributors. They will be able to add photos and once done, they will be able to post it on their timeline. You also have options to change privacy from pubic to friends or just keep it closed between yourself i.e. Contributors Only : Contributors and people tagged may be able to view the photo
What happens on Contributor side?
The person you add as contributor will receive notifications about them being added to the Facebook album. They will be able to add, view and edit photos and add new contributors to it.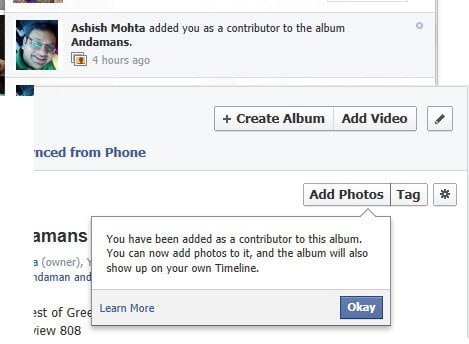 They can also delete photos which are uploaded by them. And when a contributor is removed, they'll be able to delete the photos they've added to the shared album from their activity log.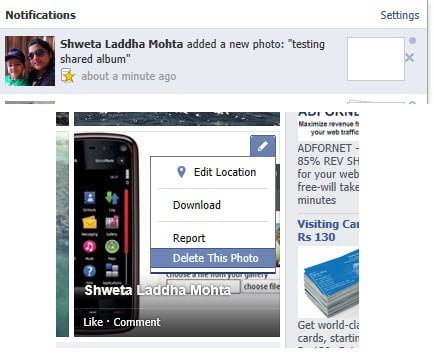 That said this is extremely useful feature everybody should start making use of.