Facebook is all set to launch a new feature called as 'Question'. 'Question' will appear on your posting filed, as shown below.

Whenever we are stuck on something, like, a Movie, Book, Restaurant review, we tend to ask our friends, or may be just a thought flashes in your mind, and you want to know what your friends think about it, this probably is the case with all of us, and 'Question' on Facebook is outcome of this.
'Question' can be used to ask questions on Facebook, this question will not only be replied by your friends, and in fact friends of your friends will also have an access to reply it.
You can also attach a Poll to the question you ask.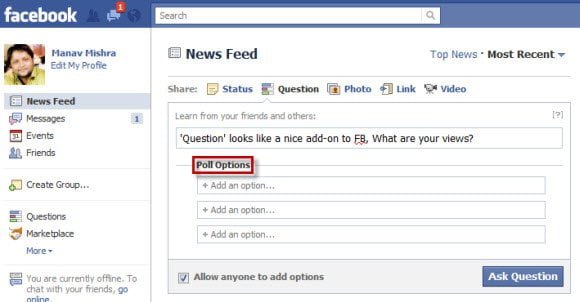 This feature definitely looks like a major value add to Facebook, getting replies to your questions in a social way is awesome in terms to get a honest reply, isn't it?
'Question' isn't available on all the profiles on Facebook, but if you want, you can enable it on your profile.