Windows Vista didnt just get advanced on GUI but also on lot of features. One of the least know is Task manager which has tones of features now. It can not only help you to find where the running program or exe is located but also You can set the priority to low in case its taking huge memory. Ones which I am finding useful , I will be listing them one by one.
Finding the file location by just right click : This is useful in case you have doubt a program being a virus and taking huge amount of memory.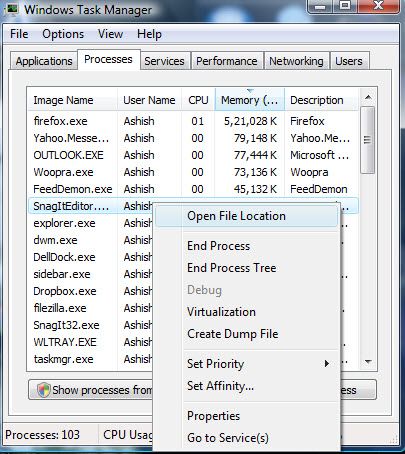 Reducing the priority of the the running program : Lets say you found the program which is taking more resource and its not virus but something you need to run. Task Manager allows you to set priority so in case you want it to run a little slow and still do what you want to do now is a good idea. Not sure but this feature was there in XP too.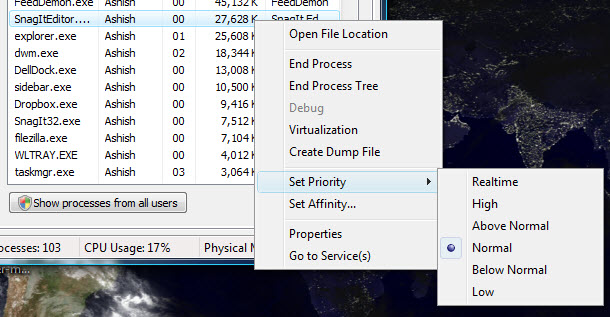 Creating Dump Files: Vista now allows you to to create crash dump files in case you want to analyze it. I am not sure what's the exact use but this could be good option for trouble shooting.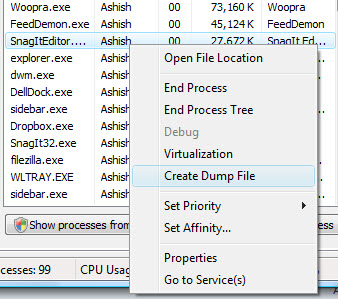 You can also set the affinity i.e. Weather it should be handled by all the CPU or not in case you have the Dual cpu or similar availble.  This way you can make certain program to use lesser resource.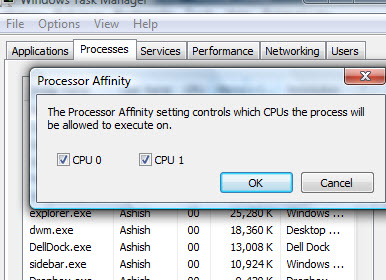 That's 4 of them right now and you would see more in next post. SO do you know about any more ? Which one is your favorite.
Related : Use Windows Vista Resource Monitor to track running programs