Many of you might have already noticed and its a good thing now that your feedburner account can be integrated with Twitter accounts using oAuth meaning that as soon as you write a post it will be tweeted to your valuable followers as quickly as possible.
You can activate this feature by logging into your Feedburner account > Publicize > Socialize. You will need to add your twitter account here and configure few things like :
Post Content : Title , Body or Both.
Weather it should contain links.
Should it leave enough room for retweeting. This should be shortening certain words by appropriate shorcudes.
and you can add some addtional text before or after the tweet.
Also You can filter certain keywords and restrict on numbers.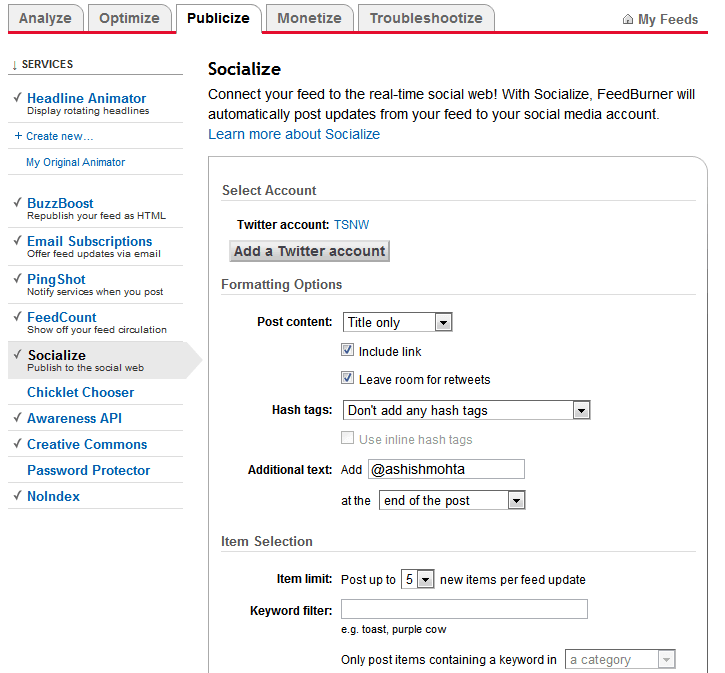 Like you can see above, we are using Our official Technospot Network @tsnw account here. Just make sure what you add here because at this moment I dont see a way to remove it drectly from feed burner.
The only way you can remove any added twitter account from here is by revoking the permission from your http://twitter.com/account/connections.
Also adding any twitter account gets reflected for all your feed which is a definite drawback here. Lets home Google Feedburner team comes out with some solution on this.
Apart from this all the url of the feed will be shortened using the Google's New URL shortening service Goo.gl which is open only to Googel's product and not to public.