Public911.com is a real time application which combines 911 calls on Google Maps. Currently it shows up only for Seattle and other cities will be added up soon. The data for 911 calls are picked up from 911 call data is publicly available i.e. available on the Seattle Fire Dept. web site.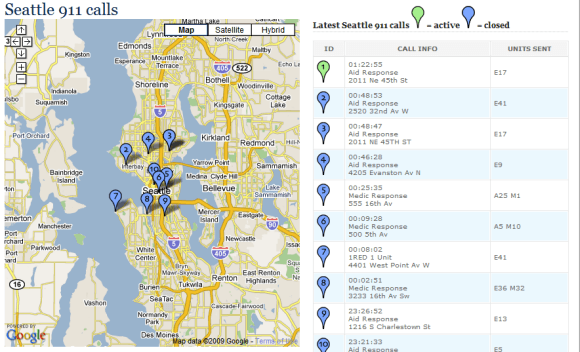 What I found interesting about it was the transparency on From where the call originated from, which unit was sent and the status of the call is still active or is closed. The data is refreshed every 1 to 2 minutes.
And if you are interested to list to Police Scanner you can try Komonews Scanner which plays it online.
The scanner is programmed to receive a variety of dispatch and operations channels for both the Seattle Fire Department and Seattle Police Department. Which channel you hear depends on whether someone is talking when the scanner checks that frequency.