If you want to keep an eye on how many devices around you have Bluetooth turned on, if someone is trying to connect, or if a Bluetooth device has left your vicinity, then this post will be helpful. Here we will share our experience with the software BluetoothView that helps you achieve it.
How to Find All Bluetooth Devices Near Your PC?
Here we have used Bluetooth View and shared how it helps. These include its features and will also resolve all your safety concerns.
What is Bluetooth View
Bluetooth View is an intelligent standalone application that tracks and locates unlimited Bluetooth devices near your computer. Scanning and registering all discoverable Bluetooth devices provides information about when each device was last detected.
How to Use Bluetooth View
Bluetooth View is relatively easy; download the application files from the official website. Next, extract the downloaded zip and open the application. This is a standalone application, so there is no installation or other program files.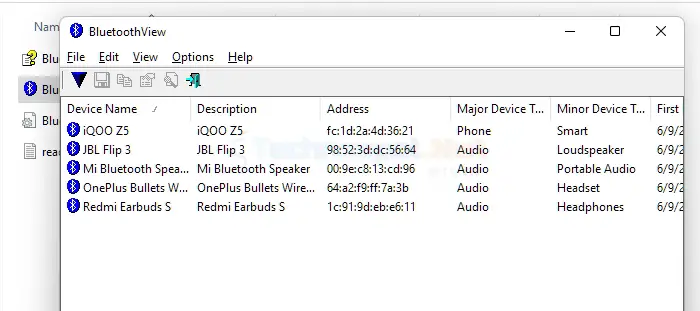 After opening the application, you'll see a list of devices paired with your computer and their details.
Features of Bluetooth View
Even though this application is small, it has many features; let's see them individually!
1] Lightweight
Bluetooth View is a standalone application that spends your resources on what it's supposed to do and those too in limit.
2] Comprehensive list of Bluetooth Specifications
Bluetooth View shows you complete details of your devices, including their MAC addresses, Connection Quality, etc.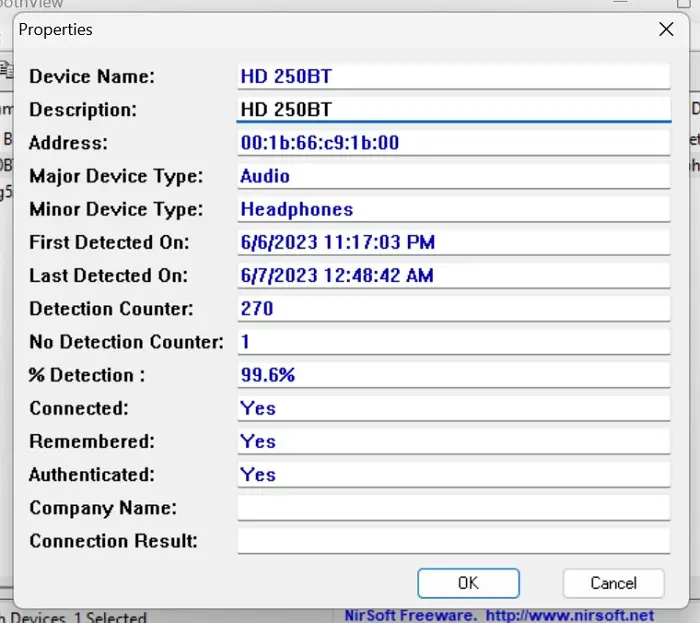 3] Tracking Connection Timelines
It tracks the connection timelines of your Bluetooth Devices. You can thus check when a device was first and last connected on your PC. Further, also about how many times the device was connected to your computer.
4] Fetch Details About Bluetooth Devices and Share
With Bluetooth View, you can export the status and details about your Bluetooth Device(s) ever paired with your computer. Just right-click and select the HTML option. You can also export this as an HTML file.

5] Connect with Bluetooth Devices
If you are having trouble connecting to your Bluetooth devices, you can connect your devices through this application. Just right-click the device name and select Try to connect. This feature may or may not work.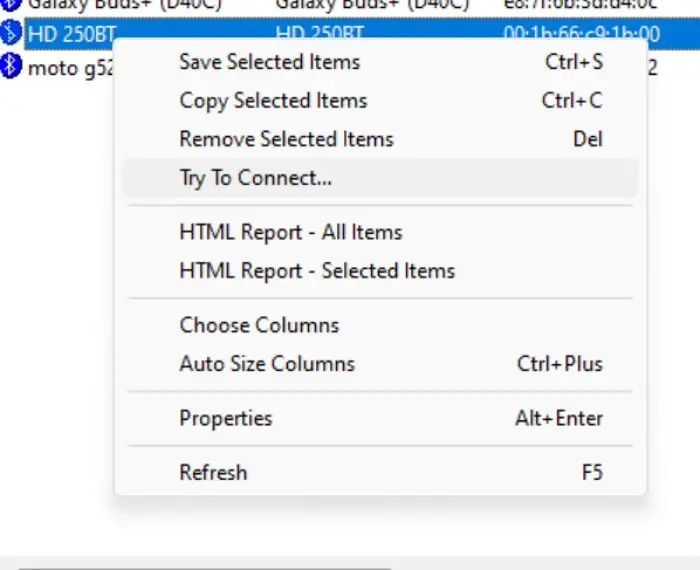 Is Bluetooth View Safe?
Yes! We have tested this application on our PC, and it's completely safe. We also check the application usage, which has no Background or Network usage. This implies that it doesn't access your data in the background, thus, the chance of a data breach. Furthermore, it doesn't contain any malware, which makes it safe for your PC.
Conclusion
If your PC has issues with Bluetooth connection or you want to monitor nearby/paired Bluetooth devices, you know what's the best application to use. The BluetoothView application lets you find all Bluetooth Devices near your computer. You can also use this device to check the connection activity of the Bluetooth devices with your computer.