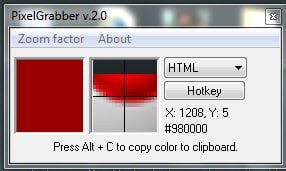 Designers often find color used on applications or websites tempting and want to use the same combination for the design too. There are many tools available which can help you do so but Pixelgrabber is the most simple and easy to use.
This portable application can find the colour code in hex, html, RGB as you hover your mouse over any part of the screen including webpages and applications. This could code can be copied with a configurable hot key so you don't have to move the mouse and lose the pixel.
Apart from this it also has a Zoom tool which can be used for when your  image is too complex and only zooming can get you to the inner pixel of the screen section.
You can download Pixel Grabber from CNET and if you are looking for a Firefox extension which can do the same thing but only webpages, Try ColorZilla