If you work with lot of different kind of files, finding them or sorting them by extension becomes a major necessity. Now one simple way of doing is using the powerful windows search i.e Creating Search Folders but if you are looking for a software based solution, Below is the list of software solution you would love to use.
Extension Indexer :
This software scans any given folder and it's sub folder and groups them by extensions of which you can see count of each. In case you feel it was updated, just use the Update button and it re scans to give you accurate results.
Apart from this you can :
Delete multiple files by just selecting any extension in the group
Export Files to any folder you want. This helps when you are sorting a huge folder with lot of files.
Sort by path, Name and Size
Total Size is displayed when you select a group of extension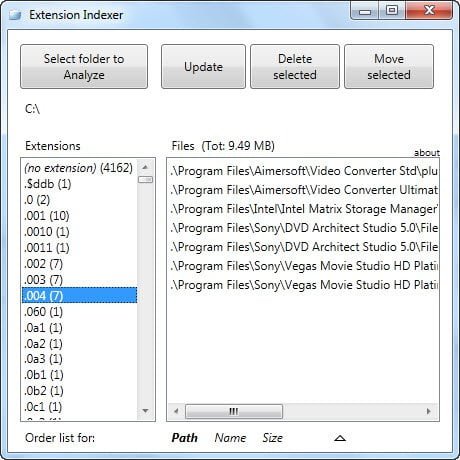 Digital Janitor :
This is a simple application where you can select a couple of folders then move files based on extension to another folder. More like an Extension based vacuum cleaner.  Here you can select a folder to clean up, then specify rules i.e. which extension goes to which folder. Read More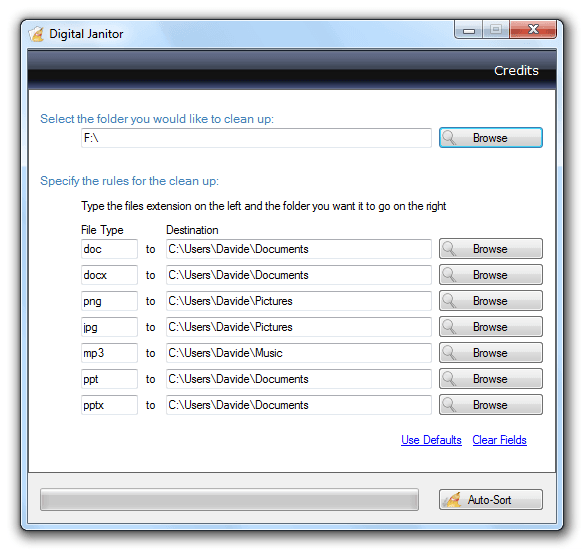 Capacity :
This helps a lot when it comes to organizing files into folders each meant for different work. Based on your criteria :
if you select file type, each extension can be moved into different folders just like Digital janitor above.
If you select file size, you can mention the file size based on which it can be moved.
Same way you can do for Month Created and Modified.
This is particularly useful for doing some heavy weight work. Download from here