Though Dropbox lets you search and do much more with Files via their online Utility but if you are offline, just using the Windows inbuilt search utility doesn't suffice all your needs, specially when you switch computers.
Dropout is a portable file search engine which stays inside your Dropbox folder syncing all its search index and itself to multiple computers and gives you a seamless search experience and "find my file" to all the files you sync everyday.
How to use Dropout :
Download the file from here.
Copy it to a root folder which is by default "MyDropbox".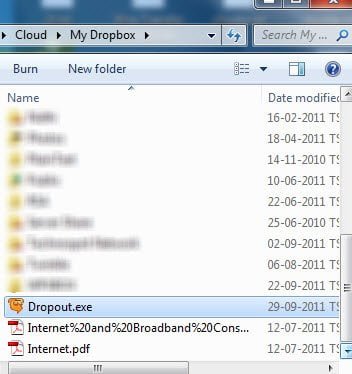 Double check that  you don't have it copied to  any of the other folder because it can shared and you will pass on the all the file info to others.
Next run the Dropout program and wait for sometime to index all the files. By default it will index all the folders and sub folders and files within and store the metadata in the root folder.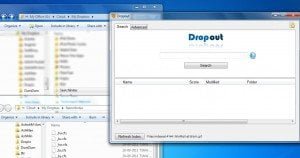 Next make sure you haven't pause file sync on Dropbox. This is necessary so the search info is passed on to every computer you have associated with your Dropbox Account.
Once Dropout is synced across computer you can get instant search result when you switch computers.
Search Tools in Dropout
Search Files by Name and text within the files.
You can limit your criteria by date, type, file name and what you want to search
Sort search result based on Folder, Name, Modified time and Score.
Score varies between 0 to 100 which actually means how close is the file to the search criteria.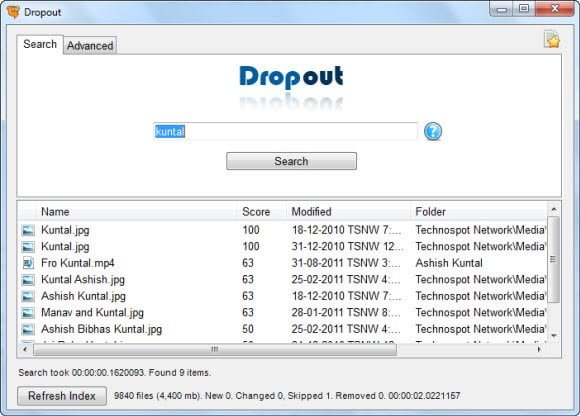 Video Demo of Dropout