Sometimes it is really painful when you buy a game and later on find that your computer can not play that game due to some problems. Well, the Shops won't allow you to test those games before buying it, but this tool definitely can tell you by running a small test on your computer. In the end, It shows if your system or computer is compatible to play those games.  It is probably the quickest way to check If your laptop can run a PC Game.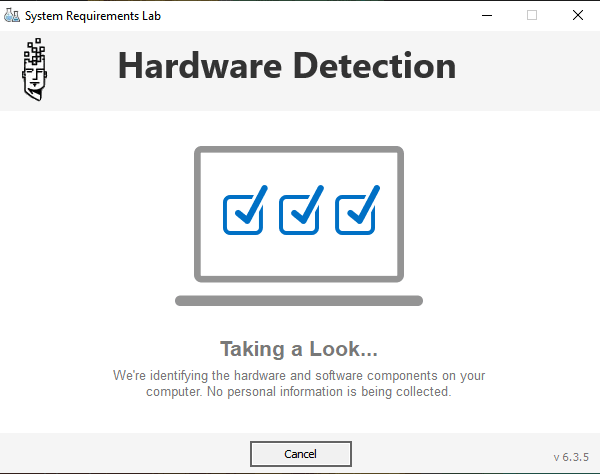 Find if your computer can play THAT Game
Can You Run it? Yes, that's the name of this online tool, which allows you to check your computer hardware against hundreds of games listed on their list. To find out the answer to the question, Can my computer play this game?
Select the game from the list or search for the game. Click to open when you find it.
It will then prompt you to download a small application, "Detection."
The application is designed based on the requirement of the game you chose in the above step.
It will run for a few seconds, and then it will prompt you to check the browser for the result.
The application exists automatically after the check is complete.
Back to the website, you will get the exact details on why the game is not compatible with your computer
Here is the list of games list on the website
Red Dead Redemption 2
GTA 5
Star Wars Jedi Fallen Order
Call of Duty Modern Warfare
Fortnite
League of Legends
CS GO
PUBG Lite / PUBG
Minecraft
Apex Legends
Battlefield 5
The Sims 4
FIFA 20
Rainbow Six Siege
Borderlands 3
Fortnite Battle Royale
Destiny 2
Need for Speed Heat
Overwatch
Battlefield 1
Alice: Madness Returns
RaiderZ (beta)
Dishonored
Awesomenauts
Babel Rising
The Amazing Spider-Man
Counter-Strike: Global Offensive
Sleeping Dogs
American Mensa Academy
Tryst
Tower Wars
The Elder Scrolls V: Skyrim Dawnguard
Cannon Fodder 3
Transformers: Fall of Cybertron
World of Warcraft: Mists of Pandaria
Phantasy Star Online 2
Darksiders II
Borderlands 2
Endless Space
Kung Fu Strike – The Warrior's Rise
DayZ
Mass Effect 3: Earth
Inversion
Maestia (beta)
Hoodwink
The Sims 3: Supernatural
Dead Space 3
Police Force
Orcs Must Die 2
Medal of Honor: Warfighter
Prototype 2
Alliance of Valiant Arms
FireFall (beta)
The Binding of Isaac
Pro Evolution Soccer 2013
Ravaged
Torchlight/Torchlight II
Obscure II
London 2012: The Official Video Game of the Olympic Games
This application installs a small component on your computer, which checks your hardware and compares it with the minimum requirement of the game. If your computer matches it, you should get a message saying you can run the game else it suggests what upgrade is required for your PC so it can play that game.
You may have to permit to run ActiveX/Java browser component as it needs to access system-level information. This plugin can be uninstalled from your browser once your analysis is complete. However, if play games often, keep it.
This option is much easier than first buying and then trying. So if you need to find out something about the Game and if your PC can run it, try it on  Can You Run it and find it.