MapMyIndia , The only service which allows you to find India roads, how much time it will take to travel from one place to another, has come up In-Car GPS navigation system, which allows you to get real-time turn-by-turn navigation with visual map guidance and voice instructions. Last December, when I posted about this Indian street finding service seemed to be still growing. However, the map service was still pretty neat.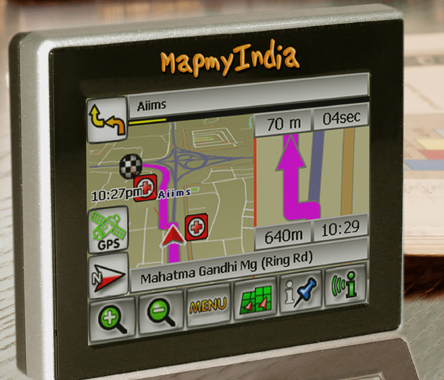 They have complete coverage of streets, localities, sub-localities, and points of interest in 18 major cities: New Delhi, Gurgaon, Noida, Greater Noida, Faridabad, Ghaziabad, Chandigarh, Mohali, Panchkula, Mumbai, Navi Mumbai, Thane, Pune (including Pimpri Chinchwad), Kolkata (including Bidhan Nagar), Hyderabad, Secundrabad, Bangalore, Chennai
The device costs around 21000 with maps getting updated twice a year for which users will be charged, It's a real-time map, and you will be connected to GPRS, which is free. If you are interested in buying click this link Check out the Products Highlights here
My Opinion about it.
This service is one of a kind and pretty good. However, the in-car gadget might not be appealing to an enormous mass of people. A normal person like me or you might be willing to pay for it. However, looking at another aspect could be useful for people who travel a lot and have a kind of business that needs it.
One more idea of selling this gadget is to travel to India from outside countries. To increase my sales for this gadget, here is what I would do.
Contact big Hotels and Travels especially where its hot tourist spot.
Sell them and ask them to put them on cars and rent them to foreign tourists.
Moreover, if They can come up with some Handheld Gadget, they would target even normal people if the price is pretty reasonable.
This way, I can get some dedicated customers and make a good amount of money.
It's one way of implementing it. There could help me more. Overall a good work. Cheers