This is an excellent map which shows the popularity of most of the social networking sites around the globe. The data used for the analysis from Alexa traffic ranking.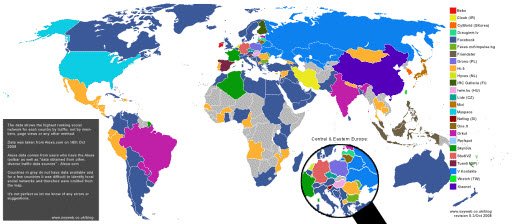 Its really cool to see this thing but the only thing I was wondering why just Alexa was taken into account. Its popular service but I think mixing stats from 2-3 others sites which provide traffic ranking would be a better idea. And Twiiter is missing!!!! Please add it.
PS: I had linked the image to the source page. You can click on it to see a larger image.
Related : Social Media Sites – Are we using it in real sense [ Podcast ]