Its pretty common practice that any time you meet a new person on internet you would like to have some background check to find where the person is involved online so you can find more about him. Until now we had been doing it manually, picking link from one place or the other but now Madgex labs has come out with a FireFox extension that does this job for you.
They call it Identify and it does what it says. Go to any of the profile of a person for whom you want to check and press alt i on windows or ctrl i on mac and it will display you a information of the social profiles in an in line windows. This is how it looked for me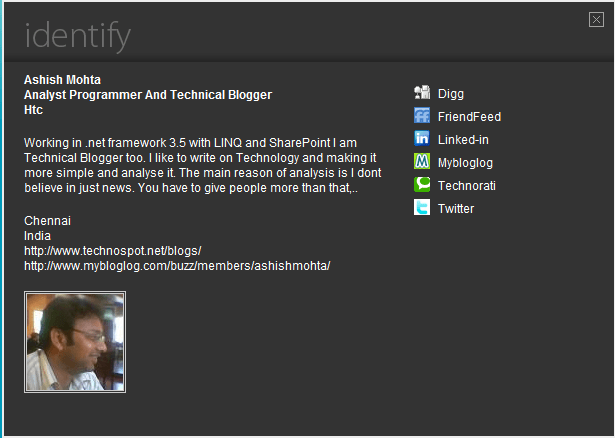 This FF Extension uses Google's Social Graph API to find social networking site individual has profile and then  YQL API to drill down on more details. As a matter of fact they have a Social Graph Explorer which returned more information that the extension did, even my latest pic. I think Madgex Lab should take a look into this. I think there is more space for improvements.
You can download the Firefox extension, Identify from Madgex Lab page and also use the Social Graph explorer ( linked above ) to find more details.