If you are into producing YouTube videos for particular set of audiences which are targeted for particular age, country and Interest, then YouTube Insight for Audiences tool can give you lot more detail on what they watch on YouTube than just your YouTube Channel Stats.
For example if you plan to produce a video on Leather Bag you sell,  this tool gives your list of videos from which you can learn, Search Terms which you can include in description and the density of interest in different verticals of your niche.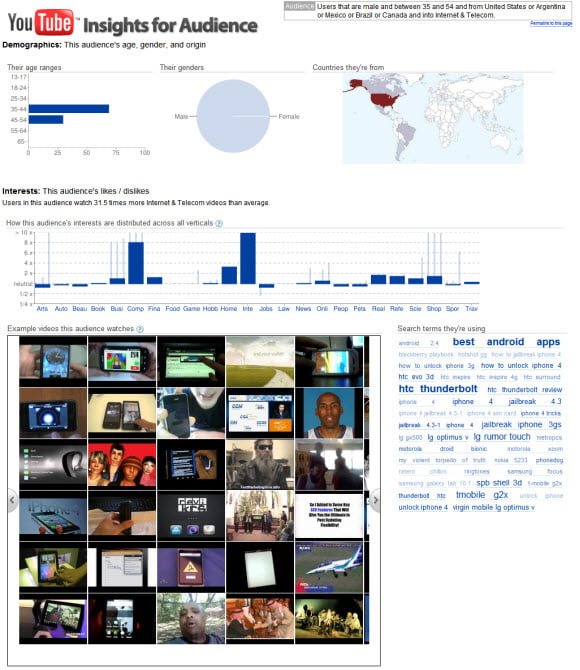 The above sample shows Users that are male and between 35 and 54 and from United States or Argentina or Mexico or Brazil or Canada and into Internet & Telecom. The best part comes when you start understanding the videos. They are already sorted according to the popularity where the most popular video is in upper left hand corner and right bottom the least.
How to use this tool ?
Go to YouTube Insights for Audiences
Make your choices for Gender, Age Range, Country. I do not see all the countries listed here but probably the most popular ones are there.
Next step is to select the interest areas.  There are 100's of options available and 1000's of subcategories. So to get the right idea you need to make proper choices.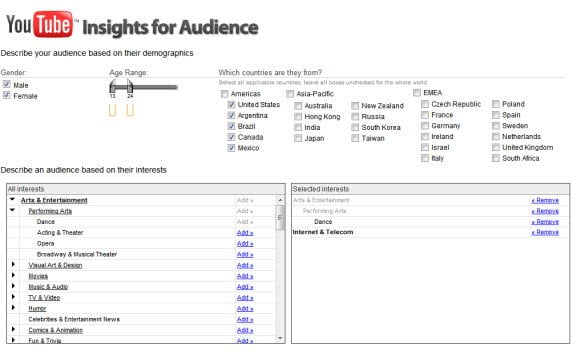 Once done you will see the stats like above. A permanent link is also generated which you can bookmark when you want to analyze it again for any changed stats.
What users search on YouTube ?
Another valuable part of the analysis is the keyword for which people have watched those videos. Its open to all and is a gold mine if you want to include same kind of keywords into your video either in description or if you have commentary in the video. In the above example you can see users search for HTC thunderbolt more when compared to iPhone 5.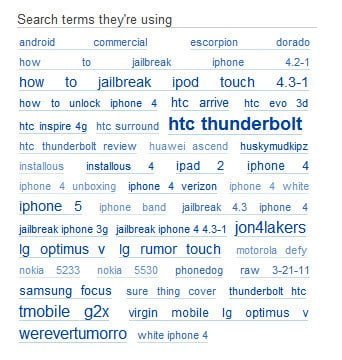 Searching the Users Comments  ?
Though not directly integrated in the Insight tool, YouTube does offer another tool called as Comment Search which lets you search within the comment made by users on others video.
So now you know that users are looking got HTC thunderbolt in YouTube, so the next step should be to go and see what kind of reactions they have made. This will give you two things, One get feedback on the product and second analyze the video to see if you can improve and produce even better video.