Many a times the computer shutdowns abruptly or some program just don't respond when you run an application. By Default windows does create dump file which contains information like which program crashed, what was the point of crashing etc which is in short can be used for post crash analysis to pin point the reason.
Most of the time these dumps are not easy to understand and this is where Who Crashed helps you make it easily understandable.  After you install this software all you need is to hit analyze button and it gives out a reader friendly.  Have a look :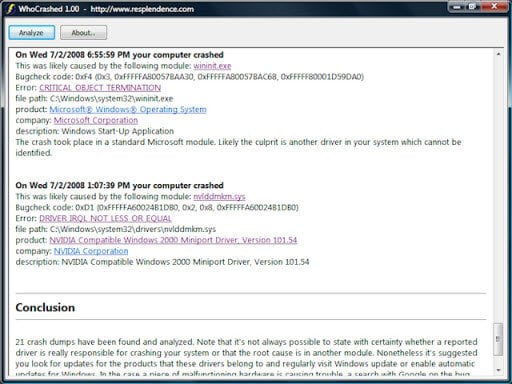 In their own words
Note that WhoCrashed cannot be always 100% sure about the drivers which are responsible for crashing your computer. Because all kernel modules run in the same address space, a kernel module is able to corrupt another. Also, a driver may be able to cause problems to another driver which runs in the same device stack. So keep in mind this software is not guaranteed to identify the culprit in every case but most often it does.

So before your computer drivers crashes again , install WhoCrashed and you will know what is giving you problems. The next step would bee either update the driver or get a compatible one and let it not crash again. As said you will be able to find the problemmost of the times which is more then enough for most of the people.