Sharing folders is probably one of the most common activities on the network. But as time passes, you forget what folders you shared, and if your folder is open to all, i.e., without using protection, you can not find who is accessing what. It works in Windows 11/10, and the feature has been there since Windows Vista.
Find Who Is Accessing the Shared Folder in Real-time in Windows
In Windows Shared Folders under System tools of computer, management allows you to find who is accessing what via open file view. You can find that person's logged-in Windows user name and see which folder is accessed.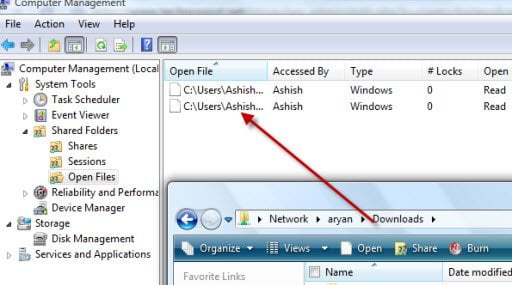 Moreover, you can also find which folders on your computer are being shared, and you can drop right from here all of them.
Find this tool under Control Panel > Administrative tools > Computer management > System tools. When you take a look into the shared folder, you will see there are a lot of drives that you did not share at all. Yes, you are right.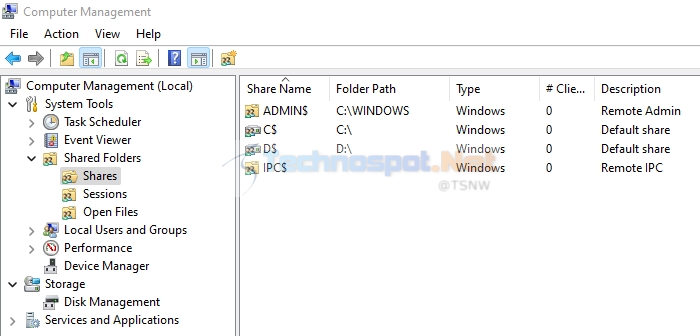 Windows shares all drives under c$ d$, accessed with your administrative password by default. It allows you to access your files without creating shared folders.
How To Turn Off Admin Share in Windows 11/10
If you want to disable the admin share in Windows 11/10, you need to use the registry hack.
Open Registry Editor by typing Regedit in the Run Prompt(Win + R)  followed by the enter key
Navigate to the following path
Computer\HKEY_LOCAL_MACHINE\SYSTEM\CurrentControlSet\Services\LanmanServer\Parameters
Create a DWORD under the Parameters folder with the name AutoShareWks
Set the value to 0
Restart the computer to remove the shared folders
If you check the shared folder section, all these admin drives will not be available anymore. While IT admins need them, only an admin of the computer can disable or enable this feature.
I hope the post was easy to follow, and you were able to figure out who's is accessing the folder and turn off admin share folders in Windows 11 and Windows 10.
How do I make a shared folder private?
You can achieve this by limiting the sharing to dedicated users and limiting the concurrent users that can access those files. Anyone should be able to do this if they have access to user contacts on a shared network.
How do you password protect a folder?
The best method to password protect a folder in Windows is using BitLocker encryption. It will not only protect the data from regular users but also malware. You can also move files into a Private folder on OneDrive and make it work across PCs.
How do you get notified of changes in Shared folder content?
You can use the built-in feature to get notified about any change in the content when a folder is shared with multiple users. You can further check the modified date and the user to know.