Instruction manuals are one of the most essential components of the experience of a new device. Whether it is a gadget manual, washing machine, microwave, printer, or almost any other digital or analog design, instruction manuals are the best way to get complete details about the devices and troubleshoot some common issues. More often than not, we end up losing these manuals or throwing them because they've piled up.
But what would you do if you needed to read one? Well, there are websites to help to find instruction manual such as the LG washing machine operation manual. In this article, we will learn about websites where you can find and download the instruction manual for any device if you lost it.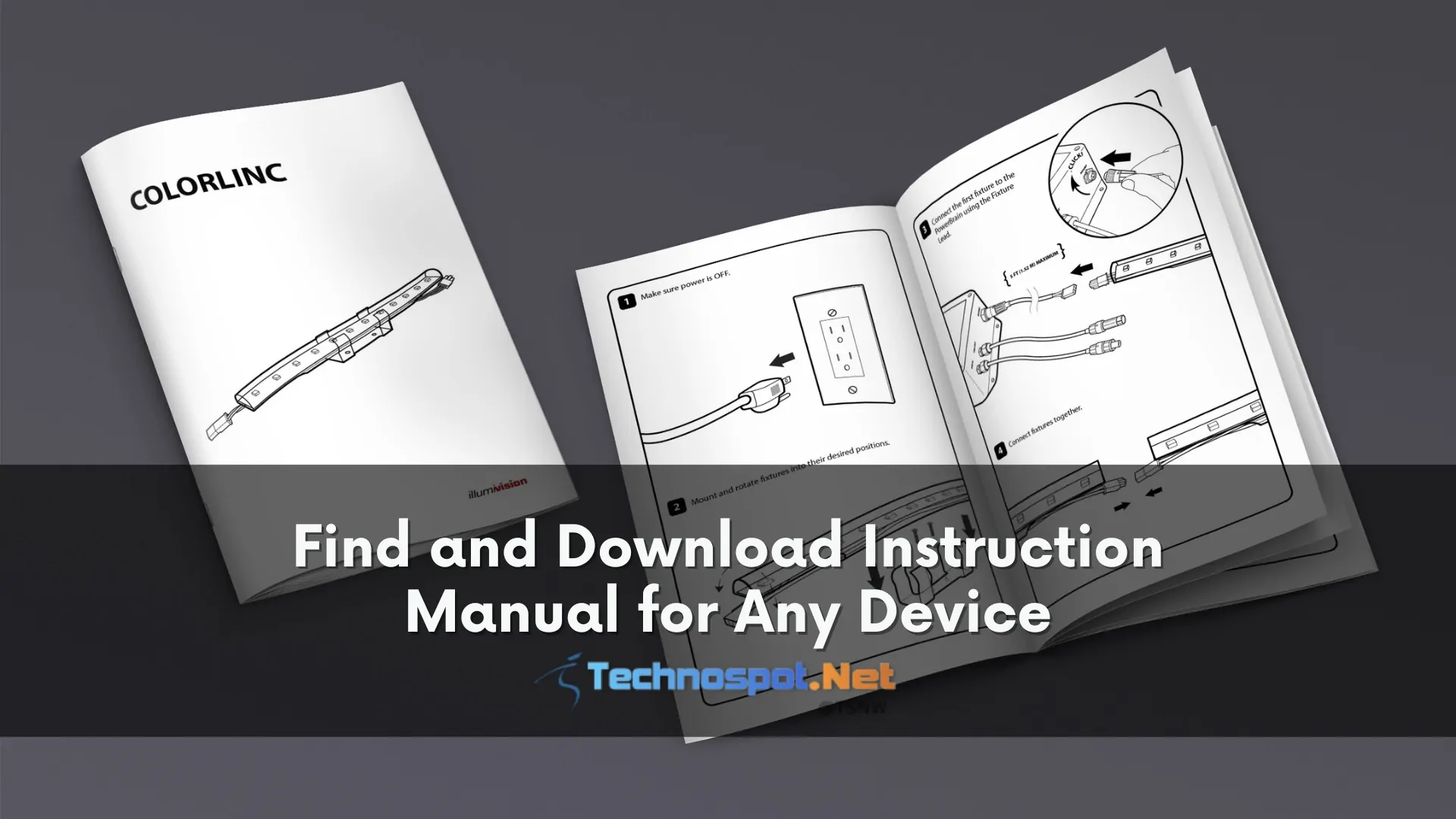 Find and Download the Instruction Manual for Any Device if You Lost It
In this section, we will look at a few websites that can be used to find and download instruction manuals for almost any device from any category. Each website has some differentiation in its features and interfaces. So, make sure that you check all of them out. Here's all that's covered:
Archive.org Manuals Section
Manuals Online
ManualsLib
SafeManuals
Let's look at these websites in detail and see what type of gadget manual and schematic they offer.
1] Archive.org Manuals Section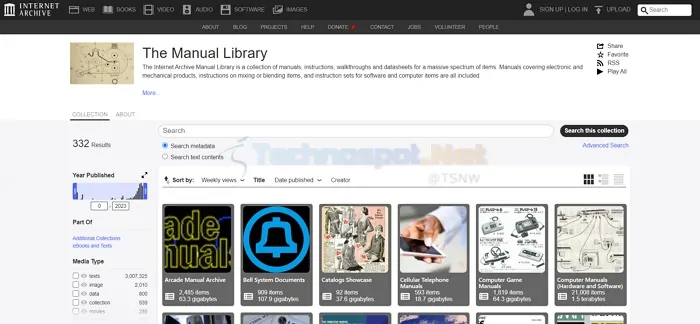 Archive.org is the most extensive archive for everything that has happened on the internet since the advent of it. The Archive.org manuals section is the manuals archive for the oldest devices to the latest ones. Not only that, but you can access the manuals entirely free and find manuals for older, discontinued devices such as user manual of washing machine. You can download the manuals in various formats, and the website features a vast library of over 500,000 manuals.
Features: 
A vast library of manuals for legacy and latest devices.
User-friendly interface.
Easy to use search feature.
Filter by year, category, and collection.
No sign-up required, no ads, completely free.
Pros: 
Free access to manuals without signup.
Provides manuals for discontinued and old devices.
There is a vast variety of filters to narrow the selection.
Cons: 
The interface may seem outdated.
Difficulty in finding the desired manual due to the vast library.
Visit Archive.org Manuals Section
2] ManualsOnline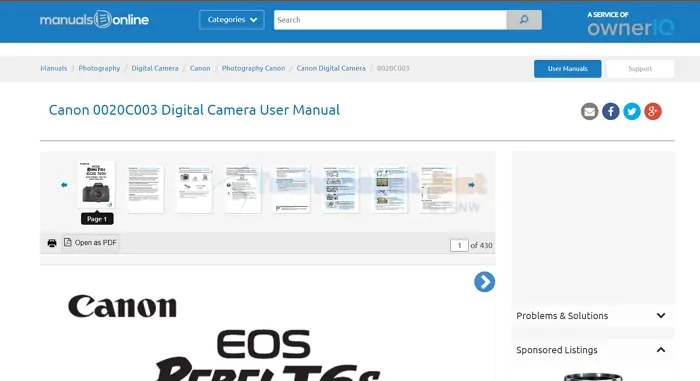 Manualsonline is one of the most well-designed online manual collection websites out there. The website has divided its library of more than 700,000 manuals into categories, subcategories, and brands for each of those subcategories. This makes it very easy for users to find their desired manuals. The website is entirely ad-free, doesn't require signups, and allows a full preview of the manuals on the website itself.
You can also print a specific manual page directly from the website itself. You can use the open PDF option to download the manual in full.
Features:
A vast library of over 700,000 manuals.
Distributed into comprehensive categories, subcategories, and brands.
Ad-free, no signups, and free downloads.
Allows full preview of the manuals.
Print page feature.
Pros: 
Ad-free and no signup required
Variety of valuable features.
Easy to use interface.
Cons: 
The Open As PDF feature may not work at times.
3] ManualsLib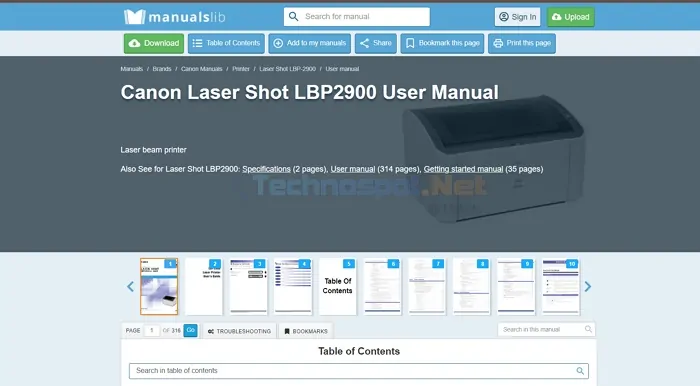 ManualsLib is the most feature-packed, vast, and valuable website. This website packs over 7.4 million manuals and works flawlessly on desktop and mobile devices. They also have an Android app. You can download and find any manual from the website without signing up, whereas some manuals may require you to sign up. The website may also occasionally show ads. They have manuals for more than 130,000 brands, all of which have been categorized by brand name.
You can preview the manuals on the website and download a high-quality copy if you wish to preview the PDF in the browser. That can also be done for free. On top of these, other features like Search inside the manual, table of contents, and bookmarking are also available.
Features: 
More than 7.4 Million manuals from over 130,000 brands.
Feature packed.
Completely free downloads.
Occasional ads.
Features like bookmarking, searching inside the manual, and a table of contents are also available.
Preview as PDF inside the browser.
Pros: 
Vast Library
Variety of useful features.
Smooth user interface.
Completely free.
Cons: 
It may require signing in to download some manuals.
Occasional ads.
4] SafeManuals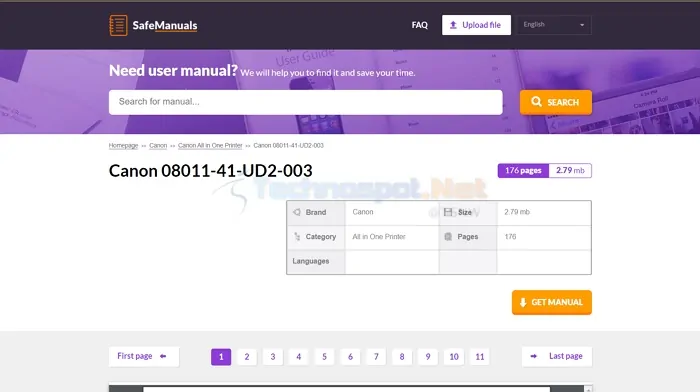 If you have a digital user manual you don't want to lose, then SafeManuals is the right site for you. This website features over 800,000 manuals from 6,000 manufacturers and allows users to upload them. The website does not require signups, categorizes manuals by their manufacturer, and doesn't show ads.
You can preview the manuals on the website, view a comprehensive summary of each section, and download them immediately.
Features: 
A vast library of over 800,000 manuals from 6000 different manufacturers.
Fast and easy downloads.
They are categorized by brand names.
A comprehensive summary of each section.
No signups, no ads, and a clean interface are required.
Pros: 
A comprehensive summary of each relevant section of a manual.
No ads are shown, and no signup is required to download manuals.
Cons: 
Some features may not work at times.
Conclusion: 
If you have lost your user manual for a piece of equipment, this article taught us how to find manual and download instructions for any device if you lost it. User instruction manuals are helpful when troubleshooting or understanding certain complex features of the devices. We cannot always have paper-based device manuals with us, which is where these websites come in handy.