Nobody reads an instruction manual these days. We all open our gadgets and start using it. But to what I have seen, instruction Manuals are essential for devices like AC, Washing Machine, Purifier, and so on. So when you need it, you don't find it because we did not keep the manual. So today, I am sharing a website–Safe Manuals–which will help you Find and download instruction manual for any Gadget including Phone, TV, Fridge, AC, Washing Machine, and even manuals of Car like Audio BMW and any other devices you use.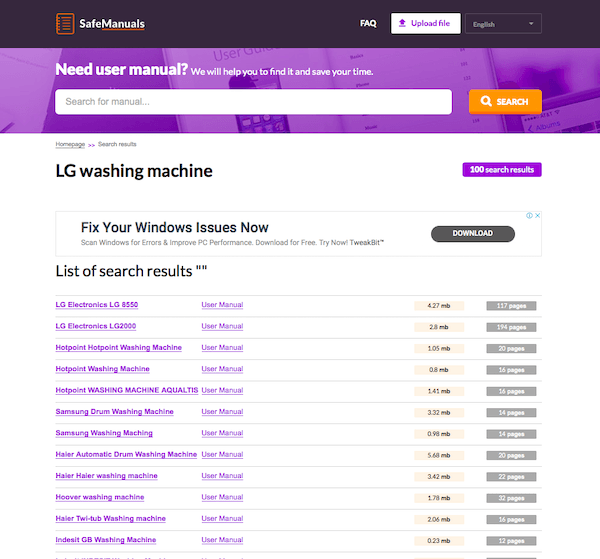 Find and download instruction manual for any device if you lost it
Safemanuals claims to have most of the manuals of any device. When I first wrote about it in 2011, the site had 3627 brands. Now they have manuals for 600 brands which covers 650,000 products and counts to 880,000 manuals you can download. Here is the list of features of Safemanuals:
Free Download of instruction manuals
Anyone can upload their User Manual for free
Manuals are available in different languages
It is a user-driven site where people can register and keep their manuals safe. These manuals are open in public and appear in the search result of the site when somebody looks for it. You can download and store user guide, user manual, use instruction, instructions, schematics, quick start guide, operating manual, etc. on this site and on top of that it's free.
Does not sound to be a problem and So I would suggest you bookmark this site and use it any time you or any of your friends lose their manual. The manuals can be searched and downloaded without registering. But If you register all the manuals which you have uploaded is in one place which you can view.
Do they violate any Copyright?
I was interested more on How this site doesn't violate the copyright acts. This is what they say about it:
SafeManuals wishes to normalize user manuals distribution. For six months, e-mails have systematically been sent to manufacturers to inform them about our site and tell them that users have been sending user manuals for their products. Unfortunately, we do not receive many replies to these e-mails.

But some manufacturers are taking advantage of this site to send themselves user manuals for their products. So far, no manufacturer has ever demanded that we take offline user manuals for its line of products. Should that happen, and if, after trying to establish a collaboration, the manufacturer clearly expressed his wish not to see user manuals for its products anymore, we would take them off, sending the users back on the manufacturer website.
Let's say take it as a site where you can keep and upload your manuals safe forever. So go and get your lost manual now.
Download manuals from Safemanuals.com