Internet speed is one of the essential factors for using almost everything. But how do you check whether your internet speed is good enough or not? How do you check that paying thousands a month for your mobile data or broadband/fiber is worth it or not? How to find your internet speed in real time?
Well, there are pretty simple ways for that, and in this article, we will talk about online tools and applications for checking internet speed in real-time. Each of the online tools and applications listed in this article has pros and cons. So please make sure that you check all of them out.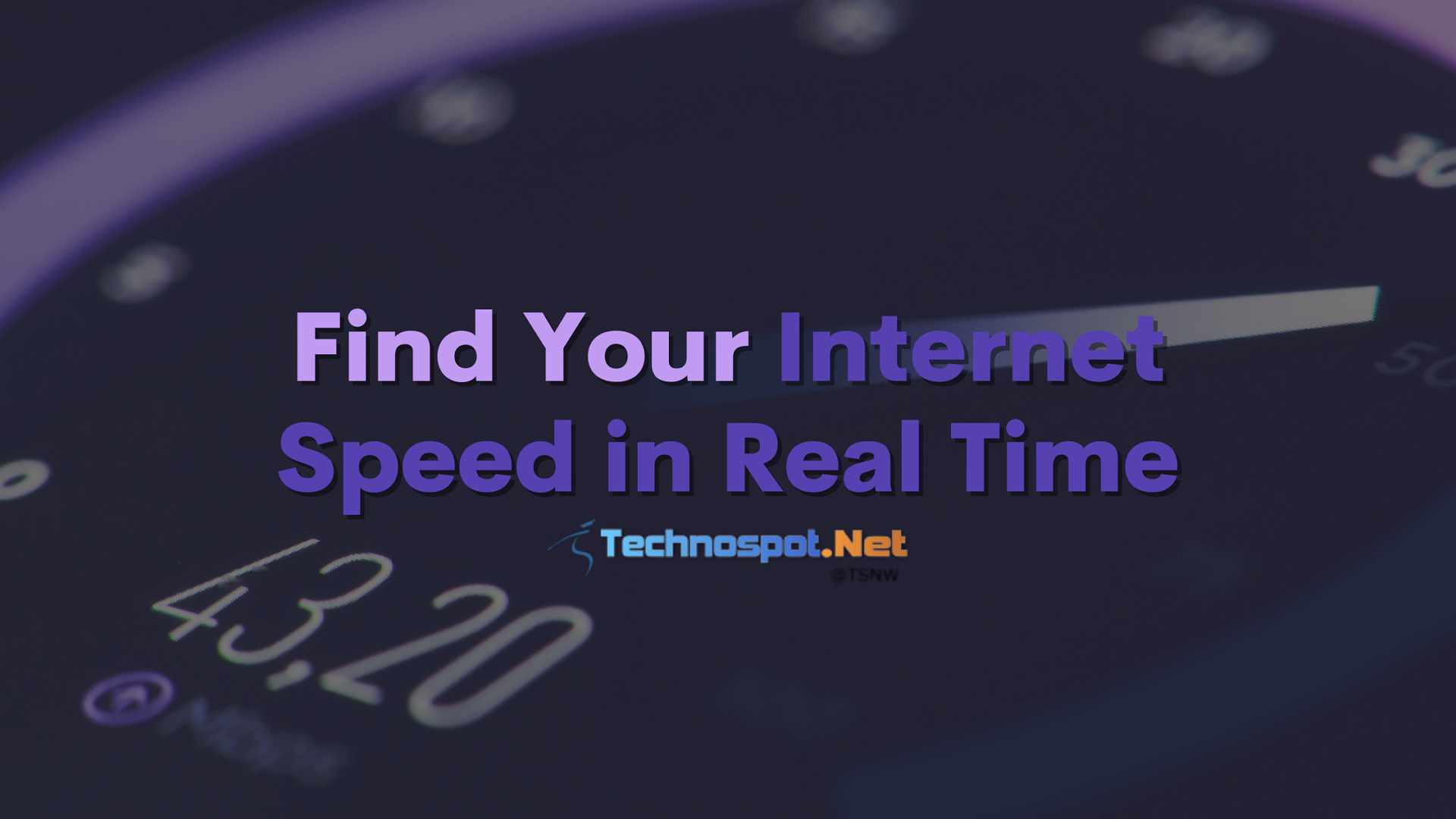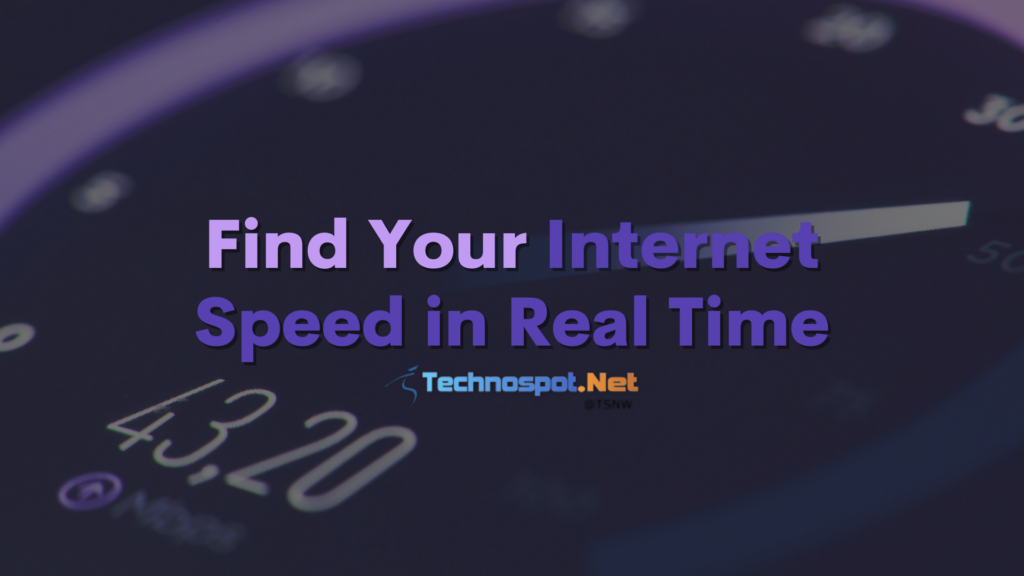 How Do Internet Speed Tests Work?
While taking a speed test of your connectivity is a straightforward process, but a lot goes on behind the scenes. To begin with the test, the test platform first finds the nearest server to connect to. Then to determine the response rate of your connection, the platform then sends a ping. The Ping helps to assess your network's performance in real-time data transfer. The lower the Ping means to lower the latency during gaming, live video streaming, etc.
After your Ping is measured, the platform starts downloading small data packets to establish a perfect connection. Once this is done, the download speed test starts where the speed is measured based on the amount of data downloaded in the given frame of time. After this, the only thing that remains is the upload speed, where the same packets downloaded are uploaded on the server using your internet connection which determines the upload speed of your connection.
To sum this up, your Ping determines the latency of your connection. Your Download speed determines how much data your computer can download in a given time frame. Lastly, your Upload speed determines how much data your computer can upload in a given time frame.
Now that you know how to analyze your speed test results let's look at the best internet speed test tools.
Best Real-time Internet Speed Test Websites and Tools
There are countless internet speed test tools out there. Choosing the less popular ones can give you inaccuracy in results and many ads. Here are some of the best ones with lesser ads and accurate results:
Ookla speed test
Fast.com
Google Internet Speed Test
SpeedSmart
Speedof.me
Let's look at what features each of these platforms have to offer.
1] Ookla speed test
Ookla speed test is undoubtedly the most widely used and popular speed test platform and offers tons of exciting features. The speed test is believed to be the most accurate in the industry, and Ookla is something you should be checking out. The website offers you the ability to use a server for speed tests. You can also choose from Single or multi-connection speed tests.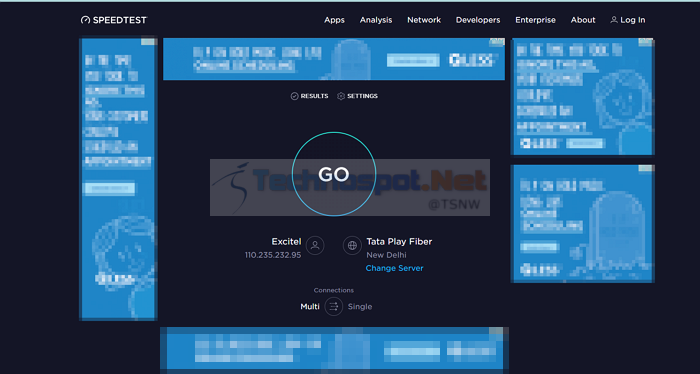 To add to all of this, Ookla has a wide cross-platform availability and apps for almost every popular platform. You can use the Ookla speed test on your Windows or Mac computer, Android or iOS smartphone and tablets, any chromium-based web browser, apple tv, and even CLI for developers.
The mobile and computer applications for the Ookla speed test offer you additional functionality. You can use the inbuilt VPN, which has many servers available for free. Ookla speed test's website and application also hold the ability to store the data of your previous speed tests, making it extremely more accessible for you to analyze and compare the results.
However, the only downside can be the presence of ads in the free version of the Ookla Speed Test. However, the ads are nicely placed and are not intrusive at all.
2] Fast.com
Simple, straightforward, ad-free, and clear are our adjectives for Fast.com. Started by Netflix in 2016, Fast.com does not offer you any customizability, but the best part is its simplicity and cleanliness.
There are zero ads on the website, and as soon as you enter Fast.com and hit enter on your web browser, your speed test starts. That said, it may not look appealing to some users because the platform has no separate application and can only be accessed through a web browser. However, experts have praised the accuracy of the platform.
3] Google Internet Speed Test
When has Google ever stayed behind in any competition? The Google internet speed test is a feature integrated right into the Google search engine. To use it, all you need to do is type speed test in the search bar, and the first option that appears is the Google speed test.
You'll also see the names of other speed test websites coming up, but only after Google's very own speed test feature right upfront. The best part about this is you don't have to see ads, and the feature is already embedded in the search engine you are probably using.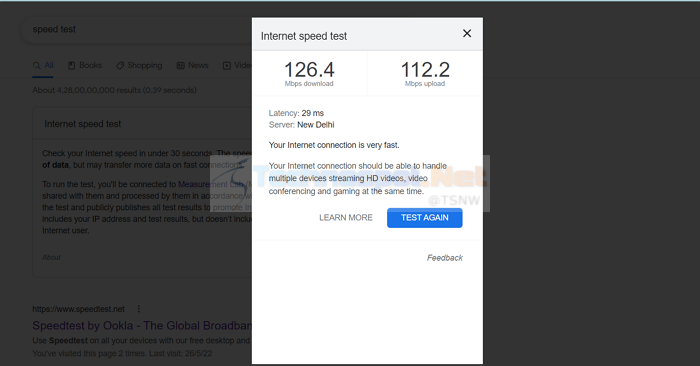 After the speed test, Google's internet speed test also defines the ability of your internet connection by stating the quality of videos you can stream, the number of devices you can connect to, etc.
However, you don't get the option to change servers and select connection type. And evidently, there is no separate application for Google internet speed test.
4] SpeedSmart
SpeedSmart and Ookla speed test services are somewhat alike in terms of features, but Speedsmart gets a clean edge over Ookla since it does not serve any ads and has a much cleaner interface than Ookla's.
You also can change servers, track your previous speed tests, and even view your IP. Speedsmart also has separate applications for Android and iOS smartphones, making it a more pleasurable experience.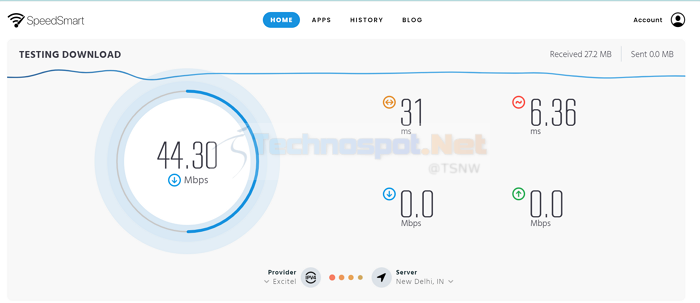 You can also create an account on the platform to keep track of your speed tests across all the devices. For us, however, the website was always understating our internet performance, so the accuracy can be an issue. But all things considered, you should give Speedsmart a try and see for yourself.
5] Speedof.me
Yet another website on the list. Speedof.me is loaded with ads. However, the test results are accurate. You also get to view line graphs for your internet speed. So if you are someone who likes more data-intensive and analytical results for your internet connection speed test, then this should be the one to check out. The website also can track the history of your speed tests making it easier for you to compare.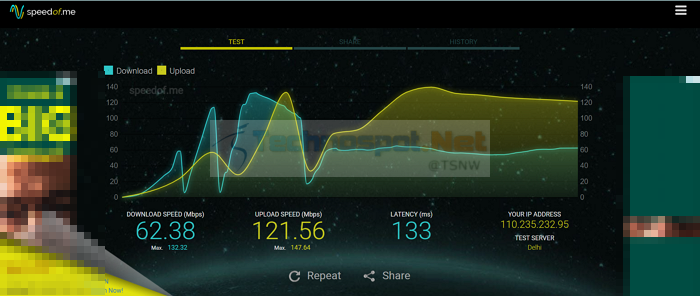 Taking a speed test once in a while is a healthy habit that can help you identify any issues with your internet connection. In case your internet connection is not working the way it should, you can always contact your ISP for clarification on the same and get the best value out of the money you put into the subscription every month.
That concludes our article and we hope you now have a clear idea to find your internet speed in Real Time.
Do Internet Speed Tests Consume a Lot of Data?
A single internet speed test can consume anywhere from 10 to 40 MBs of data. It is recommended to only test your internet speed only once or twice a day as if you are someone with limited internet data, then you might end up wasting a large portion of it on speed tests.
What Happens When I Have High Ping?
Having a high pin will lower your connection's response rate leading to choppy gameplay, late delivery of messages, choppy videos during video calls, and even complications during streaming.
What Happens When I have Low Download And Upload Speed?
When you have a low download, and upload speed, every experience on your system that works with the internet will perform slowly. Lower download speed will slow websites, videos buffer, and social media feed load slowly. The same applies to the upload speed which mostly affects file upload.