I remember earlier versions of Firefox, as old as Firefox 3, used to have a website loading animation also called status bar. It was handy as you could estimate the time left or percentage left. Firefox dropped this animation starting with Firefox 4, and in the current version, you can see a dot doing ping-pong. That said, if you want to get back or enable the status bar or website loading animation in Firefox, here is how to do it.

Firefox: Enable status bar or website loading animation in Firefox
Load Progress bar is a Firefox Add-on which brings back website loading animation. The animation is in the form of progress bar which appears under the address bar. It seems every time you open a website or submit a form, etc.
The add-on also offers options to customize the animation. It is useful if you find the loading animation too thin for your choice.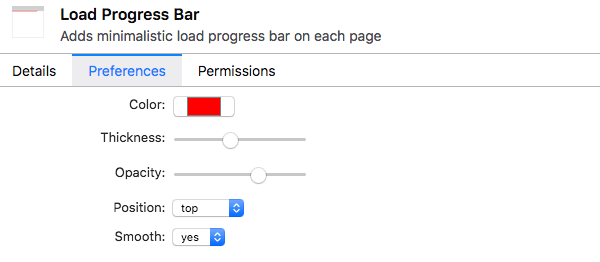 Click on Firefox Menu > Add-ons > Extensions
Locate your add-on, and then click on preferences
Here you can change:

Color
Thickness
Choose between top or bottom position
Smooth animation
However, the add-on doesn't show the progress when you are downloading a file. If you are looking for a progress bar for downloads, we would recommend you to use download statusbar. It will list down individual downloads with progress, and add more actions to it.
Download Load Progress Bar Add-on from here.