Every browser offers you to clear browsing history. It's vital from the Privacy perspective. While you can get rid of all or for the whole day, but if you want to clear browsing history of pas few hours, things get tricky. In this post, we will share how you can clear Browsing History of the past few hours. I will show it for Firefox, Chrome, and Edge Chromium.
How to clear Browsing History of past few hours in Firefox, Chrome, and Edge
While In-Private browsing is still better to stay from getting tracked to all those sites which you don't want people to see but then you don't want to switch every time. So here is how to clean up browsing history:
Firefox
Click on the Hamburger menu on the top right
Click on Options and switch to Privacy and Security
Find Clear Browsing data section, and then press the Clear History button.
In the dropdown for Time Range to clear, you can choose

Last hour
Last one hour or two hours or four
Today and Everything
It makes sense to me. I can browse wherever I want and let people not know about it. Just clean my last 2 hours of history.
Chrome and Edge Chromium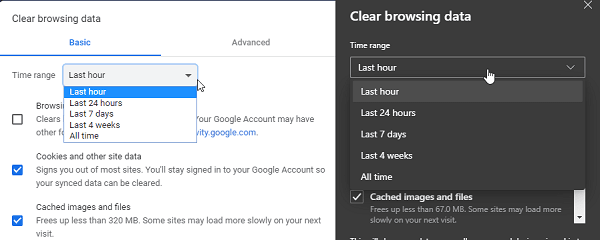 Press ALT + F and then click on Settings
Go to Privacy and Services > Clear Browsing Data
Click on Choose what to clear. It will open a pop-up window
Under Time Range you can choose from

Last Hour
Last 24 hours
Last seven days
Last four weeks
All Time
Firefox offers a better option compared to Edge with a choice of two and four hours, which gives you enough time range.
On similar lines, it is also possible to delete cookies from the browsers quickly; You can choose to remove them individually. Earlier, one had to clear, which meant losing sessions.