Are you a Windows user with problems creating new folders on your PC? If yes, you're not alone. One common problem Windows users have been facing lately involves receiving an error message stating that they cant create a new folder because they lack the necessary permissions. This can be an exceptionally aggravating issue because creating new folders is a primary task that most users must carry out regularly.
Several factors, including corrupted user accounts, incorrect file permissions, or Windows registry issues, can cause this. Fortunately, there are a few troubleshooting steps you can take to resolve this issue and resume making new folders on your computer. In this post, let's look at how to fix the can't create new folder error in Windows.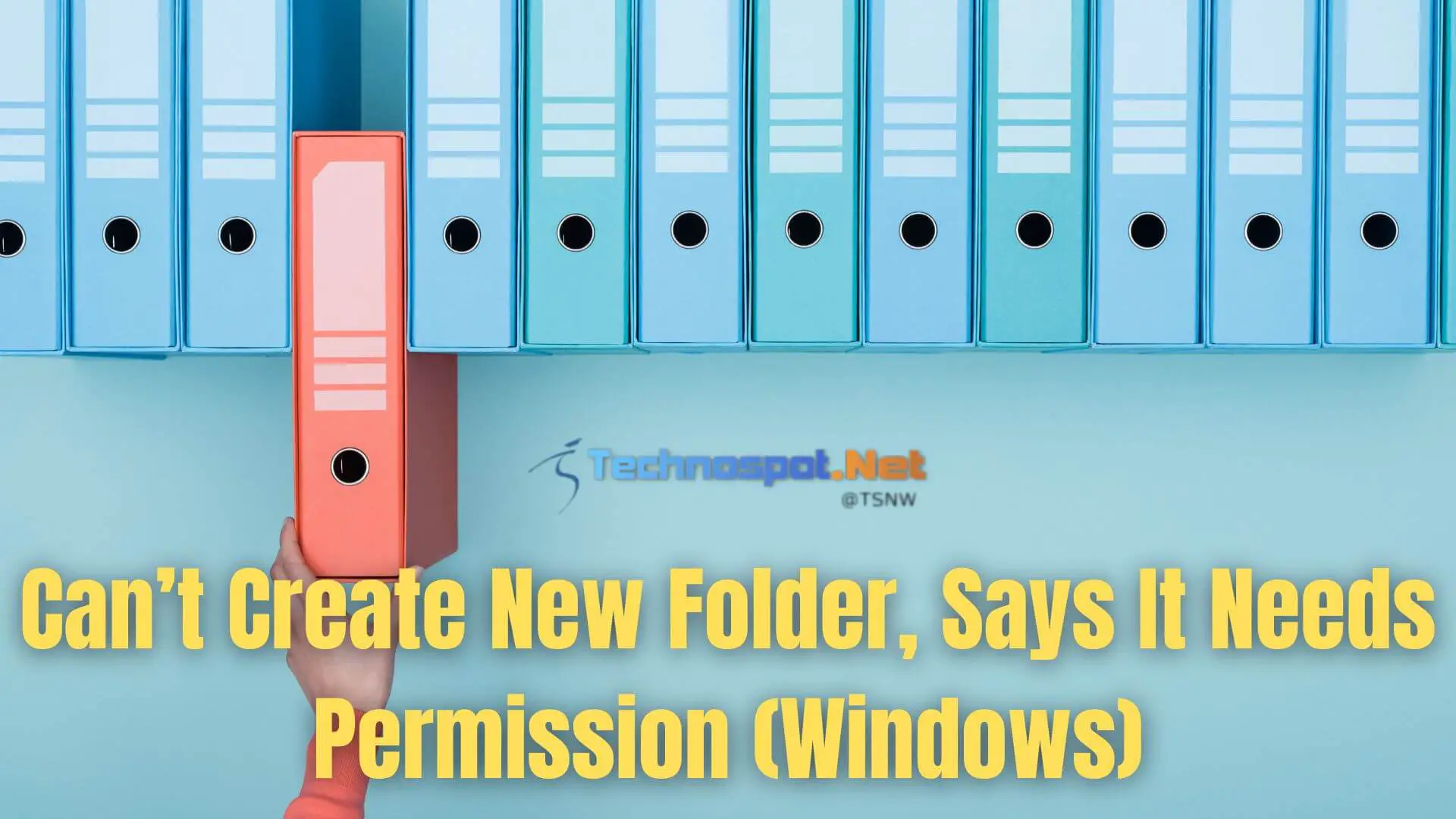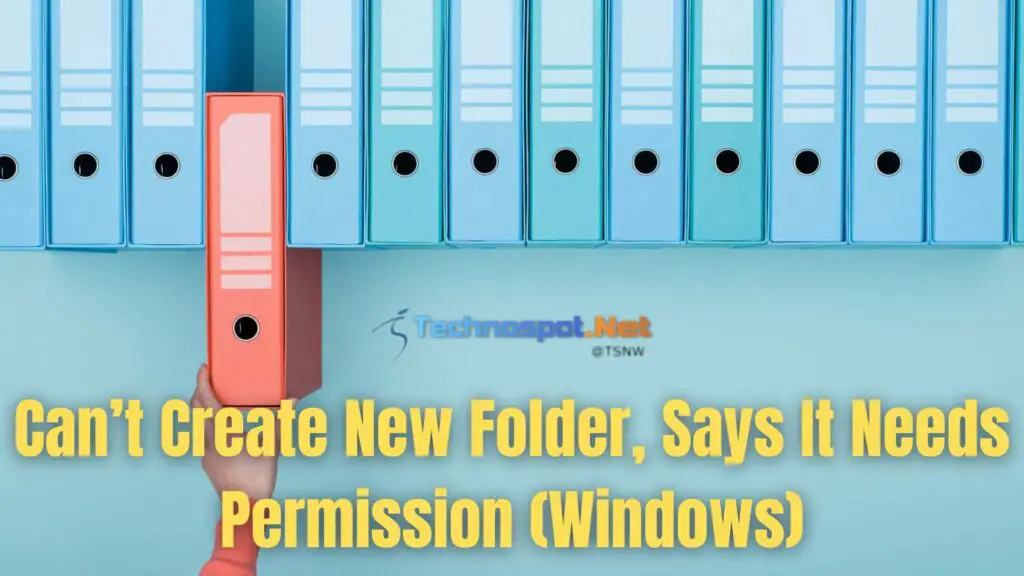 Fix: Can't Create New Folder; Says It Needs Permission (Windows)
If you're experiencing the "Can't Create New Folder, Says It Needs Permission" issue on your Windows computer, there are several methods you can try to fix it. These include checking folder permissions, running an SFC scan, using system restore, editing the registry manually, and uninstalling problematic applications.
Check Folder Permissions
Run SFC Scan
System Restore
Check If the Problem Persists in Safe Mode
Modify the Registry
You will need administrator permission to execute some of these steps.
1] Check Folder Permissions
If you cannot make a new folder on your Windows computer and receive a permission error message, the folder permissions must be checked. Permissions are policies that decide which users on a computer can view, modify, or delete a file or folder. Certain activities, such as creating new folders, may fail if you do not have the necessary permissions.
It is necessary to make sure you have the appropriate permissions to view, modify, and create new folders. Here's how you can check for folder permissions on a computer running Windows:
Launch Windows File Explorer and navigate to the location where you want to create the new folder.
Right-click on an empty space and select Properties. If you're using Windows 11, you may need to select Show more options first.
Go to the Security tab. You will see a list of all the available users on the computer. Select your user account to view your current permissions, including read and write access.
If you do not have the necessary permissions, click the Edit button and modify the required settings. However, it is recommended that you exercise caution when modifying these settings.
By following these steps, you can ensure that you have the necessary permissions to create a new folder and avoid any permission-related issues in the future.
2] Run SFC Scan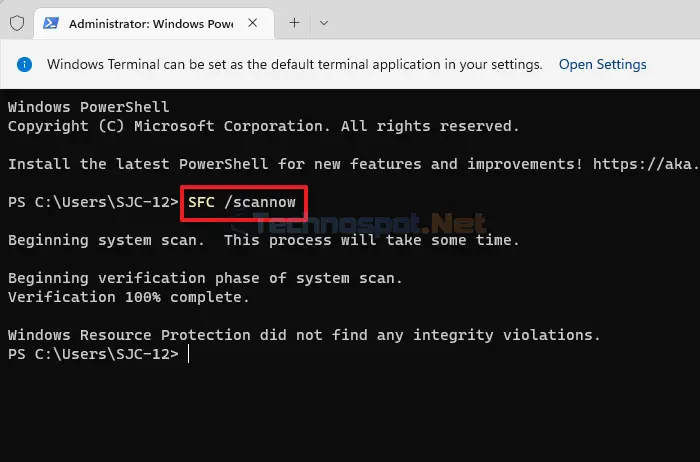 Another potential solution is to run an SFC (System File Checker) scan. The SFC scan is a Windows built-in utility that searches your system files for corrupt or damaged files and tries to repair them. Corrupt or damaged system files can routinely interfere with various computer functions, including the ability to make new folders.
Running an SFC scan is a straightforward procedure that can be accomplished using the Command Prompt. When the scan is finished, any corrupt or damaged files will be repaired or replaced, possibly resolving the problem by creating new folders. It's essential to note that running an SFC scan can take some time, and you'll need administrative privileges on your computer to do so.
Read our guide on how to run an SFC scan on Windows PC
3] System Restore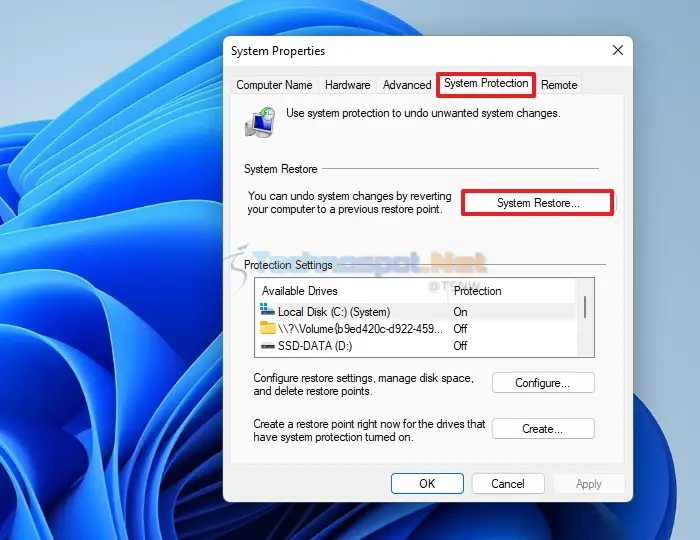 Running a system restore can also help you address the issue of being unable to create a new folder in Windows. Performing a system restores returns your computer's settings to an earlier state, which can help undo any changes or updates that may have created the problem.
Using system restore, you may be able to restore the permissions needed to create new folders on your system. While system restores can assist you in restoring system settings and files, they do not recover user files or data.
Here is our guide on how to use System Restore to roll back a PC to a working state.
4] Check If the Problem Persists in Safe Mode
Sometimes the issue can be because of third-party applications. To check, you need to boot the PC in safe mode and try to replicate the same. If the problem doesn't persist in Safe Mode, uninstalling newly installed apps one by one can assist in figuring out which app is causing the problem. Once the problematic app has been found, it can be updated or uninstalled to resolve the issue.
5] Modify the Registry
Another solution to the Can't create a new folder, which says it needs permission error on Windows, is to edit the Windows Registry—the Windows Registry database stores settings and configurations for the operating system and installed applications.
This procedure necessitates using the Registry Editor to make modifications to the Registry.
A word of caution: the Registry Editor is a powerful and complicated tool. Making tweaks to your system might make it unstable, if not inoperable. Before making any changes, we recommend you back up the Registry and create a system restore point. 
Navigate to the following location in the Registry Editor:
Computer\HKEY_CLASSES_ROOT\Folder
Alternatively, copy and paste the above location into the address bar of the Registry Editor for quick navigation.
On the right side, ensure the Default value is set to Folder.
If not, double-click the Default key and modify its value to Folder.
Conclusion
In conclusion, you can try a few options if you are having trouble creating a new folder on your Windows computer and getting a Needs Permission error message. The first step is to verify the folder permissions and ensure you have the appropriate permissions to create a new folder.
An SFC scan can help find and repair any corrupt system files causing the problem. If the problem persists, using System Restore, modifying the registry, and uninstalling complex applications may be a viable option.
Why Can't I Create a Shared Folder?
You may be unable to create a shared folder for several reasons, including insufficient permissions, network configuration issues, antivirus or firewall settings, storage limitations, corrupted file systems, and software bugs. To troubleshoot the issue, you should check your user account permissions, network settings, firewall settings, available storage, file system, and software updates.
Why Can't I Open Folders in Windows?
Some possible reasons include the folder being set to hidden or read-only, a corrupt folder or file, a damaged file system, or issues with Windows settings or updates. You should check the folder or file properties, run antivirus scans, repair the file system, and update Windows to troubleshoot the issue. Make sure to start with full permission and then take the next step.