Sometimes, for no particular reason, you may encounter an issue with your Windows search not allowing you to type in anything. It can be annoying as most users depend on searching. This article will tell you about some of the tried and tested fixes on the problem where you cant type in the Windows Search bar. Please check all the fixes out since not every one of these may work for you.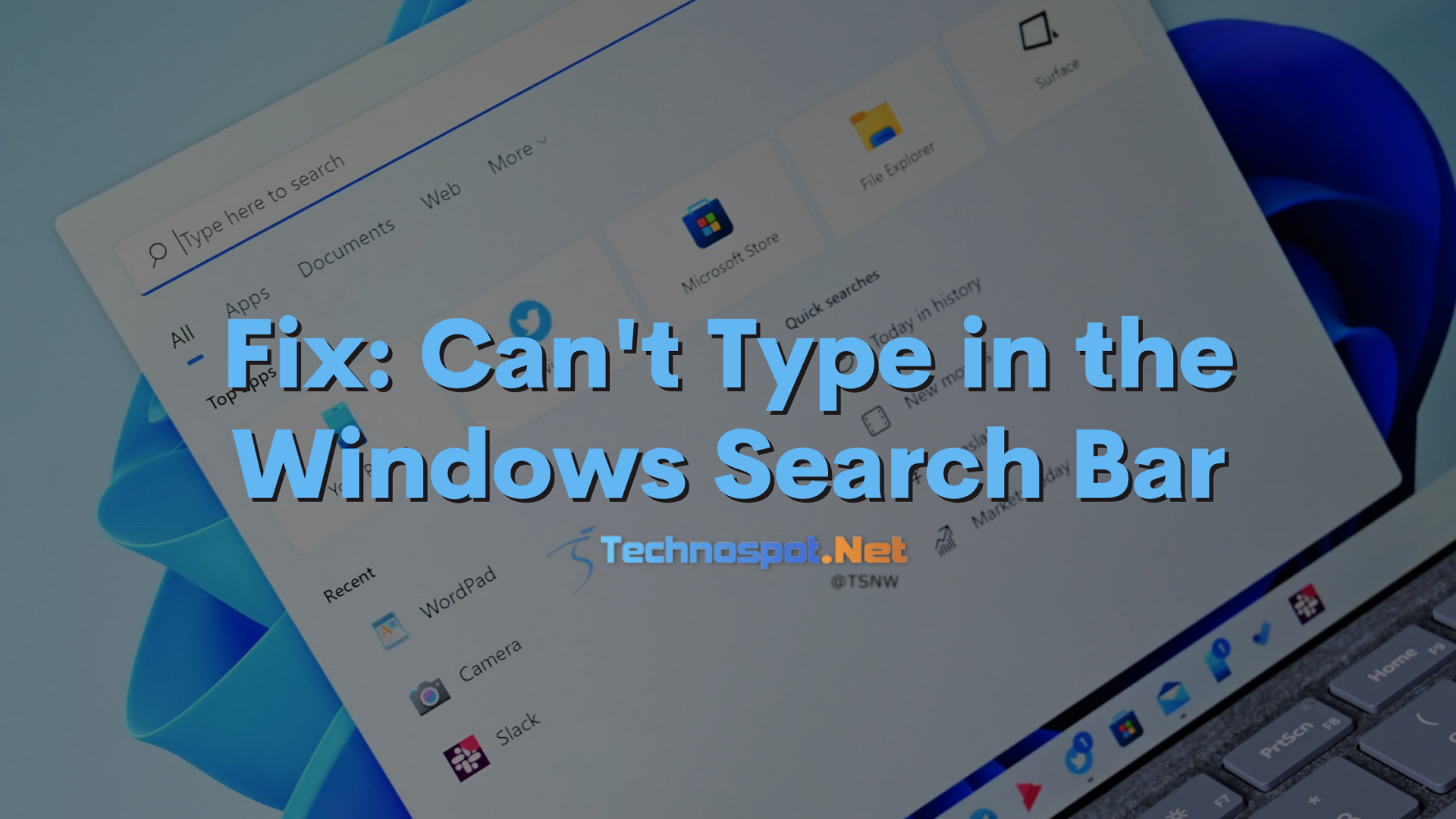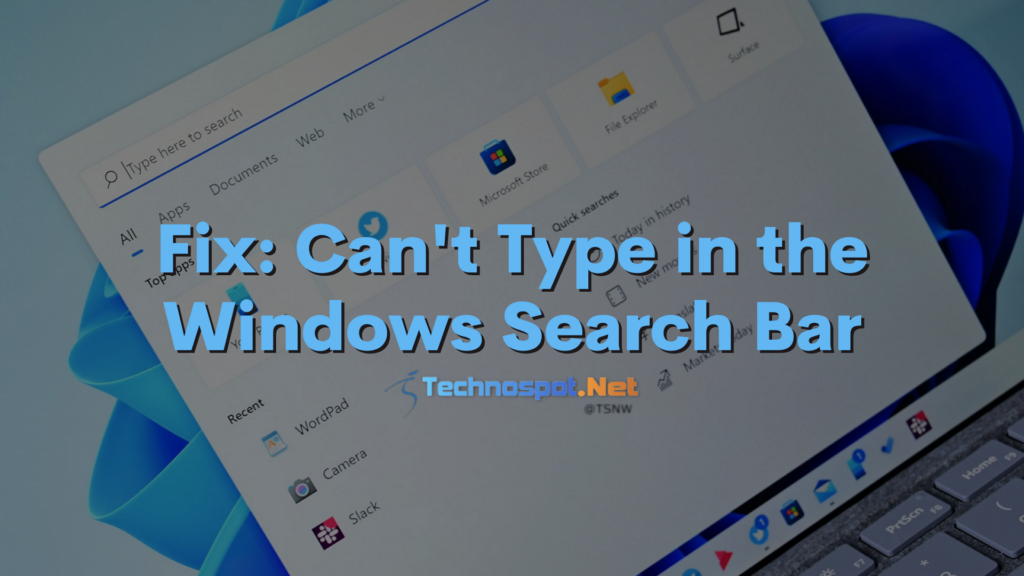 Fix: Windows Search Bar Not Allowing Typing
Here are some fixes for the Windows search bar not allowing you to type. Please note that not all of these fixes will mainly work for you, so try each. Also, make sure to follow all the steps closely.
Restart Windows Explorer using Task Manager
Run Search and Indexing Troubleshooter
Restart Windows Search Service
Update Windows
Tweak Registry
DISM & SFC tools (Fix system file corruption)
System Restore
Before proceeding, back up the registry and files and create a System Restore point, that said, let's look at the detailed steps for all these methods.
1] Restart Windows Explorer or File Explorer
The Windows search feature mainly depends on Windows Explorer and Search. If anything is wrong with Explorer, you will also face issues typing in Windows Explorer. Restarting Windows Explorer and Search can solve this issue. Here's how to do it:
Open Task Manager by pressing Ctrl+Shift+Esc on your keyboard.
In the processes section of the task manager, find Windows Explorer and Search.
Right-click on both of them, one by one, and click on restart.
Once done, the Windows search feature should usually work.
2] Run Search And Indexing Troubleshooter
The Windows troubleshooter is an excellent utility provided by Windows. Troubleshooter helps you find the underlying issues with most of the important components of the operating system and solve them too automatically. Here's how to run Search And Indexing Troubleshooter in Windows:
Open Windows Settings from the Start menu, or press the Windows+I keys on your keyboard.
In the Windows Settings, open the System section from the left pane. Then scroll down to find the Troubleshoot option, and click on it.
Now, click Other troubleshooters. Find Search And Indexing Troubleshooter from the list of troubleshooters and click on the Run button corresponding to it.
A new window will open. It will ask you to select the problems you face with the Search.
Select the Can't start a search or see results option to solve the typing issue. You can also choose other options if you are facing them.
Click on Next to start troubleshooting.
3] Restart Windows Search Service
Windows search service is yet another process responsible for the functioning of Windows search, and restarting it can also solve issues related to Windows search. Here's how to restart Windows Search Service:
Open Run prompt using Win + R.
Type services.msc and press the Enter key.
Locate Windows Search service.
Select, right-click and then choose to restart.
Check if you can type by using Win + S.
4] Update Windows
Sometimes, the most complex problems have the most straightforward solutions. It also holds in the case of Windows. Updating Windows to the latest version can solve many bugs and issues.
You may be facing issues with the Windows search bar because of some bug. To update Windows, head to the Windows settings and select Windows Update from the left pane. In the Windows Update, you'll see an option to download and install all the updates available for your computer.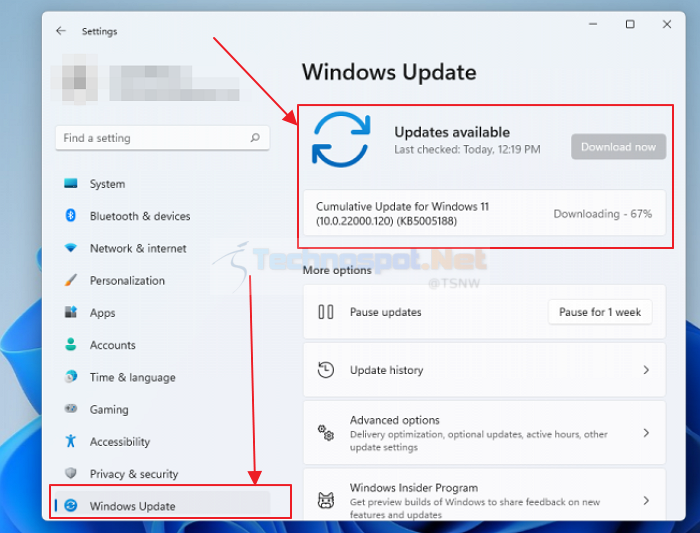 5] Tweak Registry
Windows Registry is where all the app configuration is stored. The settings for the Windows search bar are also stored in the same place. Editing some entries can help solve the issue, and here's how to do it:
Open Windows Registry by pressing Windows+R on your keyboard, and then type Regedit in the Run window that opens.
In the Registry Editor, navigate to the following path.
HKEY_LOCAL_MACHINE\SOFTWARE\Microsoft\Windows Search
Once at the location, scroll down to find an entry name Setupcompletedsuccessfully and double click on it to open the edit entry window.
Type 0 instead of one in the value area and click the Ok button.
7] DISM And SFC Tools (Fix System File Corruption)
DISM and SFC tools are essential command-line utilities that help you find and repair corrupt system files and fix issues with them. Many system files facilitate the functioning of Windows search. Corruption or problems with any of these files can cause the typing issue. Here's how to use DISM and SFC tools to fix system file corruption.
DISM /Online /Cleanup-Image /RestoreHealth
This command will detect and fix any corrupted files, making the work of SFC easier.
Please run the following SFC command by pasting it and hitting enter.
Sfc /scannow
After you successfully run these commands, many issues on your computer, including the problem with Windows search, will possibly be fixed.
8] System Restore
System Restore helps restore your system settings to a particular point where It was working fine. In our case, the Search was working earlier, but not anymore. It can be because of some change in Windows or any of the system files.
Use Win + X to open the power menu and click on System.
Click on Advanced System Settings
Switch to System Protection and then click on the System Restore button
It will open the System Restore Wizard. Click on the Next button.
Now, you'll see multiple restore points. You can choose one and proceed further. You can also scan a restore point for affected items to know whether it is the right restore point for you.
Follow the wizard, and let it complete. It will also restart your PC
Check if the issue persists.
Conclusion
Unable to type on Windows Search can be annoying for many. It is a frequently used feature in Windows to find anything on the PC. I hope the post was easy to follow and that you were able to fix the problem where you can't type in the Windows Search Bar.
Are Windows Search Bar And Windows Explorer Search Bar Different?
Windows search bar and Windows explorer search are entirely different. The Windows search bar can look for all the applications installed on your computer, along with files, settings, and Windows utilities, and even search the web. At the same time, File Explorer can search for the files stored on your drive.
Can I Change the Default Search Engine On Windows Search To Google Chrome?
Unfortunately, you cannot change the default search engine on Windows search from Microsoft Bing to Google Search. However, you can do the same in the Microsoft Edge browser by accessing the search and privacy settings.
Is It Safe To Delete Registries From Windows Registry?
While it is generally safe to edit and delete specific entries from the Windows registry, you should only do it when you know what effect it will have on your computer. Deleting and tweaking the wrong one can cause many processes on your computer to break.