Accidentally modified a couple of settings in Windows 11/10, and now icons from your desktop are missing or just blank? In such cases, there might either be an issue with your icons being disabled or there's some core problem in Windows. Such issues do not have a specific solution, so there's a handful of methods you could try to fix. This post will guide you on how to fix Desktop Icons missing or blank in Windows 11/10 with the best possible solutions.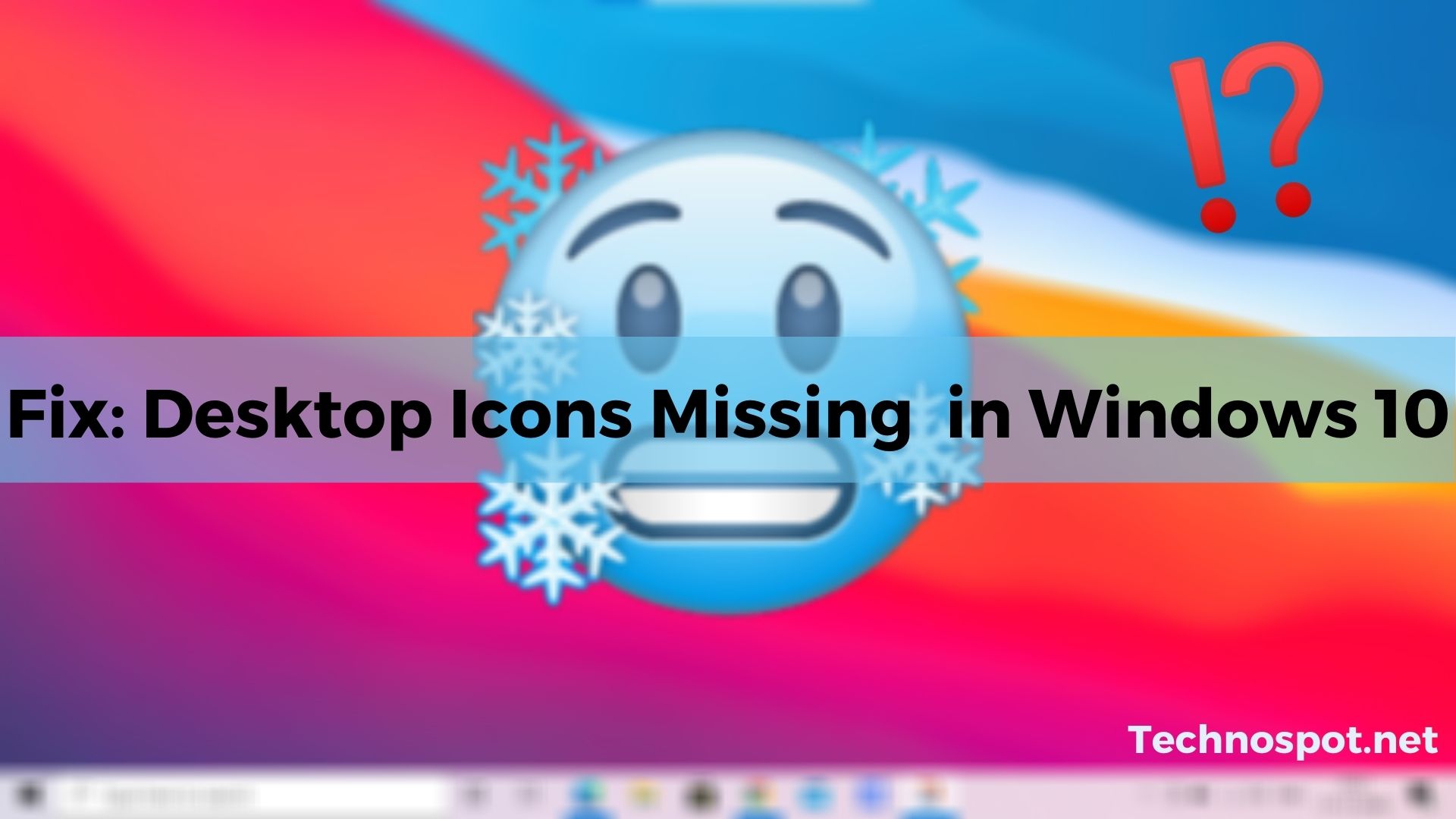 Fix: Desktop Icons Missing or Blank in Windows 11/10
There are tons of solutions one could follow, and here's the list of the most effective solutions:
Enable Icons on Desktop
Adjust Desktop Icon Settings
Toggle Tablet Mode
Restart Windows Explorer
You will need admin permission to execute the suggestions.
1] Enable Icons on Desktop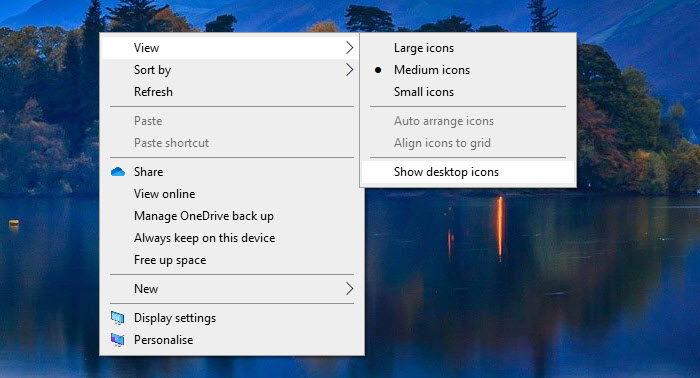 Some users prefer to keep the desktop icons hidden in Windows 11/10 for a minimal and clean look on the desktop. However, if you have accidentally disabled the icons on Windows 11/10, that might be the reason why the icons on your desktop are missing. Here's how to enable icons on the desktop in Windows 11/10:
On an empty space on your desktop, make a right-click.
From the drop-down icons, choose View -> Show Desktop Icons.
This should bring back the icons on your PC. However, one could also do this using the Group Policy Editor.  Here's how to do so:
Launch the Group Policy Editor by typing gpedit.msc in the Run Dialog (Win + R), accompanied by clicking on the Enter key.
Next, Once opened, you'll find two folders on the left of the screen, namely the User Configuration and Administrative Configuration. From User Configuration, expand Administrative Templates.
Now expand Desktop from the left navigation pane, and here you'll find a lot of files and folders listed.
Navigate and choose Hide and Disable all Icons on Desktop. In the new dialog for the policy's configuration, make sure that the Radio button has been set to not configured to show the desktop icons.
Once done, click on Apply and OK.
2] Adjust Desktop Icon Settings
If there are a particular number of icons or a single icon missing from your Desktop, then reconfiguring your icons via Settings could be a solution to your problem. Here's how to do so:
Open the Settings Panel in Windows 11/10 (Windows + I)
Navigate to Personalization -> Themes
From the menu present on the right, and under Related Settings, find and select Desktop Icon Settings.
In the new window that opens for Desktop Icon Settings, check the checkboxes for which you want the icons to appear on the screen.
Once selected, click on Apply, and you should have your icons back on screen.
3] Toggle Tablet Mode
Tablet mode changes the way the icons on your desktop are presented in Windows 11/10, and hence it's worth giving it a try to see if it fixes the issue. Here's how to do so:
Open the Settings Panel in Windows 11/10 (Windows + I)
Navigate to System -> Tablet Mode
Under Tablet Mode settings, under Tablet Mode, choose When I sign in from the drop-down.
Restart your PC to check whether the issue is solved. If it is solved, toggle the tablet mode back off, and you should be good to go.
4] Restart Windows Explorer
All the icons present on the Desktop are a part of the explorer.exe process in Windows. Hence if there is any issue prevailing with the process, that might hurt the icons as well. Here's how to restart and fix the process: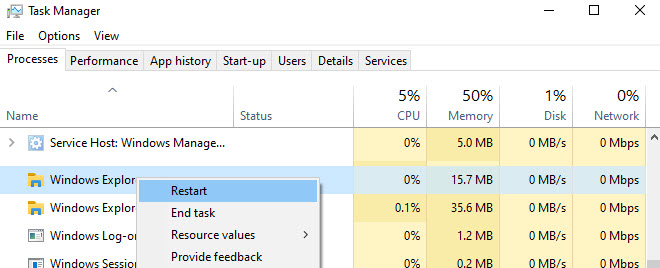 Open the Task Manager in Windows 11/10 by searching for the same in the Start Search Box and choosing the main listed result.
Here, under the processes tab, find and select the Explorer process.
Next, Right-click and choose Restart.
With that, all the icons should be back on the desktop.
With that said, how many icons do you usually keep on your Windows machine's desktop? Do let us know by dropping a comment down below.