In recent years, Discord has become the crowd-favorite app for everything related to communication. Apart from basic text and voice chat, Discord allows you to share your screen and host meetings online, share your gameplay with others, or watch movies together. However, some users reported screen share flickering or lagging issues during screen sharing. While this is a rare error, fixing it isn't as complicated as it might seem. And here is how to fix Discord Screenshare flickering or lagging issues.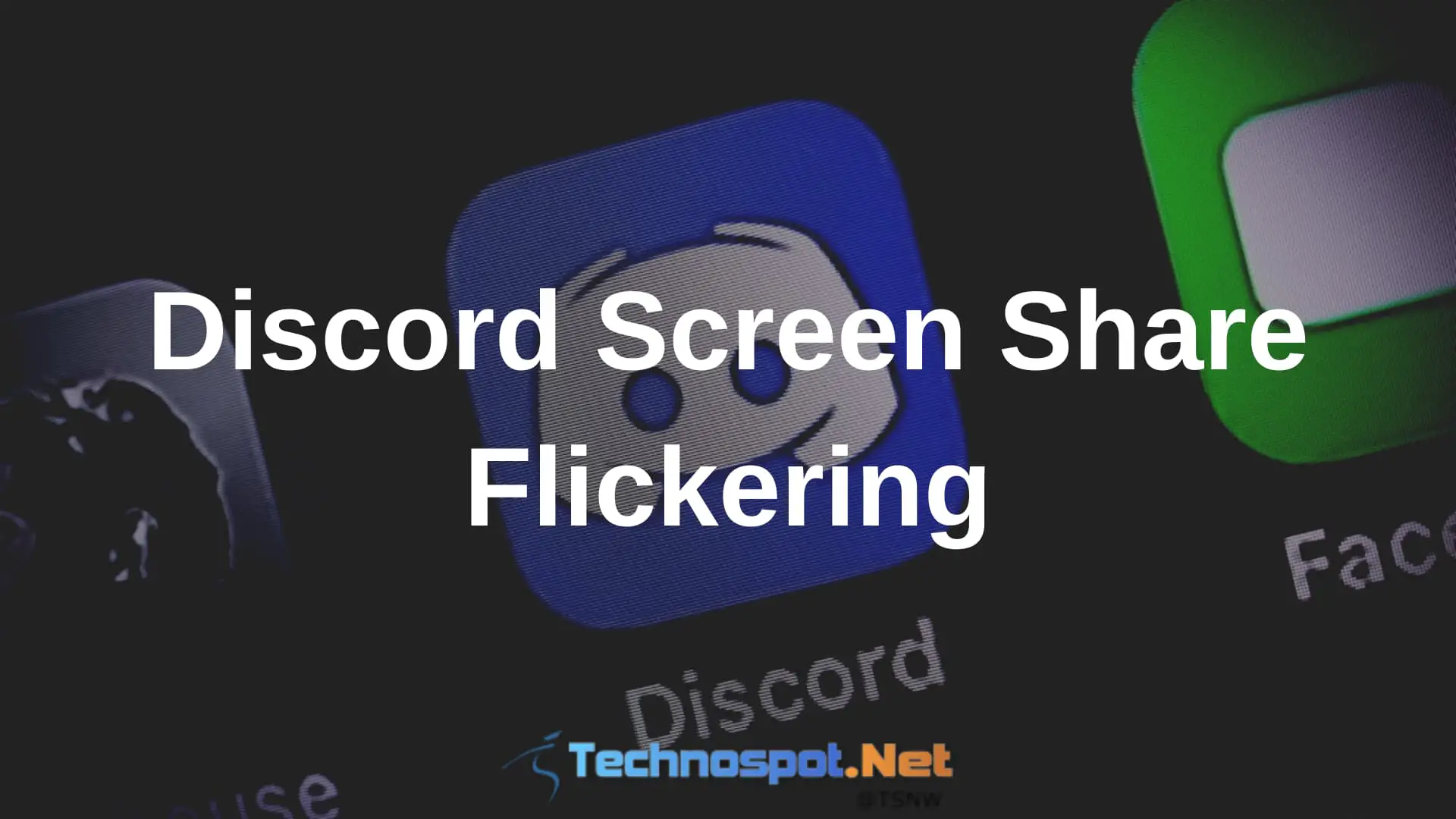 Fix: Discord Screen Share Flickering or Lagging issues
There is a wide range of reasons why you might experience screen flickering or lagging issues with Discord screen sharing. Some common reasons could be outdated device drivers, corrupted Discord files, improper configuration, etc. However, you can get rid of the error by following these methods:
Restart Discord
Run Discord As Administrator
Turn Off Hardware Acceleration
Switch to Windowed Mode on Discord
Delete Discord's Cache Folder
Reinstall Discord
Update Display Drivers
You will need admin permission for the suggestions.
1] Restart Discord
Screen flickering can be temporary, and a simple restart should fix the issue for you. To Restart Discord, you can consider restarting your PC. This will ensure that no glitch occurs on both Windows or Discord.
So go ahead and reboot your PC, launch Discord client, try to share your screen, and see if you still encounter any flickering issues.
2] Run Discord As Administrator
You can also try running Discord as an administrator. There is a good chance that Discord is finding it trouble to get access to use Windows's display drivers. So running Discord with admin privileges might fix the issue. For this, follow these steps:
Go to Windows Search and type Discord.
Right-click on Discord and select Run as administrator.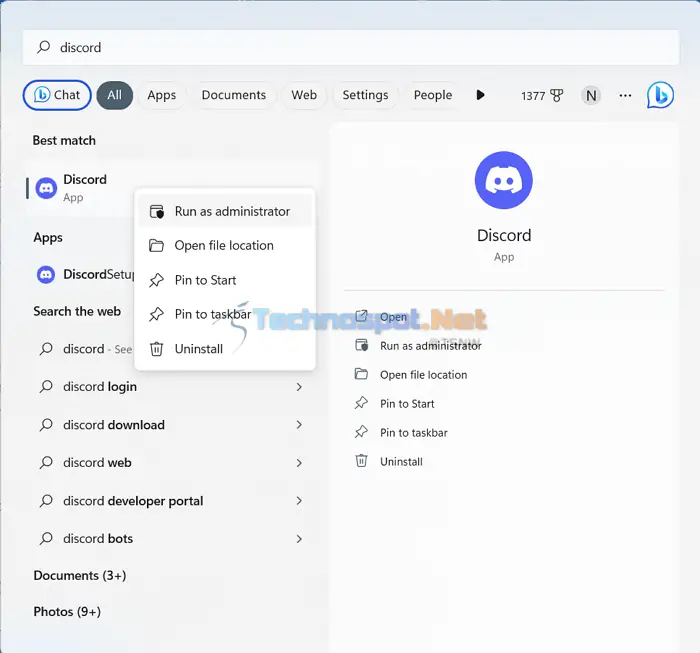 3] Turn Off Hardware Acceleration
If you have turned on Hardware Acceleration, it could be leading the main reason why you are experiencing a flickering screen issue on Discord.
Since hardware acceleration uses your GPU for efficient video encoding and decoding, so there is a chance that your GPU isn't able to provide Discord with the resources required for hardware acceleration.
Or you don't have a GPU installed on your PC. Hence, you are getting a laggy experience. To fix this, follow these steps:
Launch Discord client.
Go to Settings.
Select Voice & Video from the sidebar.
Scroll down and turn off Hardware Acceleration.
Once done, try sharing your screen and see if it works.
4] Switch to Windowed Mode on Discord
You can also try launching Discord in windowed mode. Discord will share the available desktop screen space in windowed mode with all running applications. Adjust the Discord app's Window size to get into the Windowed mode, and you are ready.
Related: How to Fix Discord Stream No Sound Issue
5] Delete Discord's Cache Folder
Temporary cache files can also be why you face a laggy experience while sharing your screen. So cleaning your Discord's cache folder might fix the issue for you.
Press Windows Key + R to launch Run.
Type %appdata% and press Enter key.
Navigate to Discord > Cache folders.
Finally, select all the files by pressing CTRL + A and then delete all the files.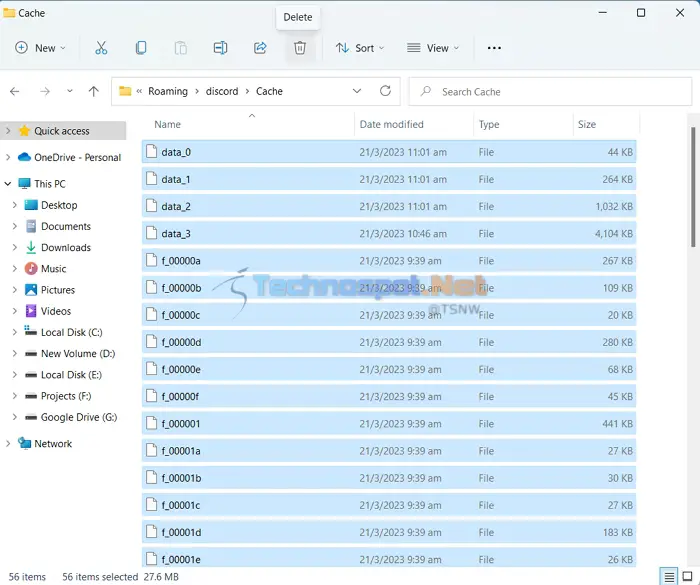 Once done, relaunch Discord and try sharing your screen to see if the issue is resolved.
6] Reinstall Discord
If you have already tried updating that app, you can also try reinstalling Discord. There is a good chance that some of Discord's essential files are corrupted or damaged, which leads to a laggy experience.
To reinstall your Discord app, follow the below steps:
Press Windows Key + I to launch Settings.
Navigate to Apps > Apps & features.
Over here, search for Discord and click on the three dots icon and select Uninstall.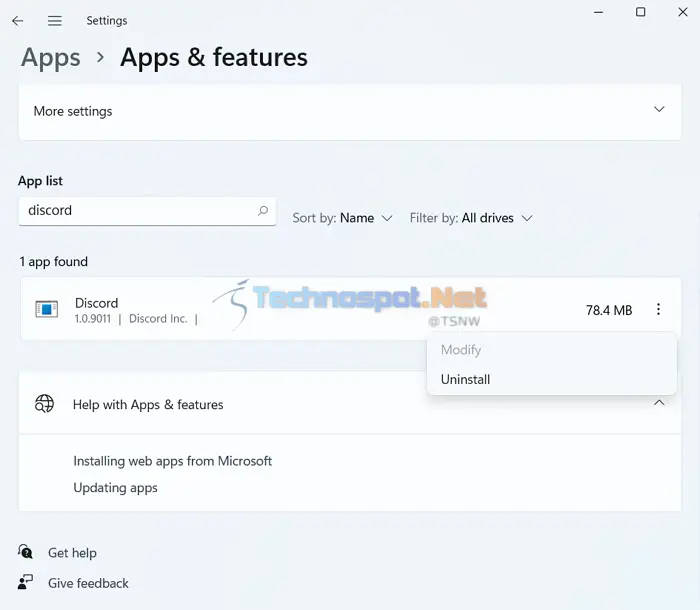 Once uninstalled, go to Discord.com and download the latest app version.
Finally, install the Discord client following all the onscreen steps.
7] Update Display Drivers
If the above methods don't work, the problem might be with your Windows display or GPU driver. So you can consider updating your display drivers and see if it resolves the issue. Make sure to follow our guide, where we have shared multiple methods to update the display driver.
Conclusion
The above methods should help you fix Discord Screen Share Flickering or Lagging issues. Now go ahead and try the methods out and see if they are of any help to you. Also, if you get stuck anywhere, feel free to comment below.
Why Is My Stream Flickering Green Discord?
One potential cause of Discord screen share flickering green is outdated display drivers, a bad cache, or running an outdated app version. To resolve the issue, updating the graphics driver on your computer may help, as well as running Discord and the app you want to stream as an administrator. If the problem persists, deleting Discord's cache folder could also be worth trying.
Why Is My Screen Flickering and Lagging?
The screen flickering and lagging could be caused by various factors such as outdated display drivers, malware or virus infection, overheating, hardware failure, running too many programs, or insufficient RAM. To resolve this issue, you can update display drivers, run a virus scan, check for overheating, run fewer programs, upgrade RAM, or replace faulty hardware components.