Focus assist, also called 'Quiet hours' in earlier Windows 10 versions, allowed you to focus on a given task without any distraction by the notifications. The feature automatically activates when you duplicate the screen, gaming, or use an app in full screen. This handy feature from Windows also comes with specific issues, and the most prominent of them is the Focus Assist not turning off. In this article, we are going to look at the fix of this problem.
What are the features of Focus Assist?
You can also set it to three modes :
Off = Get all notifications and messages
Priority Only = see only selected notification in the priority list
Alarm = Hide all notifications except alarms
You can also set the time for focus assist and from whom. If you get a message, you will be notified in the period. For example, you are making a presentation for your company and need to focus on the specific task, and set a time, say 1:00 pm to 3:00 pm. In that time period, you will not get any notifications or messages. You can set your priority list and add all the important people you should get a mail or message from to avoid missing them.
Known Issues With Windows Focus Assist Feature
Even though this feature is quite helpful for students and working individuals, It has its fair share of problems. Here are some:
Notification tray bar bubble is white (outline filled), and going over with the mouse, it either says nothing or says "1 notification."
When you click on it, it shows no notifications, and the bubble remains filled.
If you right-click it, none of the options in the Focus Assist menu appear to be working, and none of them are checked.
If you go to Settings and click on Focus Assist, Settings crashes with screen freezing.
People are not able to turn the Focus Assist feature off and missing notifications.
Even after Deleting the feature, Making a New User account, the Feature is persistent.
Focus Assist activates every time I click the Show Desktop button, OR if I minimize all windows.
Turning off in settings or via the action center keeps turning itself back on, significantly if I maximize a window/program.
It seems like not one, but many people are suffering from the same feature. The malfunctioning of the focus assist option can lead to you missing important notifications, emails, and calls from your work or college. Let's look into the fix to turn off the Focus assist Feature in Windows 10 and  Windows 11.
Fixing Focus Assist Not Turning Off In Windows 11/10
Below are some of the methods that work flawlessly in solving the errors related to the focus assist not turning off. Make sure you read these thoroughly.
Windows Settings
Action Centre
Group Policy Editor
You will need admin permission for some of these.
1] Disabling Focus assist system using Settings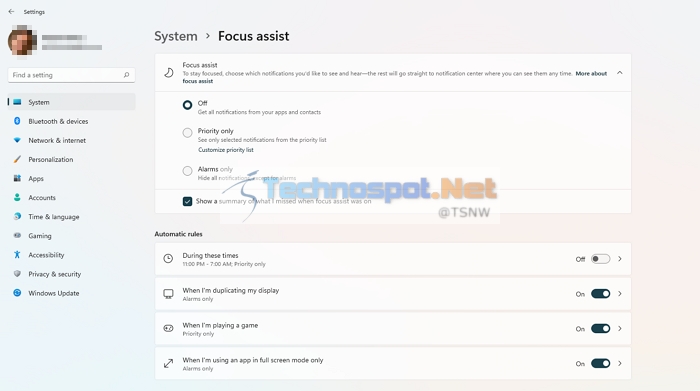 Click on the System option.
Click on the Focus Assist option.
You will find the options like Off, Priority only, and Alarms only.
You can choose the option you want according to your needs.
You can also select automatic rules from the list and program different modes in diverse situations.
2] Disabling Focus Assist Using Action Centre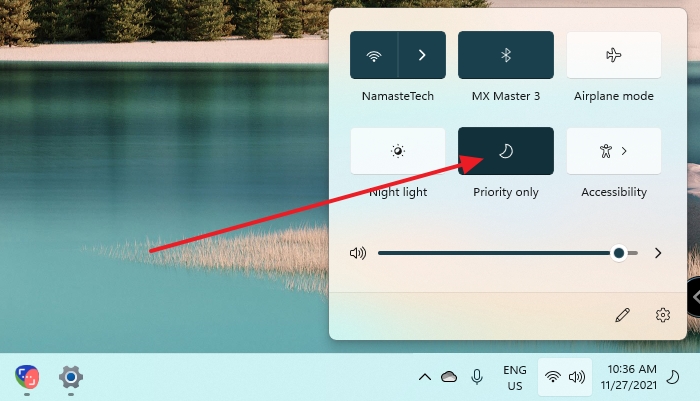 Press Win key+A keyboard shortcut and then click on the moon icon.
If you click on it once, it will turn to Priority only, and If you click on it once more, it will turn to Alarm only.
To disable it altogether, click it one more time.
3] Use Group Policy Editor To Disable Focus Assist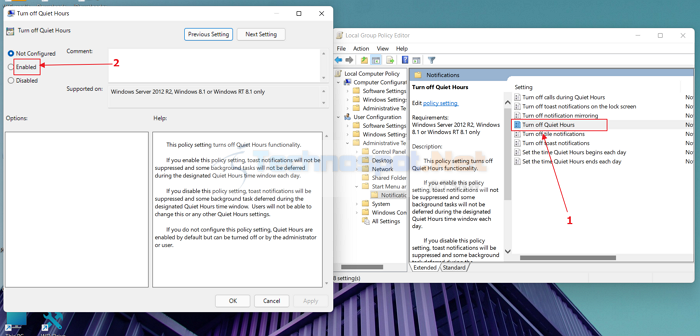 Press Windows key + R shortcut to open the Run prompt
Type gpedit.msc command and click OK.
After that, you have to navigate to the following path—User configuration > Administrative Templates > Start Menu and Taskbar > Notifications
In the right pane, you have to double-click on the Turn off Quiet Hours/ Focus Assist.
Choose Enabled to turn off focus assist.
The process of disabling focus assist via other methods is the same for Windows 11 and Windows 10. Still, for disabling the Focus assist via quick settings/action center in Windows 11, you need to follow a different set of steps.
Why Does My Focus Assist Keep Turning On?
The default settings of Windows 11/10 make it do so. By default, focus assist is set to turn itself on when gaming, duplicating the screen, or opening an app in full-screen mode.
Does Windows Have Do Not Disturb Mode for Games?
Yes, Windows 10 and Windows 11 come with a Do Not Disturb feature, called Focus Assist. The feature has specific settings to focus on while gaming. You can choose which apps can send notifications, the priority, and other things. When you play games, ensure to change the mode accordingly.
Now that you have learned how to switch off focus assist mode in Windows 11/10. We hope that your queries will be solved.